Myrtus Luma
Luma apiculata 'Myrtus luma' 
Myrtus Luma is the medium to tall hedge with real traditional style. A lot of people believe the only fast growing larger hedge with fine foliage is the Pittosporum. It is an extraordinarily versatile plant suitable for hedging, screening, topiary, or as a specimen tree, but its small, aromatic leaves respond so well to pruning that it is commonly used as a hedge.
Myrtus luma grows just as quickly as Pittosporums but has a deep green dense foliage that can be clipped to look like a large English Box. Chris calls it the "Plumber's Nightmare", as plumbers make lots of money unblocking pipes filled with Pittosporum roots, while Myrtus Luma has a very non-invasive root system.
Myrtus luma also makes a wonderful specimen tree if left unpruned. With age it forms an outstanding trunk with cinnamon brown branches. Its bark peels to reveal streaks of pink and beige. What a plant! It really should be seen more in Australian gardens.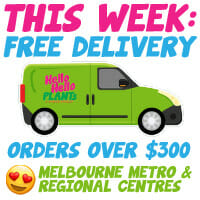 Browse plants by…
Search Products