Sorry, this product cannot be purchased.
Buxus 'Dutch Box' 6″ Pot
Buxus sempervirens suffruticosa 'Dutch Box'
If your looking for a small hedging plant then this is the one for you. Dutch Box is a dwarf box that grows with dense, glossy green foliage and works well in shaded areas.
Dutch Box likes full sun to part shade in moist, well-drained soil, but will tolerate a wide range of soils and conditions. It should be clipped to maintain a formal shape. This slow growing plant, grows to approximately 50-60cm in height. It is frost hardy. Plant 5 per meter for the optimum hedge.
6″ pot size, approximately 10-15cm in height.
Additional information
| | |
| --- | --- |
| botanical-name | Buxus sempervirens "Suffruticosa" |
| height-x-width | Up to 1m, but usually kept quite low as slow growing |
| planting-distance | For border: 5 or 6 per metre |
| features | An evergreen dwarf shrub with glossy green oval foliage and a dense growth habit |
| conditions | Sun to part shade in moist, well-drained soil, but will tolerate a wide range of soils and conditions, clip to maintain formal shape |
| landscape-use | Edges and borders, topiary, pots and general garen planting, widely used in formal gardens |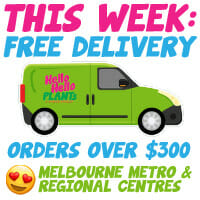 Browse plants by…
Search Products