Choosing Your Box Hedge Plants or Low Border
With so many varieties to choose from when selecting a box hedge to plant, the choice can be difficult. At Hello Hello Plants we have years of experience in garden design, and have helped thousands of people grow good box hedges. We specialise in cheap box hedge plants, but a really affordable box hedge is one that is successful and doesn't fail!
Here's our guide to choosing the best box hedge for your conditions, to ensure a great healthy border or hedge. We also give an overview of the most popular varieties: English Box, Box Leaf Privet, BoxOz, Dutch Box, Japanese/Korean Box and Tom Thumb(Japanese Spindle Bush).
Best Type of Box Hedge for…
| | Dutch Box | Box Leaf Privet | BoxOz | English Box | Japanese Box | Tom Thumb |
| --- | --- | --- | --- | --- | --- | --- |
| Low Maintainence | – | – | | | – | – |
| Full Shade | | – | – | | – | |
| Fast Growing | – | | | – | – | |
| Wet Soil | – | | – | – | – | – |
| Salty Soil | – | – | – | – | – | |
| Full Sun | – | | – | – | | – |
| Small Hedge | | – | – | – | | – |
| Drought Tolerant | – | – | – | – | | |
Box Hedge Varieties
English Box (Buxus sempivirens)
English Box is the classic formal box hedge. The advantages of an English Box hedge or border is that it only requires one or two trimmings per year. It needs very little water and it grows in almost any soil, except for a very heavy or poorly drained soil. English Box grows in full sun through to the very deepest shade. In fact English Box will grow with no direct sunlight, which is quite amazing. English Box is the best of the low borders when you have a border that is partly in full sun and partly in deep shade.
Click here to browse our current English Box selection.
BoxOz (BoxOz lonicera)
BoxOz Lonicera has been specially developed by Chris, and is our exclusive hedging plant. It has a deeper green foliage, a denser finish and more clearly defined shape than the traditional Englsih Box.
We think BoxOz Lonicera is the best plant with which to create your perfect hedge or border, as it grows quickly and once your hedge has developed, it's easy to maintain with only a few trimmings a year. New shoots are soft and easy to cut and trimming is an effortless relaxing experience.
Some traditional hedging plants grow only an inch or two a year. BoxOz Lonicera will produce a calf high border in under twelve months, a knee high hedge in around 18 months, and a waist high hedge in 30 months. Almost any soil is suitable, as long as it is not too swampy. Fertilise your BoxOz Lonicera occasionally with a complete fertiliser, and water as required.
Click here to browse our current BoxOz selection.
Box Leaf Privet (Ligustrum undulatum)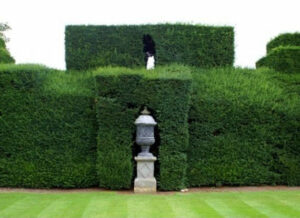 Box Leaf Privet is one of the most popular formal hedge plants as it grows all year round, it will grow in almost any soil or conditions and if it is kept trimmed it looks as good or better than English Box. Box Leaved Privets love hot sunny positions(they don't do well in a shady corner) and almost any soil as long as it is moderately well drained.
To create a dense bushy low hedge or border you only need to plant 4 box Leaf Privet plants per metre. Box Leaf Privet loves plenty of water, regular fertilising and regular trimming. Given these are provided, you will find that you can create a dense fine traditional or English Box style border in just one full growing season with very little cost.
Click here to browse our current Privet selection.
Dutch Box (Buxus sempervirens "Suffruticosa")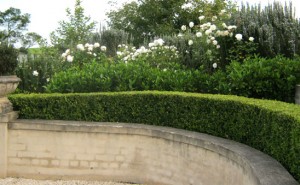 If your looking for a small hedging plant then Dutch Box is the one for you. As it is a dwarf box, it stays small, and grows with dense, glossy green foliage.
Dutch Box likes full sun to part shade in moist, well-drained soil, but will tolerate a wide range of soils and conditions. It should be clipped to maintain a formal shape.
Click here to browse our current Dutch Box selection.
Japanese or Korean Box (Buxus microphylla)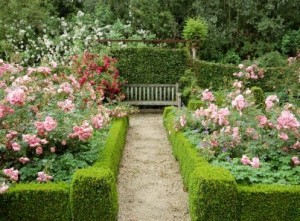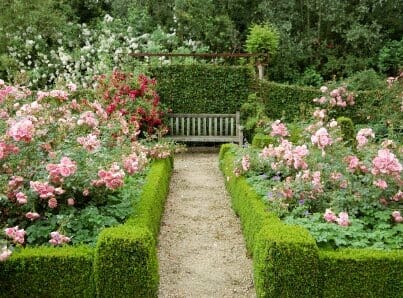 Japanese or Korean Box is a fantastic compact shrub with dark oval leaves. It's the perfect drought tolerant hedge, it has a higher tolerance to heat than other varieties of Box Hedges, requiring little water once established. It does best is full sun however it can tolerate part shade just as well.
Japanese/Korean Box has a fine leaf, and is low and slow growing.
Click here to browse our current Japanese/Korean Box selection.
Tom Thumb/Japanese Spindle Bush (Euonymus Japonicus Microphyllus)

Tom Thumb grows much quicker than English Box and has deep green foliage that remains rich and green throughout the year. Tom Thumb can be maintained as a small to medium sized hedge from 30cm – 90cm tall. It's hardy to poor soil, drought, heat and frost.
Click here to browse our current Tom Thumb/Japanese Spindle Bush Selection.
More Box Hedge Advice
If you would like more advice on choosing the right Box Hedge for your garden, simply contact us! You can also bring some photos of your garden with you to our Campbellfield Nursery and Chris or one of the experienced nursery staff will recommend the best box hedge for you.