You cannot add "Banksia Rose 'Yellow' 6" Pot" to the cart because the product is out of stock.
Gardenia 'Radicans'
Gardenia augusta 'Radicans'
Gardenia Radicans is a low growing, spreading Gardenia that works well as a flowering groundcover plant. Like other Gardenias it has deep green foliage and strongly scented white or cream flowers. Radicans has smaller leaves and flowers, but tolerates cold better than other Gardenias, making it great for the Melbourne climate.
Gardenia Radicans blooms in Summer and grows relatively fast. It spreads to roughly 1 to 1.5m wide and will not get taller than 50cms. Rock Gardenia can handle both full sunlight and partial shade but needs a sheltered position to thrive. Prefers well drained soil. Perfect for cottage gardens, pots/tubs and shrubbery.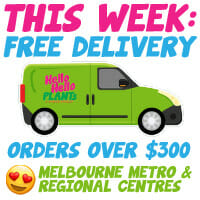 Browse plants by…
Search Products