6″ English Box only $2.99 when you purchase 100 or more.
Even Cookie the Dog agrees this is a good deal!
Cookies Owners came over from Glen Iris to get another 200 English Box to complete their existing hedge. Last time they paid $2.50 each for little 3″ pots of English Box, and this time they were delighted that they got them 3 to 4 times the size for only $2.99 each. Come in and choose them for yourself, they're not too hard to transport and you can fit 200 into the back of a little SUV. Cookie was very happy with his plants too.
It is a well known fact that the English Box is one of the gardening staples in the industry. At Hello Hello Plants & Garden Supplies we have the goal of creating the largest and most popular nursery in Melbourne and Victoria.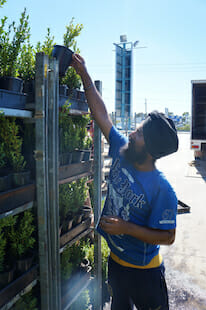 Due of our close relationship with suppliers and purchasing in massive quantities we are able to pass our savings over to you, the customer.  As such, we have always been able to offer ridiculously low prices on our high quality plants. And in some cases we offer plants that are well below wholesale and trade prices.
The English Box is a fantastic plant that looks great in pretty much any garden style and can cope with Melbourne's extreme 4 season days. Our individual 6" English Box ($3.99 each) is already cheaper then any other nursery in Melbourne but when you buy 100 or more you will only pay $2.99 each! That's right only $2.99 per plant when you purchase 100 or more!
We have thousands of English Box in store right now so don't miss out on this incredible deal. It's not often that we have such spectacular discounts. One Nurseryman said in his 20 years of business he had never seen such a good deal. So don't just take our word for it, take advantage of this deal right now! 6" English Box – $3.99 or purchase 100 for $2.99 each!