Abelia
Common Names: Glossy abelia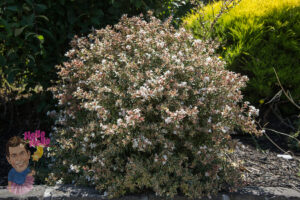 Origin: Eastern Asia, Mexico
Masses of bell-shaped white flowers

Colourful foliage

Perfect for pots & containers
Abelia are a time-honoured cottage shrub, loved for its beautiful show of bell-shaped flowers, small, glossy green foliage, and dense habit. There are some new varieties with foliage of a different colour, variegated or produce a red leaf that gets deeper as the temperature gets cooler. They make ideal potted or container plants, low to medium hedges or as a flowery garden filler. 
Plant Type: Shrub
Uses: Feature, Hedging
Garden Types: Cottage, Pots & Containers
Care

---

Sun Requirements: Prefers a full sun or part shade position
Water Requirements: Water regularly until established. Once established they are drought-hardy.
Soil Requirements: Prefers moist, well drained loamy soil. Will tolerate sand and clay soils 
Fertilizing: Slow Release general-purpose fertilizer in spring and summer. Not required once established unless soil lacks nutrients
Pruning: Late winter to early spring. It can also be trimmed during cooler periods in summer to keep its form
Tolerances: Drought, sun and light frost. Doesn't tolerate hard freezes. 
Diseases: Disease and pest resistant
Key Features

---

Flower: Bell shaped, white with a pink tinge and lightly fragrant
Foliage: Dark to light green with red tinge in the autumn. Some varieties are variegated, glossy or have a mixed colour of yellows, oranges, reds, purples and greens.
Edible: The Chinese variety, Abelia chinensis, has edible flowers
Toxicity: No known toxicity
Attracts: Bees