Cordyline
A common request when designing gardens is colour. How can I add colour to my garden amongst all that green? Well Cordyline is your answer!
Cordylines are one of the most popular plants to add to the garden as they come in a range of colours, are fast growing and will grow in a wide range of soil types and weather conditions.
There are two main types of Cordyline
Cordyline fruticosa

prefer a more sheltered position or indoors
broader leaf

Cordyline australis

can handle full sun to part shade
thinner leaf
There is a third plant variety that is similar to Cordyline called Dracaena.
This is not a Cordyline but it often gets mistaken as one.
For more on Dracaena, see our Dracaena Factsheet here.
---
Cordyline fruticosa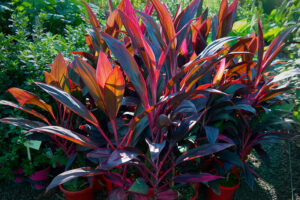 Often used indoors or amongst built-up, tropical style gardens are the Cordyline fruticosa or 'Ti' plant. Native to New Zealand, Papua New Guinea and the Pacific Islands, this beautifully colourful and lush plant suits most semi-sheltered and indoor settings.
These lush and leafy plants grow anywhere between 1.5-3m tall and straight up! Often only spanning a maximum of 60-80cm per trunk.
Although they can be grown outside, they often suffer in midday to full afternoon summer sun in Melbourne. The sun is just too harsh! Cordyline fruticosa prefer dappled shade or only a few hours of sun outside, whereas when inside they like a well lit or sunny position.
They grow best with a bit of humidity so if indoors, put them near the humidifier! Outdoors, they grow best planted amongst other lush plants. Water 2-3 times a week in summer and once a week during winter if outdoors. Fertilise every month with a slow release fertiliser and, to boost colour, you can add a little potash
Garden Types
Tropical
Indoor
Pots and Containers
Lush and Leafy
Poolside
---
Cordyline australis
Unlike its m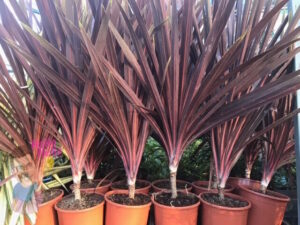 ore sensitive relative, Cordyline australis can grow almost anywhere. The 'Cabbage Palm' is native to New Zealand and grows in almost any soil type and position.
There are many new varieties of Cordyline, growing anywhere from 1.5m up to 4m dependent on the variety. And, just like a palm, they generally grow straight up, taking up minimal space. But, if a multi-trunked Cordyline is your preference, a quick trim of the top will encourage more growth from the base of the trunk. This method can create a gorgeous multi-trunked Cordyline sculpture as a feature. Or, if you prefer then nice and straight, trim off any trunks that may appear.
As mentioned before, Cordyline australis will grow in almost any soil, excluding boggy, water-logged soil. They prosper with a regular watering, roughly 2-3 times a week during summer and once a fortnight in winter, unless very dry.
To enhance colour, fertilise with a potassium rich fertiliser in spring an autumn.
Garden Types
Tropical
Modern
Pots and Containers
Low Maintenance
Rock Garden
Poolside
Available Cordylines