Elegant, versatile and undoubtedly eye-catching! Fraxinus, or more commonly known as the Ash, are commonly requested in the autumn due to their magnificent autumnal colours. One of the many beautiful deciduous trees that are spotted all over Melbourne, these stunning trees are not only pretty to look at but have many uses too. Often used as a feature tree or shade tree in the small suburban garden, the Ash also stands out lining avenues and driveways on larger properties. During summer most varieties have a soft green foliage with the exception of the 'Claret Ash' whose foliage is a deep, rich purple and in the spring they unexpectedly produce delicate tasseled flowers that play gently in the wind. The bark also plays a part, often soft, smooth greys on young trees turning to a wonderfully even textured and knobbly bark with age. The 'Golden Ash' presents a golden bark on its branches as well as foliage, making it a beautiful specimen in the winter when it is bare.
Fraxinus are also a key part in medicinal research, many beneficial chemical constituents used for anti-inflammatory, antiallergic, antimicrobial and even anticancer are found within the roots, bark and leaves. Root and leaves are traditionally used in parts of Pakistan to treat malaria and pneumonia! Though we suggest to do your research before trying this at home.
Plant Type: Tree
Uses: Medium Tree (4m-10m), Large Tree (10m+), Feature, Avenues, Driveways, Shade Tree
---
Care

---
Sun Requirements: Full sun or part shade position
Water Requirements: Water regularly until established. Once established they are relatively drought-hardy, though they look their best when kept well hydrated.
Soil Requirements: Will tolerate alkaline, sandy and clay soils but look their best in moist, well-drained, acidic loamy soil.
Fertilizing: Slow Release general-purpose fertilizer in spring.
Pruning: No regular pruning is required as they generally grow into an elegant teardrop shape. When mature the lower branches are often pruned off for clearance for underplanting and mowing. For maintenance or shaping, prune in late winter. The 'Evergreen Ash' is often tip pruned or the soft growth is pinched out to encourage branching.
Tolerances: Sun, heat, poor soils, frost and moderate wind & drought.
Diseases: Psyllids, Aphids, Scale Adelgids, Ash Canker,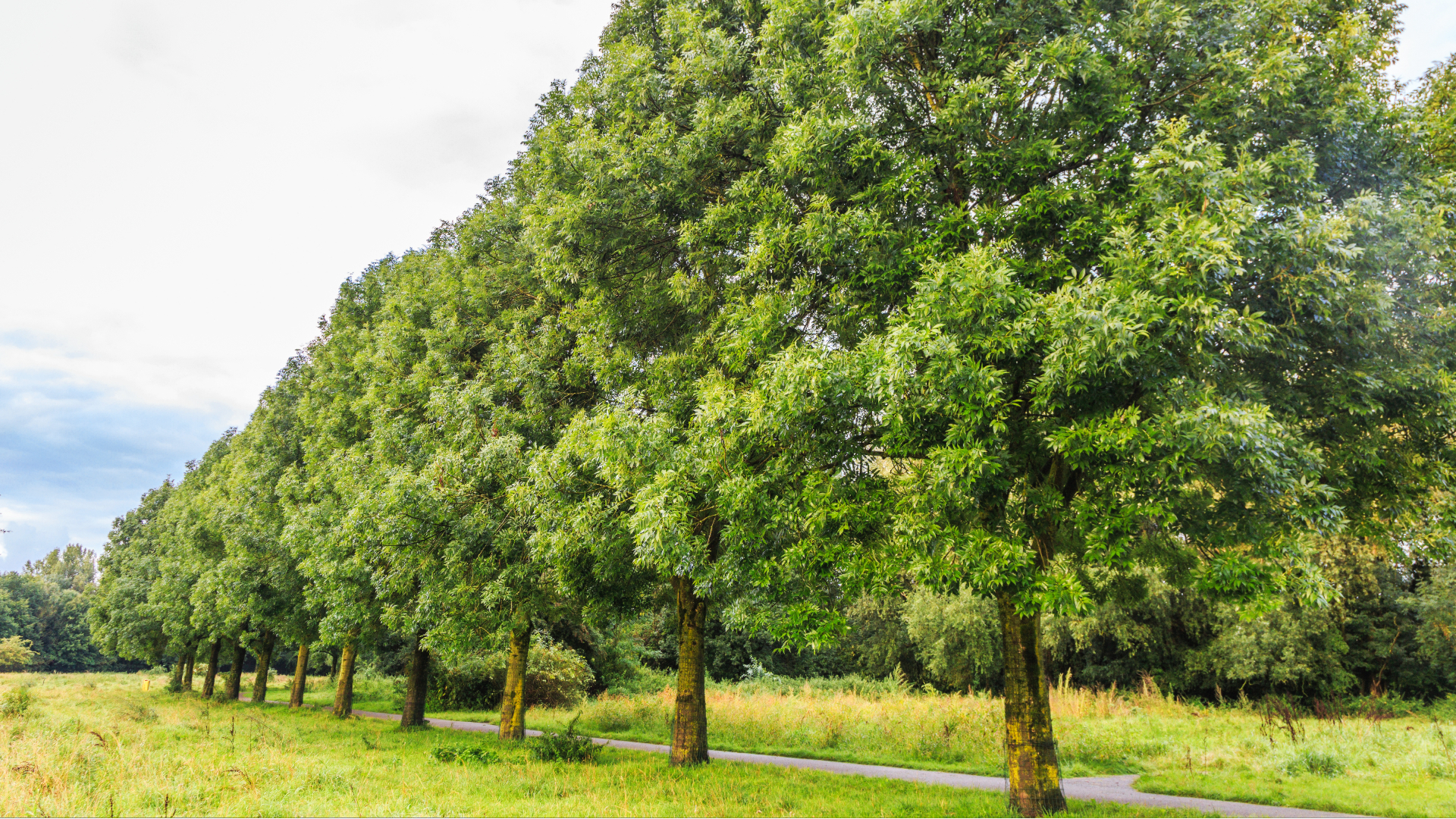 ---
Key Features
---
Flower: Evergreen Ash have white, fluffy panicles that cover the tree in spring. Deciduous Fraxinus produce tasseled flowers in spring, often with a pinkish red tinge.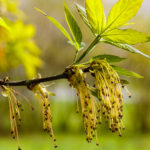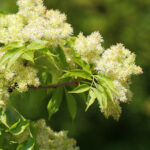 ---
Which Fraxinus To Choose?
---
With such a wide variety of Fraxinus, it's important you choose the right one for the right spot! Check out the brief descriptions of each below and then quickly compare them on our comparison table at the end.
For more, in depth care instructions, go to Additional Information on the individual product pages.
---
Evergreen
---
One of the few evergreen ash trees, this beauty flowers in the spring time much like the 'Flowering Ash'. Its gorgeous, glossy green leaves provide shade year around.
Showy, creamy white flowers cover this stunning feature tree in the spring time. The 'Flowering Ash' is used as a shade or street tree. In the autumn its foliage turn reds and purples.
With such an even rounded habit, the 'Green Ash' is perfect for avenues, street planting or as a shade tree that will let in the winter light. The leaves are known to hold on longer than of varieties.
With vibrant reds and purples gradually changing to yellow, this Fraxinus' foliage is slightly different from the other varieties. The veins on the leaves are deeper set with a serrate leaf edge, similar to that of the Beech tree but with the soft pinnate structure of the Ash. Their leaves hold longer than other ash varieties.
Just as the name suggests, this deciduous ash has this wonderful claret red throughout the warmer months instead of the regular green of other Ash's. In the autumn the foliage goes through a variety of autumnal colours – oranges, yellows, red and purple.
The 'Golden Ash' is one of the show stoppers of the Fraxinus family due to its fluorescent yellow foliage in the autumn and golden branches during winter. A stand out avenue or driveway tree as well as a magnificent feature tree, the fine lime green foliage also provides gentle shade in the summer time.
One of the hardiest of the Fraxinus trees, the Urbanite® Ash tolerates a wide range of environmental conditions including boggy soils. This Ash provides ample shade in the summer with its dark green foliage, changing to yellows, bronzes and copper tones in the autumn.
---
---
Still having trouble deciding which Fraxinus is right for your job? Check out our quick comparison chart below!
|   | Summer Foliage | Autumn Foliage |               Flower | Max. Size |
| --- | --- | --- | --- | --- |
|   | Green | N/A | White, fluffy panicle | 6-8m x 4m |
|   | Dark Green | Yellows to purple | White, fluffy panicle | 9m x 4m |
|   | Green | Yellow, Orange | White, fluffy panicle | 10m x 8m |
|   | Dark Green | Yellow, Red & Purple | Inconspicuous tassel, purple | 13m x 8m |
|   | Dark Green | Vibrant Claret / Red | Inconspicuous tassel, purple | 12m x 7m |
|   | Pale Green | Vibrant Yellow | Inconspicuous tassel, pink | 7m x 7m |
|   | Dark Green | Bronze, orange, touch of yellow | Inconspicuous tassel, yellowish-green | 12m x 5m |