Glauca Pencil Pines
When Chris was seven he collected cactus and succulents. His mum let him plant them all along a dry garden bed under the eaves on the northern side of their weatherboard cottage. Chris took a lot of pride in his little garden and collected pebbles, sands, and scoria to decorate amongst his succulents and cactus. One day Chris' mum said she had to plant a Pencil Pine in the middle of his garden. Chris was disappointed at the interruption to his design but he had no choice, and his mum planted the pencil pine – Sempervirens stricta and it took off and grew like a rocket. Within 18 months it was three meters tall and it started to get covered in awful clusters of cones, the branches collapsed under the weight and hung out from the tree destroying the pencil shape. It was the ugliest thing Chris had ever seen and he uprooted his succulent collection and planted it elsewhere.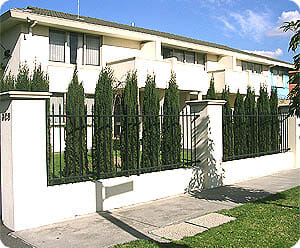 From that time until the last few years Chris disliked Pencil Pines with a passion. He believed that they would not perform in the garden as they were supposed to. In recent years Chris noticed when he traveled to California that a new type of pencil pine was becoming increasingly popular for creating naturally narrow screens in confined areas. It's called the Glauca Pencil Pine. This tree is a little slower growing, has darker green denser foliage with a slight hint of blue, and grows tall and narrow maintaining its tall slender shape into maturity with very few unsightly nuts.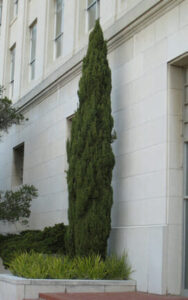 Glauca pencil pines grow at the rate of 1 meter per year and love to be trimmed once they achieve their desired size. They are very narrow, tolerant of a wide range of soil types, and exposed sites, and are very drought-hardy. They can be planted close together say 1 per meter, center to center, and used as a hedge. Create a line or avenue of columns through the landscape by planting them 4-7 meters apart. If it is a fairly short line plant an odd number e.g. 3, 5, or 7.
Where you have a two-storey house with a very small front yard and nowhere to plant a large tree, they are excellent to frame the house. When Chris is completing a garden design he will use them to highlight water features and garden ornaments. The reason there are so many poor forms of Pencil Pines around is that traditionally Pencil Pines were grown from seed but these days all of our Glauca Pencil Pines are cutting grown. They can be purchased from Hello Hello Plants & Garden Supplies and you will find them a hardy, attractive, and reliable landscaping plant.