Like candles upon a candelabra, the flowers of the deciduous Magnolia sprout upward from the twisting bare branches in the early spring time. The blooms gradually open into large, soft blossoms of pinks, purples, whites and yellows, the petals eventually falling to the ground creating a colourful carpet under the tree.
Deciduous Magnolias are one of the most sought after feature trees in Melbourne as they are incredibly hardy, come in a variety of colours and sizes, and are just plain stunning!
Also, did you know that the blooms are edible? And they have a ginger-cardamom flavour!
Check out this article by Homemade Apothecary, which tells you all about the edible blooms, their flavours and how to use and store them
Plant Type: Tree
Uses: Small Tree (up to 4m), Medium Tree (4m-10m), Feature
Garden Types: Pots & Containers, Formal, Hampton, Courtyard, Japanese, Cottage

Sun Requirements: Full sun or part shade position
Water Requirements: Water regularly until established. Once established they are relatively drought-hardy, though they look their best when kept well hydrated.
Soil Requirements: Will tolerate sand and clay soils but look their best in moist, well-drained, acidic loamy soil.
Fertilizing: Slow Release general-purpose fertilizer in spring.
Pruning: No regular shaping required, though if any maintenance pruning is needed, do so after flowering in late summer. Magnolia's tend to not heal well in the cooler months. 
Tolerances: Sun, heat, poor soils and frost. Does not tolerate soggy soils or extreme drought
Diseases: Powdery Mildew, leaf pot, scale, slugs & snails
---
Key Features
---
Flower: Various forms of white, pink, purple and yellow. Large, soft petals, often in a cupped shape with the exception of the varieties such as the stellata Magnolia which has almost tendril-like long petals.
Magnolia flowers are known for their lemony fragrance, which can be strong or very mild depending on the variety.
Foliage: Large, simple, ovate leaves appear late spring.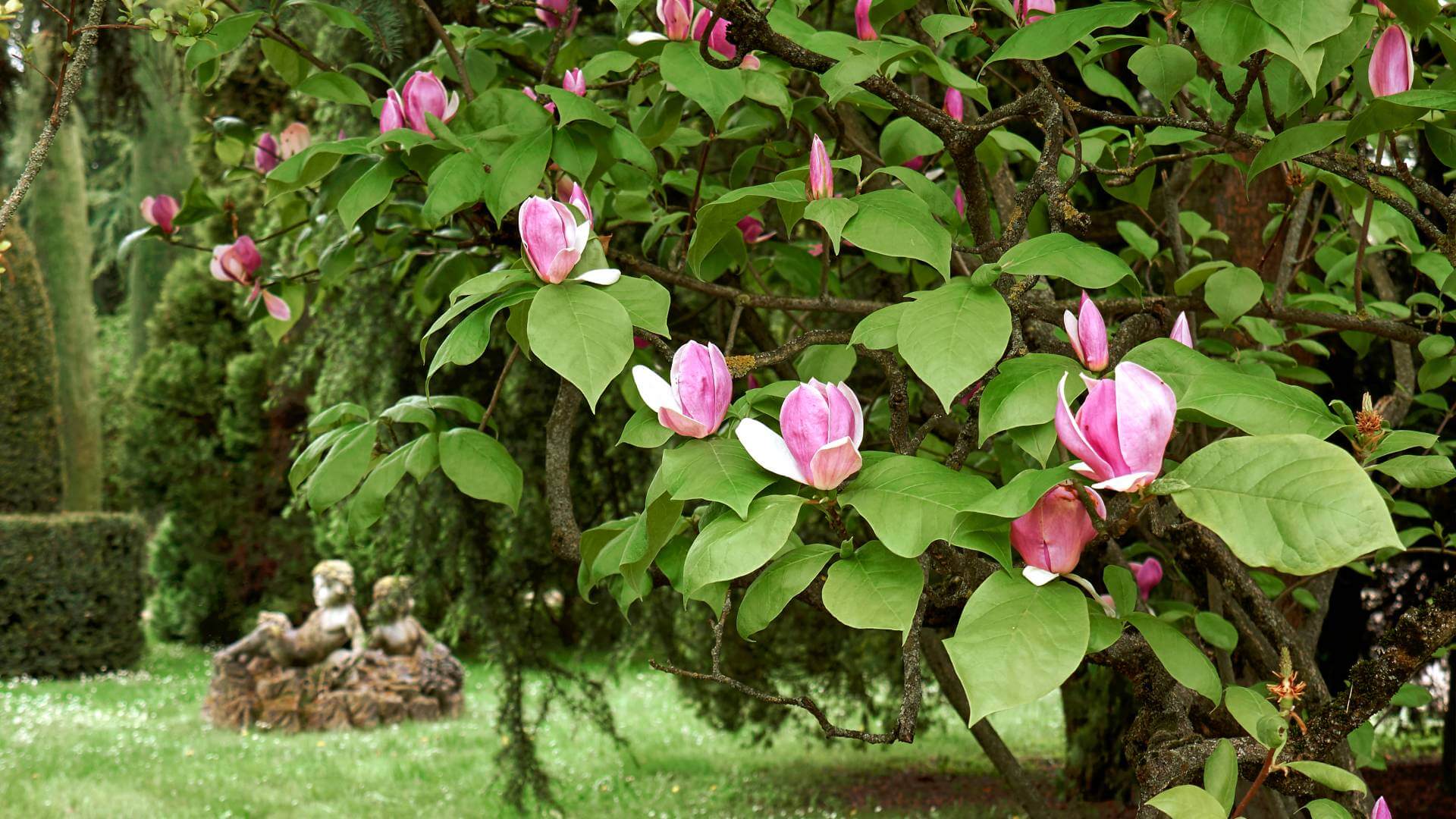 Seeds / Berries: Large, neat seed pods after flowering that sometimes produce vibrant red seeds.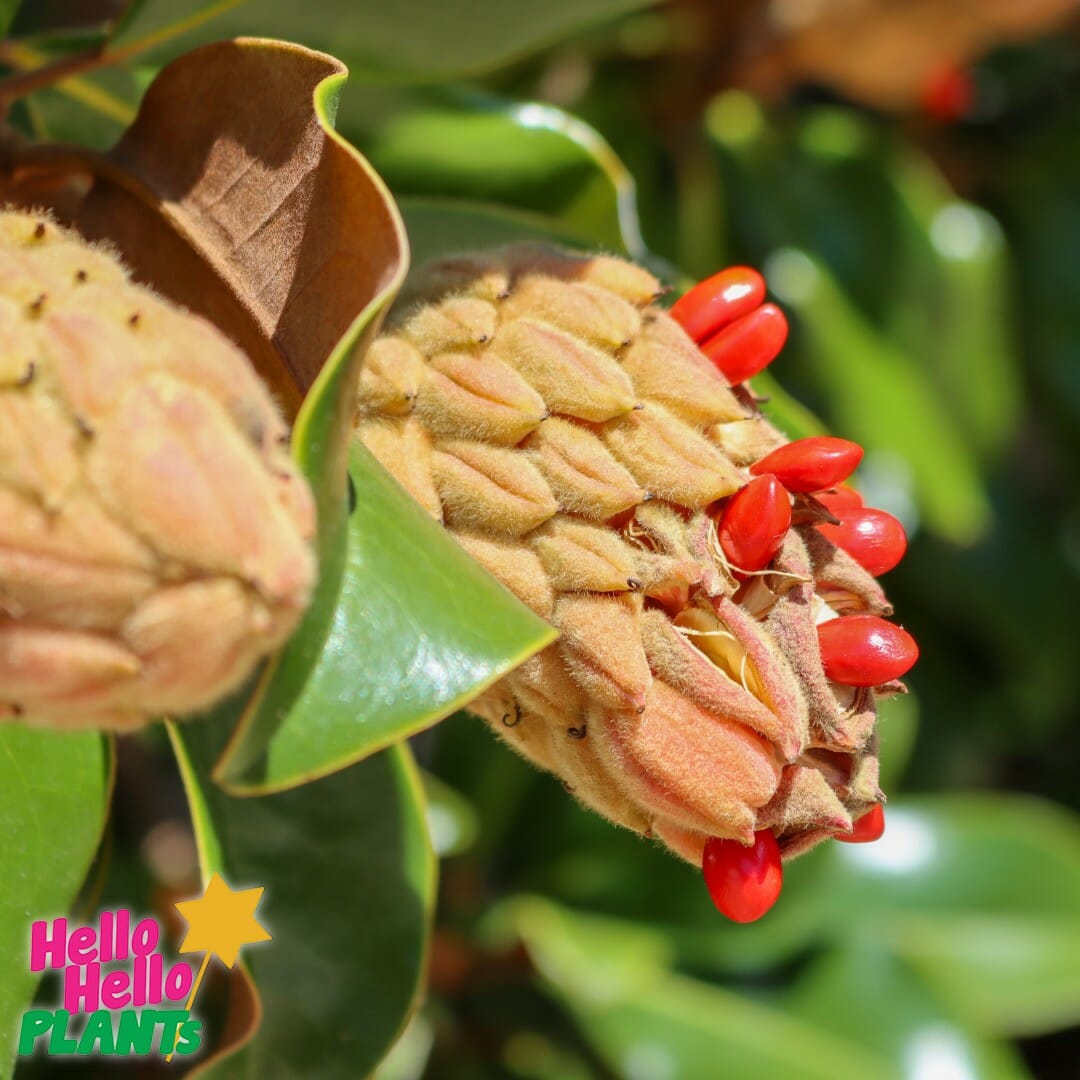 Edible: Flowers only
Toxicity: No
Attracts: Bees, Birds, Butterflies
---
Which Decidous Magnolia To Choose?
---
With such a wide variety of Magnolia, it's important you choose the right one for the right spot! Check out the brief descriptions of each below and then quickly compare them on our comparison table at the end.
For more, in depth care instructions, go to Additional Information on the individual product pages.
---
White
---
---
Dark Purple / Deep Burgundy
---
---
Still having trouble deciding which Magnolia is right for your job? Check out our quick comparison chart below!
 
Tolerances
Flower Shape
Flower Colour
Max. Size
Magnolia x soulangeana

Full Sun
Part Shade
Poor Soils
Frost tolerant

Long petals
Purple & White
5m x 5m
'Black Tulip'

Full Sun
Part Shade
Frost tolerant

 Cup shaped

Rounded Petals

Dark wine purple
5m x 3m

Full Sun
Part Shade
Poor Soils
Frost tolerant

Long petals

Star Shaped once open

Deep, rich purple
4m x 3m

Full Sun
Part Sun
Full Shade
Poor Soils
Frost tolerant

Star shaped
Soft deep purple
4m x 3m
'Waterlily'

Full Sun
Part Sun
Poor Soils
Frost tolerant

Many long, slender petals
White
3m x 2m
'Butterfly'

Full Sun
Part Sun
Poor Soils
Frost Tolerant

Small flowers with long petals
Butter yellow
4m x 2m

Full Sun
Part Shade
Poor Soils
Frost Tolerant

Rounded petals with a point
Soft pink
5m x 3m
'Rustica Rubra'

Full Sun
Part Shade
Poor Soils
Frost Tolerant

Globular, rounded petals in a cupped shape
Dark, soft purple
7m x 6m
'Leonard Messel'

Full Sun
Part Sun
Poor Soils
Frost Tolerant

Long, slender petals
Light pink with white inside
6m x 5m
'Nigra'

Full Sun
Part Sun
Poor Soils
Frost Tolerant

Large, slender petals
Dark purple outside, white inside
3.5m x 2.5m
'Susan'

Full Sun
Part Sun
Poor Soils
Frost Tolerant

Double layer of long, slender petals
Purple
3m x 3m
'Vulcan'

Full Sun
Part Sun
Poor Soils
Frost Tolerant

Tulip shape, opening into double petal flower
Brown, furry bud with Purple bloom
6m x 4m
'Genie'

Full Sun
Part Sun
Poor Soils
Frost Tolerant

Round, layered petals in a cup shape
Burgundy
4m x 2m
'Felix TM'

Full Sun
Part Sun
Full Shade
Poor Soils
Frost Tolerant

Broad, rounded petals
Deep purple fading to pink with age
5m x 3m
'Yulan'

Full Sun
Part Sun
Poor Soils
Frost Tolerant

Double layer of goblet shaped petals
Ivory White
10m x 5m
'Elizabeth'

Full Sun
Part Sun
Poor Soils
Frost Tolerant

Long petals in a cup shape
Lemon yellow
6m x 4m
'Sunspire'

Full Sun
Part Sun
Poor Soils
Frost Tolerant

Thick, long petals
Yellow
3.5m x 1m
'Sunsation'

Full Sun
Part Sun
Poor Soils
Frost Tolerant

Long petals in a cup shape
Yellow with a flush of purple / red
6m x 2m
'Pink Star'

Full Sun
Part Sun
Poor Soils
Frost Tolerant

Long slender tendril-like petals
Light pink
2m x 2m
'Iolanthe'

Full Sun
Part Sun
Poor Soils
Frost Tolerant

Thick, broad petals
Light pink with flush of dark purple at base, white on the inside
5m x 3m
'Heaven Scent'

Full Sun
Part Sun
Poor Soils
Frost Tolerant

Long petals
Yellow with a flush of purple / red
5-8m x 5-8m
'Campbellii'

Full Sun
Part Sun
Poor Soils
Frost Tolerant

Long petals in cup and saucer shape
Light crimson – rose pink
15m x 10m
'Cameo'

Full Sun
Part Sun
Poor Soils
Frost Tolerant

Broad, rounded petals in a cup shape
Dark purple outside, white inside
3m x 3m
'Burgundy Glow'

Full Sun
Part Sun
Poor Soils
Frost Tolerant

Long petals
White with burgundy trip in each petal
3m x 2m
'Ballerina'

Full Sun
Part Sun
Poor Soils
Frost Tolerant

Long, tenril-like petals
White, lightly pink tinged centre
5m x 4m
'Sweetheart'

Full Sun
Part Sun
Poor Soils
Frost Tolerant

Rounded with a point
Pink outside, white inside
5m x 4m
'Purple Magic'

Full Sun
Part Sun
Poor Soils
Frost Tolerant

Rounded cup shaped petals
Dark purple outside, lighter purple insie
6m x 2m
'Royal Star'

Full Sun
Part Sun
Poor Soils
Frost Tolerant

Double layer of slender, long petals
White
6m x 3m
'Royal Purple'

Full Sun
Part Sun
Poor Soils
Frost Tolerant

Large, rounded
Deep purple
6m x 2m
'San Jose'

Full Sun
Part Sun
Poor Soils
Frost Tolerant

Tight cup shape with broad petals
White with light pink base
4m x 3m
'Star Wars'

Full Sun
Part Sun
Poor Soils
Frost Tolerant

Star shaped
Musk Pink
5m x 3m