Magnolias
From the moment you first set eyes on the vivid colours of Magnolias in the collection of Ron Boekel, you won't be able to rest until you've found a spot in your garden for one. The problem then is going to be stopping yourself at just one, because these are some of the most beautiful flowering plants you are ever likely to see. While they are just as easy to grow at home as the common white varieties seen in nearly every suburban street, the flowers in Ron's collection are giant, and extremely eye-catching. The best news is that Magnolias are well suited to small gardens, and are an easy to grow large shrub or small tree that can fit into most garden designs without any problems.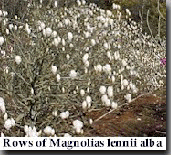 Ron Boekel's Magnolia business came about almost by accident. He had seen the brilliant colours and huge flowers being produced by growers in New Zealand and decided that he just had to have some in his own garden. Unlike the common varieties that are very easily reproduced by cuttings, these new varieties could only be grown by grafting them on to a hardy rootstock, so he first had to spend many years of trial and error perfecting his grafting techniques. Because Ron had been unable to find any of these varieties in Australia, and because other growers preferred to stick with the easily produced varieties, Ron realised that there had to be a market for such magnificent trees, so he set about producing them commercially. Since then he has become the only commercial producer of grafted magnolias in Australia, and most of his varieties aren't available anywhere else in the country.
The result is typical of someone for whom money is not the driving force behind plant growing. Ron is a fountain of knowledge, and he is only too happy to pass that knowledge on to anyone interested in trying out his plants. Whilst it would be cheaper and easier for him to have a team of workers producing thousands of grafts each year in a production environment, Ron insists on doing every graft himself, and he treats every plant as if it were being grown for his own garden. He first raises the rootstock from seed collected by hand on his own property, then slices each plant clean off at the top and inserts a small bud section cut carefully from one of his rare stock plants. What results is a healthy plant with vigorous growth and lush green foliage that is also extremely hardy. Ron only produces a small number of plants each year, but they are all of excellent quality.
Soil Conditions & Care

Magnolias are fast growing and can be used in small areas as they have a non-invasive root system. Because they maintain an attractive shape all year round, they look good even when not in flower. Plant them as a small feature tree or centrepiece in the garden, and they will be the talk of your neighbourhood for many years. Ron recommends a rich soil for growing Magnolias, and if you're not lucky enough to have the mountain soils of Monbulk in your garden, you can overcome this with the addition of copious amounts of well-rotted manure.

If your soil is heavy clay, mound it up to improve drainage and in sandy areas leave a depression to collect the water. Protect the young plants from frosts, and from pests such as snails and slugs. Water young plants well every 7-10 days in periods of hot and dry weather, and prune lightly if branches become straggly and untidy.
Otherwise, Magnolias are relatively maintenance free, especially once established. One unusual thing to note about Magnolias is that they often don't flower true to colour for their first year or two, so if your new deep purple variety has suddenly thrown a mass of pale pink blooms in its first season, don't despair!
Magnolias now for Sale:
Popular Magnolia Varieties