Nandina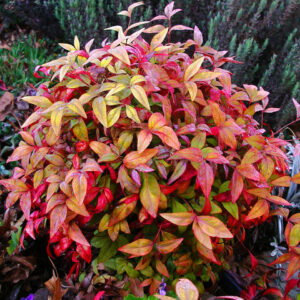 Attractive colourful foliage

Ideal hedging or border plant

Suits most climate types
This is a plant for a variety of places and spaces! Ranging from the dwarf varieties to the taller hedging plants, the colourful foliage will brighten any garden throughout the seasons.
Nandina is an attractive hardy shrub that is easy to maintain due to its compact habit.Most typeswithstanda range of temperatures, enjoying full sun and semi-shade, humidity, butcan also tolerate the Winter cold.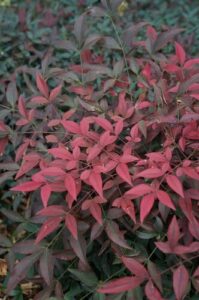 Nandina is generally a low growing shrub, the height and width being roughly equal. However, some varieties can grow to 90cmsandNandina domestica (Tall), or Heavenly Bamboo, can reach two metres in height. The beautiful lance-shapedfoliage rangesin colour from lemon-tipped, lime tones,blue-grey, through to pink and deepred. One of our best sellers, Dwarf Nandina, produces vibrant red foliage during the Winter, returning to greens, yellows and blush pinks during the warmer months. This stunning display and minimal maintenace makes Nandina suitable as an edging plant, a feature or filling plant. Tall Nandina produce white flowers and red berries though modern hybrids are generally produced for foliage only.
Garden types
Co

astal

Container

Courtyard

Low Maintenance

Mediterranean

Poolside
Tropical
Care
Nandina enjoys full sun and semi-shade. A hardy plant, once established, it can tolerate a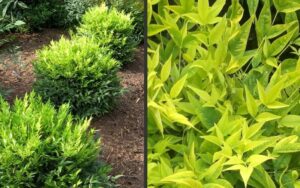 range of temperatures, is drought-tolerant, grows happily in well-drained, slightly acidic soils and appreciates a light prune, if untidy, in late Winter/early Spring prior to new growth emerging. Light composting can assist to keep plants healthy. Plants in containers should be checked for over-heating in hot weather and need an occasional deep soak rather than light watering.
Not all cultivars produce berries, however these are poisonous to some birds and animals, so cuttings should be disposed of carefully. Some uncommon varieties will produce runners or self-seed, but most are self-contained and considered non-invasive in Australia.
Check out the different varieties of Nandina below as there is sure to be one for any area of your garden!
Nandina Domestica 'Nana'
H: 60cm W: 60cm
Deep red foliage in spring with new growth flushing bright green
Nandina Domestica 'Lemon & Lime'
H: 90cm W:90cm
Lime green foliage with lemon tones on fresh growth.
Nandina 'Moon Bay'
H: 80 cm W: 80 cm
Lime to emerald green leaves that turn red in Winter.
Nandina Domestica 'Tall'
H: 2.4 metres
Reddish new leaves that mature to blue-grey with time. White flower spikes.
Nandina Domestica 'Summer Days'
H: 80 cm W: 80 cm
Lime to emerald green leaves with a light pink blush.
Nandina domestica Obsession™
H: 70cm W: 70cm
Green and red foliage turning entirely red in Winter.
Nandina domestica Flirt™
H: 50cm W: 50cm
Dark green to purple-red foliage.
Nandina Domestics 'City Lights'
H: 30-35cm
Autumn green and red tones.
Nandina domestica Blush™
H: 60cm W: 60cm
Spring/Autumn new red growth, Winter full red foliage.