Rock Rose Helleborus (Winter Rose)
Over the last few years helleborus have become increasingly popular. Many people are mass planting helleborus commonly known as Winter Roses as they flower profusely in June, July, August and September.
Winter Roses are available in three main colours, white, pink and red. They grow best in a fertile, moist shady corner of the garden and have large glossy green leaves through the spring and summer months, they make an attractive almost tropical looking groundcover.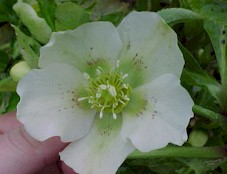 Because of the high demand we have had difficulty in supplying enough Winter Roses to meet our customer demands. Chris set out in search of the biggest and best Winter Roses in Australia and ended up in a tiny flower farm in the hills with Mr Boekel (pictured below left). When Chris arrived he found Mr Boekel pushing a handcart laden with white rock rose blooms.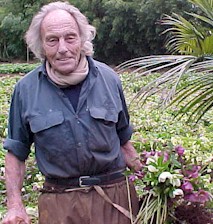 Chris asked him about selling divisions of Winter Roses and he told him that Chris' customers should plant large flowering divisions, "They need to plant big pieces to get flowers in one year". Mr Boekel grabbed his spade and pushed his cart back out into the field with Chris following close behind. When he arrived in the field Mr Boekel dropped to his knees in the Winter Roses and dug a large old rock rose plant laden with white flowers and began dividing it on his knee by carefully slicing between the eyes with a sharp spade. As he cut he told Chris normally nurseries sell small seedlings of Winter Roses in 6″ pots for $8-$10. But the problem said Mr Boekel "Is that they take several years to form a nice large flowering bush, but if they plant a nice big piece like this they will get a big bush with flowers this year".
He went on to tell Chris how he had migrated to Australia in 1951 with six children and proceeded to make a living as a flower grower and nurseryman. Mr Case Boekel is one of the original nurserymen in the Monbulk district, he was born in Holland, he has ten children, eighteen grandchildren and two great grandchildren.
There is only a brief season where rock rose can be harvested from the field and sold as generous divisions. So if you want to establish large flowering bushes of rock rose quickly, contact us to order them in! Each generous portion has been lovingly hand split by Mr Boekel from his field of Winter Roses.
Winter Roses Currently Available: