Landscapers Grade Sale upto 80% Off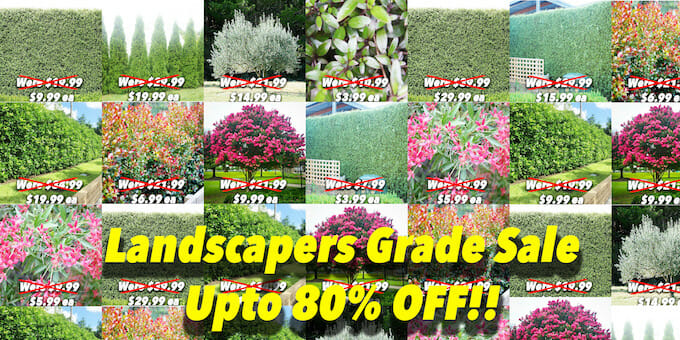 LANDSCAPE GRADE PLANTS.
Often when you're landscaping you need a lot of plants, and to keep the budget under control and not break the bank you need the plants to be CHEAP! We have a range of stock which is up to 80% off the normal retail price due to the plants being not quite perfect enough to go into retail but they are good strong plants that with a little bit of love, some trimming and fertilizer will take root and grow to help create a wonderful and cost effective landscape.
So whether you are a professional gardener, landscape developer or a home gardener check out our 'Landscape grade plants' and SAVE!
Hello Hello Plants and Garden Supplies
9359 3331
Shop: www.hellohelloplants.com.au
(Pictures shown in this newsletter are often more mature plants to give you a guide as to what your plants will become)
6" pot Coprosma 'Black Cloud' now only $3.99 each (down from $10.99) – BUY HERE

6"  pot NSW Christmas Bush now only $5.99 each (down from $9.99) – BUY HERE

10" pot Smaragd Conifer now only $19.99 each (down from $29.99) – BUY HERE

7"  pot Olive Trees now only $14.99 each (down from $21.99) – BUY HERE

7" pot Lilly Pilly Bush Christmas now only $6.99 each (down from $21.99) – BUY HERE

7" pot Crepe Myrtle Tuscarora now only $9.99 each (down from $21.99) – BUY HERE

6" pot Pittosporum 'Silver Sheen' now only $4.99 each (down from $7.99) – BUY HERE

2m tall 'Silver Sheen' in 10" pots now only $29.99 each (down from $39.99) – BUY HERE

1.7m tall Pittosporum 'Silver Sheen' in 10" pots now only $15.99 each (down from $29.99) – BUY HERE

90cm tall Pittosporum 'Silver Sheen' in 10" pots now only $9.99 each (down from $19.99) – BUY HERE

Awesome 7" pot Assorted Viburnum now only $9.99 each (down from $19.99) – SEE BELOW

10" pot Assorted Viburnum now only $19.99 each (down from $34.99) – SEE BELOW