Magnolia – Evergreen
Common Names: Southern Magnolia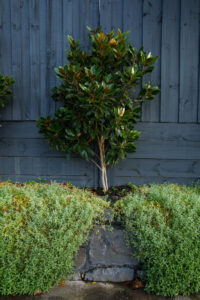 Origin: Southern USA, Indomalaya, Southern China
Elegant, robust foliage

Lemony scented flowers

Hedging, screening, feature or pots
Commonly chosen for their heady fragrance and robust foliage, evergreen Magnolia make wonderful hedging, features and potted specimens. They come in a range of sizes, there always being a suitable species for the right application, and produce large, white lemon-scented blooms in the summer. These evergreen beauties are rather tough, tolerating poor soils, heat and frosts! It's hard to find a garden without one.
Plant Type: Tree
Uses: Tall Hedge, Medium Hedge, Standards & Topiary, Pleaching, Feature
Garden Types: Pots & Containers, Formal, Modern, Hampton, Tropical, Lush & Leafy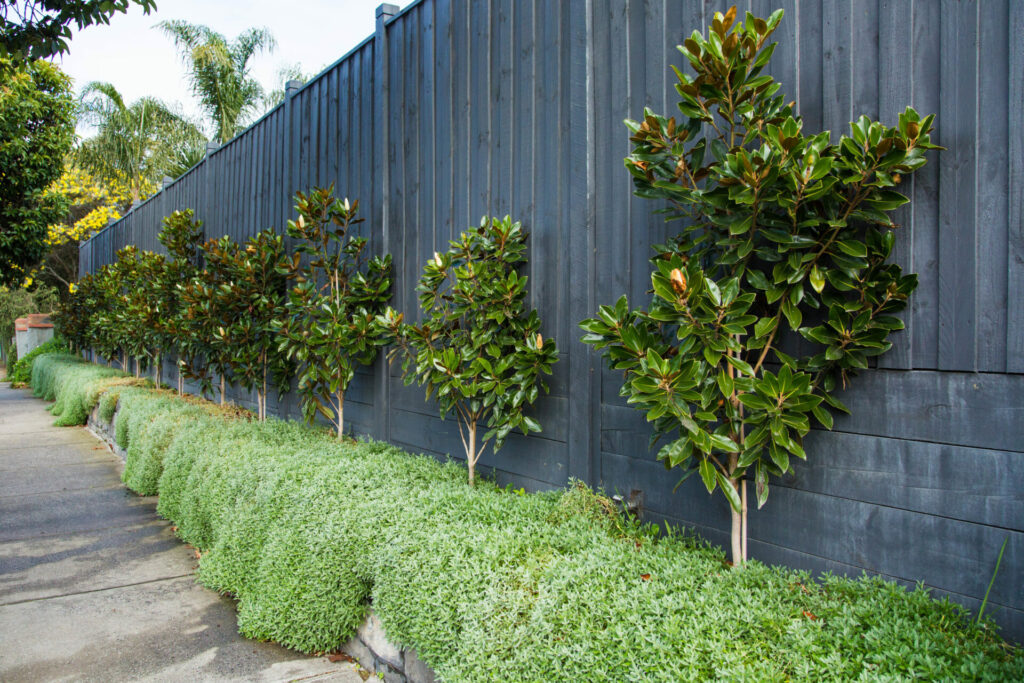 Care

---

Sun Requirements: Full sun or part shade position
Water Requirements: Water regularly until established. Once established they are relatively drought-hardy, though they look their best when kept well hydrated.
Soil Requirements: Will tolerate sand and clay but look their best in moist, well-drained loamy soil.
Fertilizing: Slow Release general-purpose fertilizer in spring and summer. Not required once established unless soil lacks nutrients.
Pruning: No regular shaping required, though if any maintenance pruning is needed, do after flowering in the growing season or warmer months. Magnolia's tend to not heal well in the cooler months. 
Tolerances: Sun, heat, poor soils and frost. Does not tolerate soggy soils or extreme drought
Diseases: Blight, lead spot, Magnolia scale, black mildew
Key Features
---

Flower: Large, white fragrant flowers on the tree forms.
Foliage: Simple, ovate leaves. The most popular varieties have a dark, glossy green on the upside with brown or yellow pubescence on the underside.
Seeds / Berries: Large, neat seed pods after flowering that sometimes produce vibrant red seeds.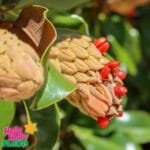 Edible: No
Toxicity: No
Attracts: Bees, Birds, Leafhoppers
---
Which large Magnolia To Choose?
---
With such a wide variety of Magnolia, it's important you choose the right one for the right spot! Check out the brief descriptions of each below and then quickly compare them on our comparison table at the end.
For more, in depth care instructions, go to Additional Information on the individual product pages.
---
Like the name suggest, 'Little Gem' is the small version of the great, big original Magnolia grandiflora. Only growing between 4-6m tall and tolerant of the tough Victorian climate makes 'Little Gem' an urban favourite in the garden suburban garden.
---
As cute as a Teddy Bear! This Magnolia is truly the baby of the grandiflora's, only growing a mere 4m tall. 'Teddy Bear's leaves are also much bigger and rounder than that of its older brothers with a more vibrant, velvety brown underside, truly fitting the Teddy Bear theme!
---
The compact, upright Magnolia. Much like its smaller siblings, this beauty has little need of pruning for shaping, making it the perfect statement feature tree or low maintenance, tall screen.
---
If you're looking for a low maintenance, elegant flowering screen or feature tree, look no further than Magnolia 'Kay Parris'! With slightly longer, pointed leaves than the other Magnolia, but just as hardy and versatile, 'Kay Parris' is sure to impress.
---
'St Mary' Magnolia are a slightly wider growing variety, with apple green, glossy foliage and large, scented white flowers in the summer. It is also known as one of the dwarf varieties, perfect for a dense pleached on regular hedge on a larger property or as a big, rounded feature and shade tree in a suburban garden.
---

Magnolia Greenback® are upright growing trees with feature leaves that have a green rather than brown underside, hence their name!
---
Magnolia 'Coolwyn Gloss' PBR are one of the largest Magnolias, producing some of the richest, rusty velvet undersides a Magnolia can produce and almost 30cm in diameter flowers!
This Magnolia is suited for larger properties as a shade tree, large feature or screening and hedging.
---
Magnolia 'Exmouth' are one of the larger Magnolias. Their leaves are long and pointed with a glossy texture, and large white flowers in the summer. These big beauties are perfect for large properties as shade or feature trees, screening and hedging.
---
Still having trouble deciding which Magnolia is right for your job? Check out our quick comparison chart below!
Uses
Tolerances
              Foliage
Max. Size
'Little Gem'

Standard
Pleaching
Tall Hedge
Medium Hedge
Feature

Full Sun
Part Shade
Poor Soils
Frost tolerant

Dark green
Glossy
Long & pointed

6m x 3m
'Teddy Bear'

Standard
Pleaching
Medium Hedge
Pots & Containers
Feature

Full Sun
Part Shade
Frost tolerant

Rounded
Emerald green
Glossy

4m x 3m

Pleaching
Tall Hedge
Medium Hedge
Feature

Full Sun
Part Shade
Poor Soils
Frost tolerant

Large
Long & pointed
Emerald to dark green

9m x 4m
'Kay Parris'

Pleaching
Tall Hedge
Medium Hedge
Pots & Containers

Full Sun
Part Sun
Poor Soils
Frost tolerant
6m x 3m
'St Mary'

Topiary
Pleaching
Tall Hedge
Medium Hedge
Feature

Full Sun
Part Sun
Poor Soils
Frost tolerant

Lime green
Less gloss
Rounded tip
Wavy margins

6m x 4m
Greenback®

Tall Screen
Shade Tree
Large Feature Tree

Full Sun
Part Shade
Poor Soils
Frost Tolerant

Lime green
No brown velvety underside
Long & pointed

10m x 5m
'Coolwyn Gloss' PBR

Tall Screen
Shade Tree
Large Feature Tree

Full Sun
Part Shade
Poor Soils
Frost Tolerant

Lime green
Large, long pointed
Richer velvety underside

10m x 8m
'Exmouth'

Tall Screen
Shade Tree
Feature Tree

Full Sun
Part Shade
Poor Soils
Frost Tolerant

Long & pointed
Emerald Green
Glossy

12m x 5m