Simply an elevated hedge on clear, strong trunks, pleaching is an elegant style of hedging. As well as making a very dignified garden feature, the pleached hedge has several important advantages in landscape design that a conventional hedge lacks. 
Creates space
In small spaces, such as a courtyard or townhouse garden, a pleached hedge creates the illusion of space. The cleared understory opens up the possibility of a two-storey garden, where contrasting textures and colours can be artfully planted underneath against the bare pleached trunks.  
Tall yet narrow screening
Pleaching allows large, tall-growing plants to be grown in a narrow bed without looking clumped and crowded. As they require regular maintenance to keep the elegant pleached form it also keeps these large screening shrubs and trees in check. 
A feature with form and functionality
Where a hedge may be necessary to screen out adjacent buildings, roads or neighbouring windows, it turns a boring necessity into a very attractive and functional feature. 
Pleached hedges are suitable for Formal, Modern, Tropical, and even Cottage gardens. What's important is choosing the right variety of plants to pleach for the particular conditions and garden style.
Here are some points to note when picking the right plant for your pleaching project.
Maintenance
Pleaching requires a regular maintenance to keep the hedge looking lovely and neat, and those bare trunks bare!
Some plants will grow faster than others so you need to make sure you have the time to maintain the look you want.
Trunks
The trunks of the plants are going to be a main feature and thus kept bare. So keep in mind what kind of appearance you want your trunks to have. Usually nice, straight trunks are selected for uniformity. However, some people may like a more twisted or bendy trunk. Or will you might want multiple bare trunks!
And remember to prune the lower branches off neatly. The trunks need to be clean, clear trunks, not bumpy, knobbly ones.
Top 10 Plants for Tall Pleaching
Gracillis 'Slender Weavers' Bamboo
Prunus lausitanica 'Portuguese Laurel'
Prunus laurocerasus 'Cherry Laurel'
Pyrus ussuriensis 'Manchurian Pear'
Pyrus calleryana 'Everscreen' Pears
Ficus hillii 'Flash'
Waterhousia floribunda'Weeping Lilly Pilly'
Carpinus 'European Hornbeam' Tree
Fagus 'European Beech Tree' Green
Photinia robusta 'Red Robin'

Gracillis 'Slender Weavers' Bamboo 
Gracilis is a unique and tall narrow screen for a confined area. It can withstand partial shade and requires regular watering (we recommend a watering system installed). It can look untidy unpleached, making it a fabulous option for pleaching!
It is very easy to trim and train, and unlike conventional pleached hedges will have multiple bared trunks on display.
Plant 1.5m apart. 
Prunus lausitanica 'Portuguese Laurel'
With its large, deep green foliage and dense habit, this is an all-time classic for pleaching. It needs good drainage otherwise very hardy, versatile and easy to shape and maintain. Portuguese Laurel is shade and frost tolerant too, being a popular choice in rural areas. It also produces elegant, long white flowers in early summer.
Plant anywhere between 80cm to 1.5m apart.
Prunus laurocerasus 'Cherry Laurel'
Suitable for large or grand pleached hedges with its large, glossy green foliage. It is probably the best plant to be grown in shade or in competition with an existing canopy. Cherry Laurel is very fast-growing, easy to shape and maintain. It is free from pests and diseases and is extremely frost hardy. Another rural property favourite.

Plant anywhere between 80cm to 1.5m apart.
Pyrus ussuriensis 'Manchurian Pear'
If you want a pleached hedge with real character and interest then pick up the 'Manchurian' Ornamental Pear. Their horizontal branch structure makes them the best ornamental pear to be pleached. The 'Manchurian' Pear has naked branches covered in white blossom in late winter to early spring. Beautiful lush green foliage appears in spring through summer until late April when it begins its autumnal show.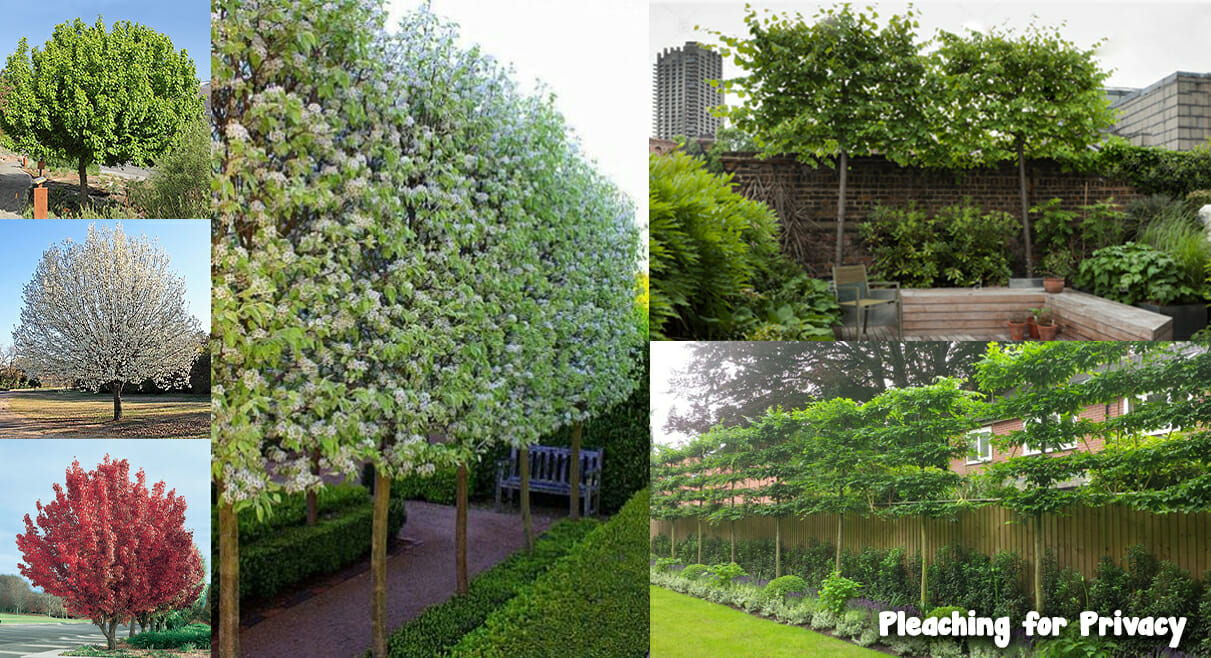 Apart from being a colourful character-filled tree, the Manchurian Pear will allow late autumn and winter sun through to the plants and garden beneath it.
Plant 1.5m-2m apart. 
Pyrus calleryana 'Everscreen' Pears
Where a tall, fast-growing pleached screen is required, the evergreen 'Everscreen' Pear is a great choice. It is capable of growing up to 2m a year, tolerant of most soil and weather conditions and will maintain its lovely green foliage throughout the winter in warmer climates.
In rural Victoria, you can expect to see the leaves fall in autumn. However, within the city of Melbourne, they stay on the tree!
Plant 1.5m-2m apart
Click here to read more about  'Everscreen' Pears 
Ficus hillii 'Flash'
One of the most versatile and easy to grow pleaching plants, the Ficus 'Flash' is simply one of the most popular hedging plants around. Fast, tough, sun-loving, non-flowering, easy to trim and shape, salt, wind and heat tolerant! What more could you ask for!
For best results, Ficus need moderate to good drainage and are best kept away from water pipes and pools. They are also frost sensitive so unfortunately not ideal in rural or frost-prone areas.
Plant anywhere between 80cm to 1.5m apart
Waterhousia floribunda'Weeping Lilly Pilly'
An elegant Australian native plant with cascading foliage, the 'Weeping Lilly Pilly' is a fast-growing and easy to trim pleaching hedge. It is a good choice where a less formal or very modern look is required and, rarely growing flowers, makes it a good choice near pools. Weeping Lilly Pilly can be grown in full sun to part shade positions, preferring well-drained, moist, rich soils.
Plant 1m-1.5m apart
Carpinus 'European Hornbeam' Tree
Hornbeam trees are ideal for use as a hedge, screen, or windbreak. They produce attractive leaves that are dark green through the summer and fade to yellow in the fall. They also bear white/cream and grey flowers.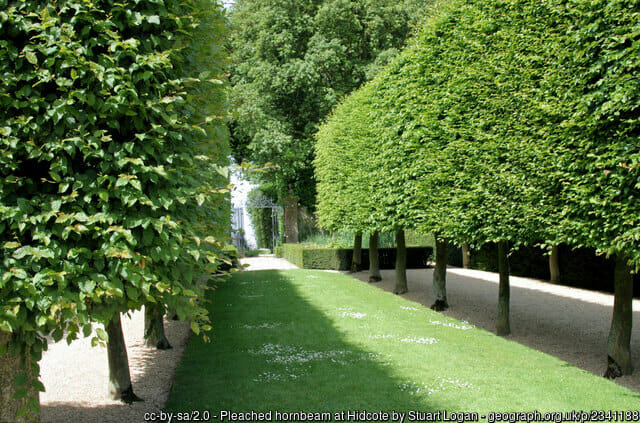 Hornbeams have extremely hard wood which is protected by smooth grey bark. They are narrow and upright when young, gradually widening as they age. Hornbeams are a top tree for pleaching.
Fagus 'European Beech Tree' Green
Beeches are an old European classic and are commonly used (but uncommonly known) as gorgeous pleached screens. In fact the tallest and longest hedge in the world is made of Beech! Being a deciduous tree, when it comes to autumn the Beech makes a feature out of the hedge, turning rich golds, highlighting their smooth barked trunks underneath.
Beech should be trimmed during their dormancy as the framework and structure of the tree are more visible at this time.
Plant 1-1.5 apart.
Photinia robusta 'Red Robin'
If you're after a bit of colour in your pleached hedge, look no further! Photinia are notorious for their vibrant red new growth, which you can see for miles. The 'Red Robin' variety has smaller and more vibrant leaves than the regular robusta, creating a wonderfully compact and dense hedge. The red new growth then turns to a gorgeous, deep green glossy foliage. Photinia are hardy, tolerating frosty and drought conditions. And their bare trunks contrast beautifully against the red or green foliage, being a sooth, light grey.
Plant anywhere between 80cm to 1m apart
Check out some more articles you may like:
Sign up for our newsletter below
We will send you gardening tips, great deals, and exclusive giveaways. Happy Gardening!