Prunus – Ornamental Blossom
Common Names: Cherry Blossom, Flowering

Plum, Ornamental Cherry, Ornamental Plum
Origin: Asia
Delicate spring blossoms

Feature tree

Hardy yet elegant
The most iconic floral symbol of Japan and its unofficial floral emblem is the Cherry Blossom! The trees bloom for only a few days with people celebrating under them in groups, also known as hanami (cherry blossom or flower viewing) .
Cherry blossoms are the first signs of colour in the late winter early spring. The soft, delicate blossoms burst open along the bare branches in colours of white and pink, welcoming the warmer weather of spring! The mass of colour Cherry and Plum blossoms bring make them one of the most coveted garden items, used as feature trees, lining avenues and driveways or as street trees. Their blossoms fall away gently in the spring breezes like natures confetti, making way for the broad, green summer foliage.
Plant Type: Tree
Uses: Feature
Garden Types: Japanese, Pots & Containers, Courtyard, Cottage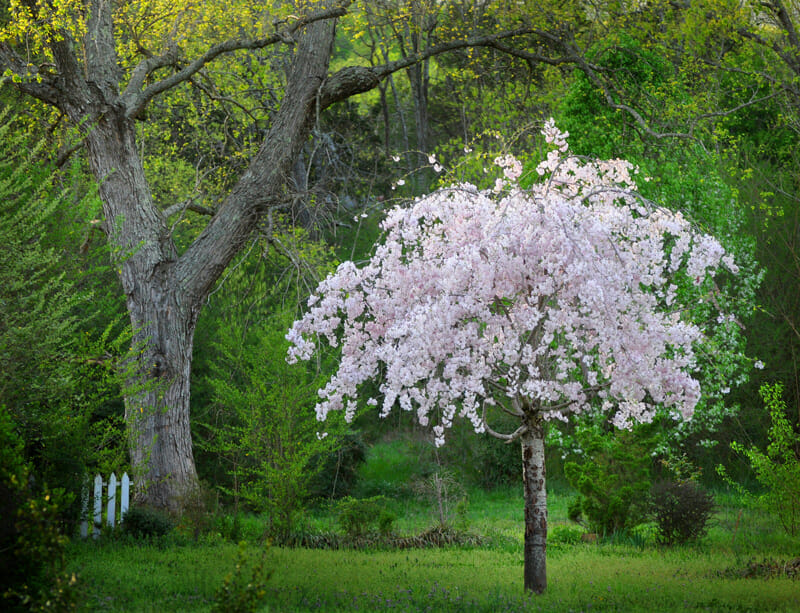 ---
Care

---
Sun Requirements: Full sun, part shade or dapple shade position. Some varieties would prefer to be kept out of the harsh Australian afternoon sun. Others, such as the Plums, would thrive in it. Prunus flower best in full sun.
Water Requirements: Water regularly until established. Once established they are relatively self sufficient.
Soil Requirements: Will tolerate sand and clay but look their best in moist, well-drained loamy soil.
Fertilizing: Slow Release general-purpose fertilizer or a decent layer of well decomposed, organic compost turned into the soil in spring. Not required once established unless soil lacks nutrients.
Pruning: Late winter is the optimum time to prune whilst the tree is dormant and sap flow is minimal. Prune in summer to remove water shoots and promote airflow. Prunus are susceptible to fungal and insect infestation if pruned incorrectly and at the wrong time.  Prune to remove dead, damaged and diseased wood. For more on pruning, check out our Pruning and Pruning Fruit Trees pages.
Tolerances: Pollution, Heat. Does not like soggy, poorly drained soils. Will tolerate windy areas, however blossoms and autumn leaves will fall off the tree much faster.
Diseases: Cherry Slug, Caterpillars, Brown Rot, Cherry Leaf Spot, Blossom Wilt, Cytospora Canker, Powdery Mildew, Necrotic Ringspot, Silver Leaf.

---
Key Features
---
Flower: Small, single or double petalled blossoms in white and dark or light pinks. Blossoms are delicate and easily blown off.
Foliage: Large ovate, serrated emerald to dark green. Some varieties produce purple foliage. In autumn they change to yellows, oranges and reds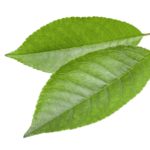 Seeds / Berries: Minimal to none, non-edible
Edible: No
Toxicity: Dogs, Humans, Horses
Attracts: Birds, Bees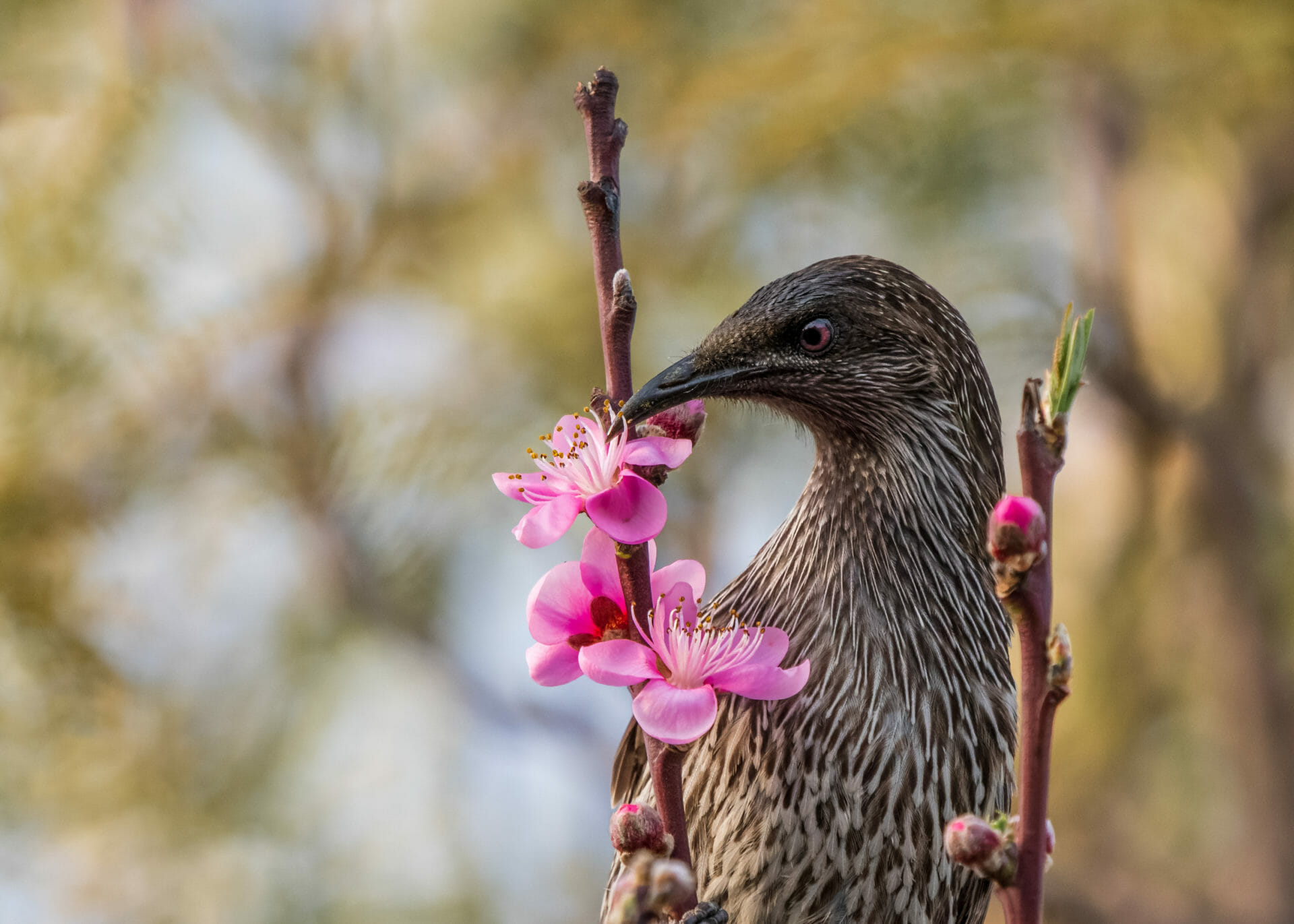 ---
Which blossoms to choose?
---
As blossoming cherry and plums come in a few different sizes, colours and forms, it can be tricky to choose which one is right for your garden. So to make it easier, here is a brief description of each variety and a quick comparison table at the end.
For more, in depth care instructions, go to Additional Information on the individual product pages.
---
Upright
---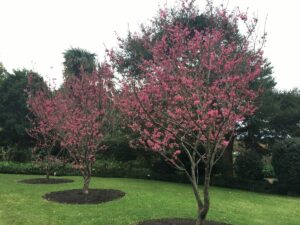 Upright blossoming Prunus grow with upward
facing branches and are sometimes grafted, sometimes not, depending on the variety. They make wonderful avenue and fenceline plantings or as solitary feature or street trees.
---
Standard
---
Standard Prunus are upright varieties grafted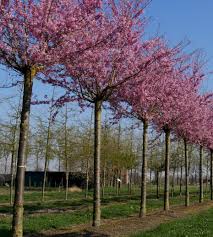 onto a single straight clear trunk, usually at intervals on 1.2m, 1.5m or 1.8m. Standards are chosen over the upright variety as they have a singular, neat trunk as opposed to a bent trunk, multiple trunks and lower branches that upright varieties often have.
---
Weeping
---
Weeping Prunus are a groundcover or low growing, trailing shrub, grafted to a tall, clear trunk. The graft is usually made at 1.2m, 1.5m or 1.8ms up the trunk and forms a beautiful cascading umbrella shape. The width of the tree depends on the variety.
---
Below is a comparison of the Weeping Cherry blossom varieties
               Tolerances
              Flower
Spread
'Cheals'

Full Sun
Part Shade
Poor Soils
Frost tolerant

Pink
Ruffled
Double petals

3m
'Falling Snow'

Full Sun
Part Shade
Poor Soils
Frost tolerant

White
Single petal
Star shaped
Stamen showing

2m-2.5m

Full Sun
Part Shade
Poor Soils
Frost tolerant

Pink
Single petal
Star shaped
Stamen showing

5m-7m
'Shimidsu Sakura'

Full Sun
Part Shade
Poor Soils
Frost tolerant

White with a blush of pink
Double petal

5m-7m
'Subhirtella Alba'

Full Sun
Part Shade
Poor Soils
Frost tolerant

White
Slender layered petals
Stamen showing

5m
'Weeping Apricot'

Full Sun
Part Shade
Poor Soils
Frost tolerant

Hot pink
Cup shaped
Layered petals
Stamen showing

3.5m