Our end of year realisation sale is still going! Our accounts team has told us to "forget what it costs and clear it."
If you go through our nursery you'll see prices slashed everywhere, there's never been a better time to fill up your garden on the clear up. Just check out these specials.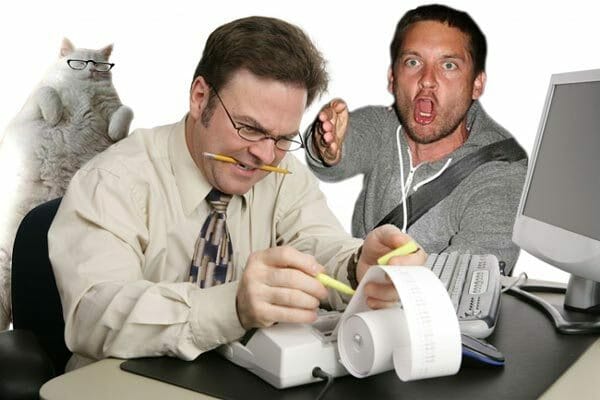 Hello Hello Bare Rooted Bush Rose Sale!!!
Have you ever dreamed of planting a rose spectacle, a whole border or planting of one or two colours, or perhaps you've always wanted a whole collection of different coloured and fragrant roses?
Well now is the time to do it!  On Friday the 24th of June our rose grower is going to deliver thousands of bare rooted, freshly dug bush roses. Beautiful specimens that will be in flower by November. If you order prior to arrival, a single bush rose will be $8.99 ea, a bundle of 5 of any variety will be $42,45 (that's $8.49 ea) or 20 or more of any variety will only cost you $7.99 ea.
THE VARIETIES TO CHOOSE FROM ARE:
Apricot nectar rose
A tall bush with semi-double flowers of soft apricot. Beautifully scented.
Bonica rose
Dainty clusters of attractive, small, rose pink flowers. Hardy, repeats well and has little disease.
Blue Moon rose
Vigerous with large lilac double blooms and a strong lovely fragrance.
Camp David rose
A very vigorous bush producing the magnificent crimson perfumed buds.
Charles De Gaulle rose
Very vigorous with low to medium growth and large, double lilac blooms. Very fragrant.
Double Delight rose
Beautiful fragrant rose with upright, bushy growth and large masses of double blooms that with creamy- white petals centered with yellow and edged with red.
Elina rose
Beautifully formed blooms of a creamy yellow colour and fragrance.
Fragrant Charm rose
Perfumed – A must for lovers of good perfumed reds. This variety is very overlooked and is not very common. It has magnificent large, claret red buds that are produced on strong, tall healthy stems. A highly recommended variety.
Fragrant Plum rose
This tall, vigorous plant produces armloads of very long elegant buds atop premium-length cutting stems. Plum colored blooms with deep green foliage.
Friesia rose
Beautiful small bunches of flowers, it's the only pure yellow rose that has a fragrance. If your after a clean bright yellow rose and you're after some fragrance then the Fresia rose is the one to go.
Gold Bunny rose
This popular little floribunda needs no introduction. It has proven itself to still be the most asked for short yellow bush rose. A highly recommended variety!
Gold Medal rose
An excellent accent to any garden, this yellow blooming rose has it all. Beautiful, deep green foliage with a strong fragrance, medium-sized blooms with about 35 petals per bud. Black spot and mildew resistant.
Iceberg rose
The snowy white, fluffy cloud like flowers emerge in late spring and continue blooming right through to autumn. The flowers are heavily petaled at 25 plus petals per bloom.
Just Joey rose
Sweelty scented large, pale orange double blooms.
Loving Memory rose
A hardy, upright bush with bright red blooms, slightly fragrant.
Mr. Lincoln rose
This splendid rose has urn-shaped buds that open to dark red flowers with a superb petal substance.
Peace rose
Bushy and vigorous growth, the blooms are flushed with pink and fragrant.
Perfume Delight rose
Profuse, large, double, cupped, deep pink blooms with long, pointed buds. Very fragrant with vigorous upright growth.
Princess De Monaco rose
Hybrid Tea. Elegant ivory-white flowers have a delightful pink picotee edge and are presented on long stems clothed in rich glossy foliage.
Valencia rose
Light copper yellow rose with fairly large blooms. Sweet fragrance.
5ft tall Silver Sheen Pittosporums in 10" pots only $14.99 each!!!
Silver Sheen Pittosporums are perfect for creating a quick privacy solution. Growable just about anywhere and will tolerate just about any kind of condition (frost included), the silver sheen pittosporum is one of the best all rounders for making a quick hedge, border or even topiary if you wish.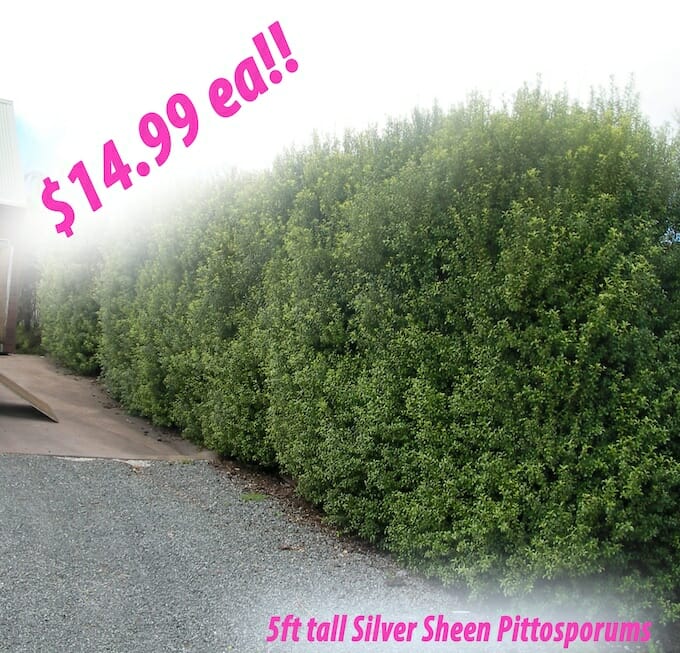 ENGLISH BOX ONLY 99C each!!
English Box is Melbourne's most popular low hedge or border.
It has dense dark green foliage, and when trimmed into a hedge or topiary it has a clearly defined shape. English Box hedges and topiary create a truly traditional formal style garden. The advantages of English Box hedge and border is that it only requires one or two trimmings per year. It needs very little water and it grows in almost any soil except for a very heavy or poorly drained soils.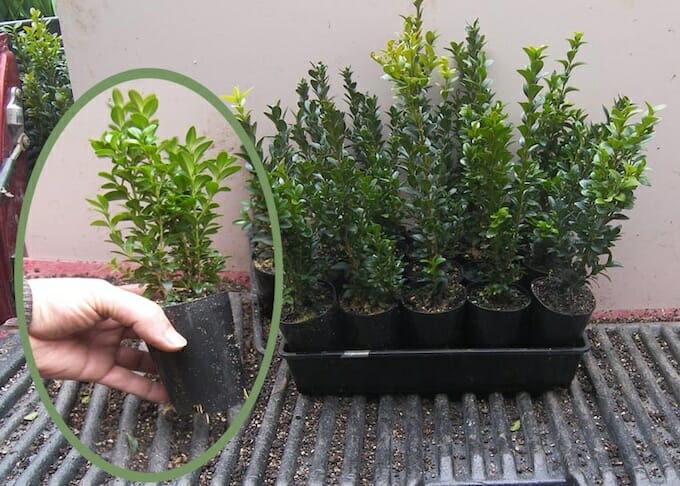 | | |
| --- | --- |
| | |
| Assorted Coulourful Gazanias in 6" pots were $7.90 ea – Now $3.90 ea | Assorted Lilac colours in 8″ pot were $29.90 ea – Now $9.90 ea |
| | |
| 2ft Tall Bare Rooted Silver Birch were $5.99 ea – Now $2.99 ea | Yuccas in 10″ Pots were $29.90 ea – Now $14.90 ea |
| | |
| English Box in 3" pots were $2.50 ea -Now $0.99C ea | Weeping Celtic Cascades in 10" pots were $79.90 ea – Now $39.90 ea |
| | |
| 35cm tall Bare Rooted English Box only $2.50 ea or $2.20 50 or more | Assorted Eucalyptus Trees in 16″ pots were $79.90 ea  Now $29.90 ea |
| | |
| Lilly Pilly Acmena Smithii in 12″ potswere $89.90 ea – Now $49.90 ea | Little Gem Magnolia in 10″ pots were $79.90 ea – Now $49.90 ea |
| | |
| Silver Sheen Pittosporums in 6" pots were $7.90 ea – Now $4.99 ea | Bird of paradise Reginae in 7″ pots were $29.90 ea – Now $19.90 ea |
| | |
| Red Cordylines in 10" pots were $29.90 ea – Now $6.99 ea | 2ft Assorted Standard Roses in 8" pots were $24.90 ea – Now $9.90 ea |