While Our End of Year Realisation Sale may have ended, we've decided to extended a few select specials for just one more week only! This is the absolute last week that you can get these incredible specials so don't leave it too late.
Sale must end on select items below – 5pm – Friday July 7th.
To order: Call: (03) 9359 3331
Visit: 1477 Sydney Rd Campbellfield
ENGLISH BOX ONLY 99C each!!
It has dense dark green foliage, and when trimmed into a hedge or topiary it has a clearly defined shape. English Box hedges and topiary create a truly traditional formal style garden. The advantages of English Box hedge and border is that it only requires one or two trimmings per year. It needs very little water and it grows in almost any soil except for a very heavy or poorly drained soils.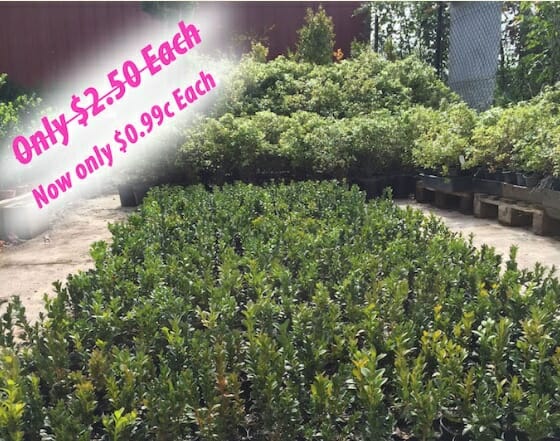 5ft Silver Sheen Pittosporums Just $14.99!!
5ft tall Silver Sheen Pittosporums in 10" pots only $14.99 each!!
Silver Sheen Pittosporums are perfect for creating a quick privacy solution. Growable just about anywhere and will tolerate just about any kind of condition (frost included), the silver sheen pittosporum is one of the best all rounders for making a quick hedge, border or even topiary if you wish.
Beautiful Pleached Ficus only $24.90 each
Pleached Ficus Hillii Hedging are perfect for the compact garden. They have small trunks which allow for something special and small to be grown underneath them whilst giving you a 2 story effect. Right now you can buy beautiful 3ft tall specimens in a 8" pots for only $24.90 each (Hurry stocks are limited)
The secret with pleaching is that ficus are evergreen and pleach very easily. These particular ficus are the Emerald Green Ficus Hilii and are very lush and are fantastic for doing a pleached hedge.
Standard Ficus & Standard Lilly Pilly only $29.90ea!
Standard Ficus and Standard Lilly Pillys are perfect for creating a beautiful lush landscape in your garden. If you're looking to add character and shape to your garden then these beautiful plants are just for you!
Get them now 3ft tall in 8" pots for only $29.90 each! Hurry as stocks are limited.
Get them online or by phone (03) 9359 3331 and get home delivery for just $34.90 in Metro Melbourne.