Camellias
Common Names: Common Camellia, Japanese Camellia (japonica)

Origin: Asia
Striking, glossy green foliage

Winter flowers

Hedging and feature plant
Camellias are one of the most popular garden plants of all time, and with the enormous choice of varieties and ways you can use them in your garden, it's not hard to see why. They are often seen as gorgeous feature hedging or as manicured specimen trees, bringing abundant vibrant colour to the garden during the winter months. 
Plant Type: Tree, Shrub
Uses: Medium Hedge, Standards & Topiary, Pleaching
Garden Types: Pots & Containers, Formal, Hampton, Japanese, Courtyard
Care

---
Sun Requirements: Shade to part sun position. Some species can endure more sun than others
Water Requirements: Water regularly until established. Requires water during the dryer months.
Soil Requirements: Moist, well drained, rich loamy soil. Grows best in slightly acidic soil
Fertilizing: A specific fertiliser best suited to acidic loving plants, such as Osmocote Slow Release Fertiliser: Roses, Gardenias, Azaleas & Camellias. Give a few handfuls of potash and sulfate just before flowering.
Pruning: Before bud swell, which can depend on the species. Hard prune to revitalize leggy or sparse growth.
Tolerances: Shade. Sasanqua species tolerates salt, sun and light frost.
Pests & Diseases: Aphids, Thrips, Mites, Caterpillar, Scale, Weevils, Sooty Mold, Root Rot, Dieback, Canker, Leaf Gall
Key Features

---
Flower: Large to medium, soft, heavy blooms. Some species will have multiple petals, ruffled petals or wavy petals. Cluster of yellow stamen in the centre is visible in some varieties. Comes in whites, reds, pale to deep pinks, purples and variegated.
Foliage: Deep to emerald green, glossy foliage with a thick and serrated leaf edge. Sasanqua species has smaller leaves than the Japonica species.
Trunk: Bark is pale grey and can be trimmed clear or pleached. Can have a single or multiple trunked Camellia.
Edible: Leaves of the sinensis species are used to tea
Toxicity: No
Attracts: Bees, Birds and Butterflies
---
Which Camellia to Choose?
---
The table below compares the two main species of Camellia to help you select the right one for the right spot
Japonica
Sasanqua
Max Growth
1.8m – 3.6m
(Generally larger than Sasanqua)
60cm – 3.6m
Leaves
Large, glossy leaves
(10cm long)
Small, dark green, glossy leaves
(5cm long)
Blooming Time
Winter to spring
Autumn to winter
Flower
large flower
(up to 12.5cm wide)
medium flower
(5cm-10cm wide)
Flower Style
partially or fully double petalled
Various colours
(red, pink, white, rose)
single or ruffled petals with stamen showing.
Various colours
(red, pink, white, rose)
Fragrance
No
Yes
Sun
Prefers Part shade
Sun (provided the soil is moist)
to full shade
Tolerances
Happier in cooler climates
Light frost
Hardier than japonica
Happier in warmer climates
Light Salt
Humidity
Deep shade
Sensitive to hard freezes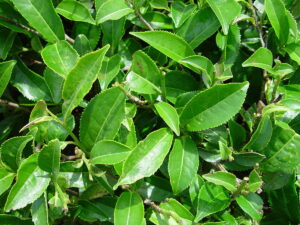 There is one Camellia species that brings us one of our most favourite hot drinks and is often overlooked as it is purely grown for its leaves. This would be Camellia sinensis or the Tea Camellia! The leaves of this particular species are used for common black or green tea. This particular Camellia has very similar growing conditions to the japonica and sasanqua, so you can grow your very own tea leaves in your backyard!

---
Japonica
---
---
Sasanqua
---