Possibly the most popular tall hedging plant, Ficus is favored due to its speedy growth, rich, glossy green foliage, and easy-to-prune habit. When used in urban settings they produce no flowers, making them a no-mess option for hedging. Plus the pale, almost white bark of the hillii attracts those looking for an attractive pleaching or standard option as it creates a gorgeous contrast against the green foliage. Though they are known to have somewhat invasive roots, they can be kept under control if pruned regularly and at a 2-3m maximum height.
Plant Type: Tree
Uses: Tall Hedge, Medium Hedge, Standards & Topiary, Pleaching
Garden Types: Pots & Containers, Formal, Modern, Hampton, Tropical, Native,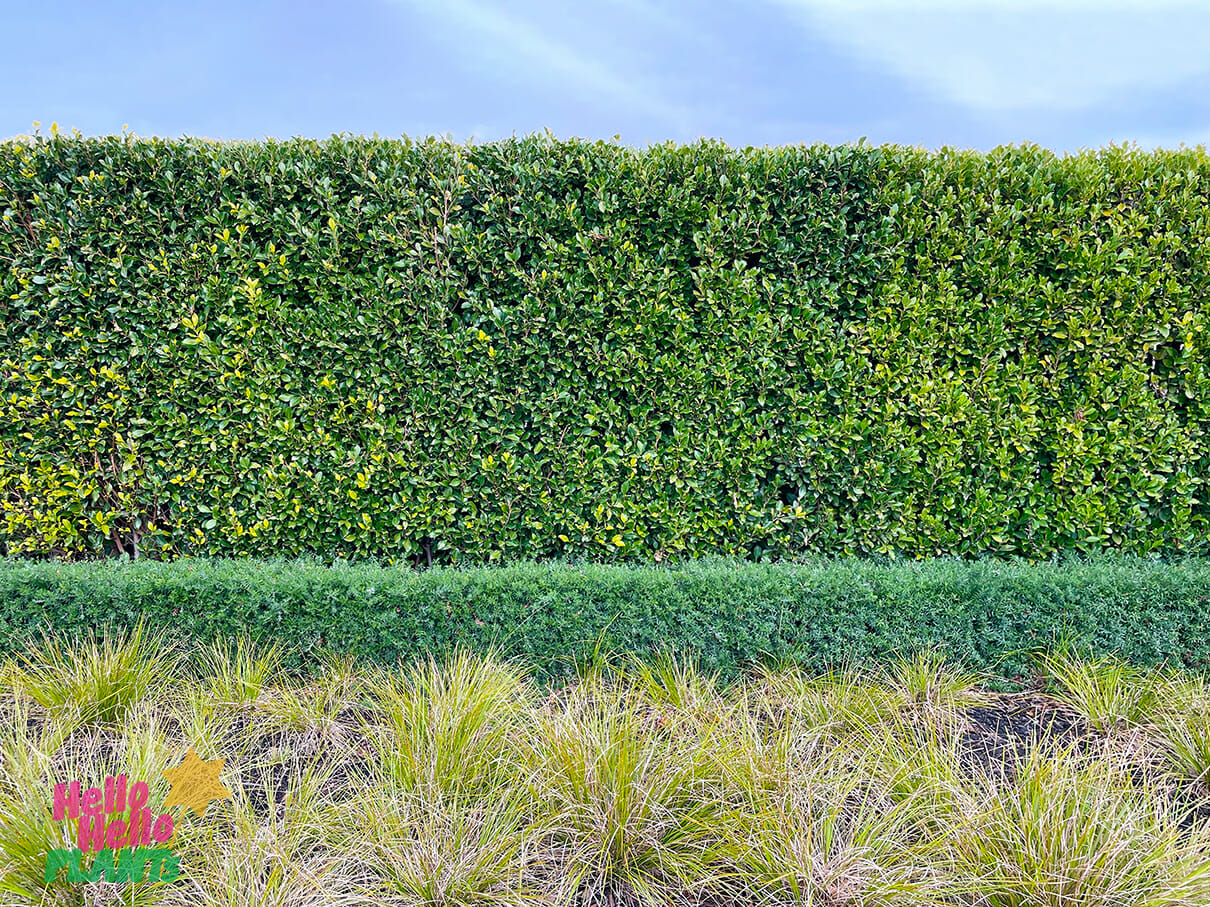 Sun Requirements: Prefers a full sun or part shade position
Water Requirements: Water regularly until established. Once established they are drought-hardy.
Soil Requirements: Prefers moist, well-drained loamy soil. Will tolerate sand, clay, and soggy or wet soils.
Fertilizing: Slow Release general-purpose fertilizer in spring and summer. Not required once established unless soil lacks nutrients
Pruning: Late winter to early spring. It can also be trimmed during cooler periods in summer and into autumn to keep the desired form
Tolerances: Drought, sun, poor soils, root compaction, pollution, and light frost. Doesn't like hard freezes, you may see some blackened leaves. 
Diseases: Disease and pest resistant

Flower: Inconspicuous, berry-like. Only appears on very large, mature trees.
Foliage: Emerald green elliptical-shaped foliage. Some varieties are glossy, others have a matte finish. Some varieties such as the 'White Lightening' are variegated yellow/white and green with tinges of pink.
Trunk: Bark is either brown or a pale grey, almost white. Can be plaited or twisted
Edible: No
Toxicity: Toxic sap
Attracts: N/A
* Be mindful that Ficus can have invasive roots and, if planted near water pipes or pools, may try to search for the water. If root growth is an issue, keep it under control by maintaining hedges and standards at a medium to a low height.
---
Which Ficus To Choose?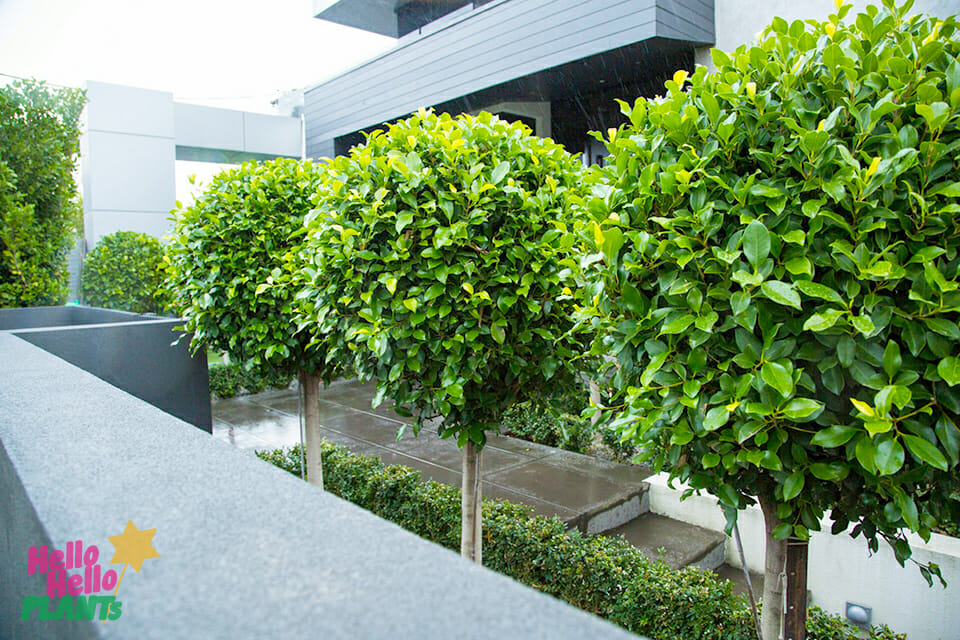 ---
Different ficus' suit different conditions so it is important to choose the right one for what you need. There are several varieties, though similar in appearance, tolerate different conditions and grow to different heights. Here's a quick breakdown of each of the varieties.
Ficus hillii 'Flash'
They don't call it Flash for now reason, the Ficus 'Flash' is a very fast-growing tree. Its gorgeous, rich green foliage makes an attractive block-out hedge and can be trimmed to topiary standards. It tolerates the extreme heat of summer, full sun, partial shade, and pollution, making it a popular choice for street frontages, cafes, and commercial settings (as seen here).
Ficus hillii 'Hill's Weeping Fig'
Referred to as the weeping fig or weeping ficus, the 'Hill's Weeping Fig' has a slightly weeping habit. That doesn't deter it from becoming a gorgeous, dense hedge or topiary! In fact, Ficus hillii is the most preferred when it comes to pleached hedges and topiary standards due to its soft, white trunk.
Ficus hillii are also more tolerant of hard frosts, which many other ficus shy away from, their foliage turning black from the cold. But our supplier in rural Victoria has seen many a hard frost come and go and their hillii stock remains unscathed!
Ficus 'Koh'
A smaller leaved variety, the 'Koh' is one of the only ficus with a minimally invasive root system! So it is the ideal ficus for planting closer to pools and pipes. It is very resilient to coastal conditions and poor soils to boot!
---
Ficus 'Figaro'
Another shorty like the 'White Lightning' but with solid, large, rich glossy green foliage. 'Figaro' ficus is best suited for a medium to small hedge, particularly in drought-stricken areas. Unlike other hedges that will drop a few leaves in times of drought, the 'Figaro' will push on!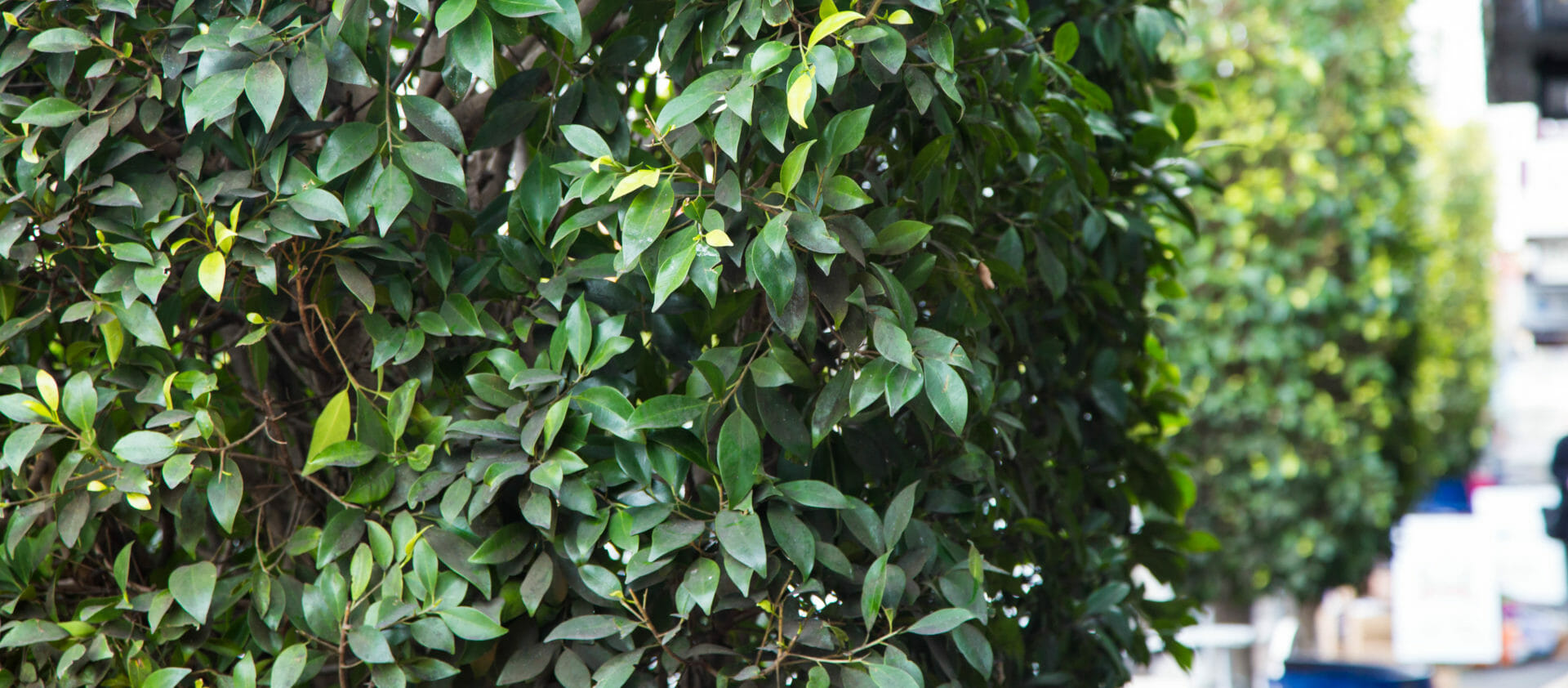 Still having trouble deciding which ficus is right for your job? Check out our quick comparison chart below!
 
Uses
Tolerances
Trunk
Max. Size
Flash

Standard
Topiary
Pleaching
Tall Hedge
Medium Hedge
Pots & Containers

Full Sun
Part Shade
Poor Soils
Pollution
Brown
10m x 3m
Hillii

Standard
Topiary
Pleaching
Tall Hedge
Medium Hedge
Pots & Containers

Full Sun
Part Shade
Poor Soils
Pollution
Frost
Pale Grey / White
10m x 3m
Koh

Topiary
Pleaching
Medium Hedge
Pots & Containers

Full Sun
Dappled Shade
Poor Soils
Pollution
Light Brown
8m x 3m
Emerald

Standard
Topiary
Pleaching
Tall Hedge
Medium Hedge
Pots & Containers

Full Sun
Part Shade
Poor Soils
Pollution
Dark Brown
8m x 3m
White Lightning

Topiary
Pleaching
Tall Hedge
Medium Hedge
Pots & Containers

Full Sun
Part Shade
Poor Soils
Brown
3m x 3m
Figaro

Topiary
Medium Hedge
Box Hedge
Pots & Containers

Full Sun
Dappled Shade
Poor Soils
Pollution
Light Brown
3m x 3m