Our $2.99 English Box has been our hottest product this summer. We have sold 1000s to happy customers from all over Melbourne, Victoria and even interstate. Customers looking to do hedges or formal design gardens or looking to spruce up their existing gardens have been overwhelmed with joy to get this fantastic deal.
When you buy 100 or more you only pay $2.99 each for this quality grade of 6" pot English Box! This is nearly half the price that the wholesalers are selling them for.
This week Customers visiting Hello Hello Plants and Garden Supplies have realised they may never be able to get the 6" Pot English Box this cheap again. Especially not for this size or grade.
But, don't fear, we have some great news for you!  We will be receiving thousands more of our famous English Box just before the weekend, with truckloads on there way. You can be sure you won't miss out on this fantastic deal by visiting us this weekend.
Stock up now on your favourite hedge making plant – 6" pot English Box for only $2.99 when you purchase 100or more.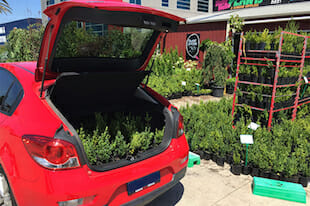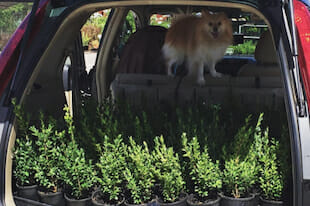 Pleached Standard Ficus is a hot item this summer, with customers doing some really cool designs and landscaping with their pleached hedges.
Pleaching = (Hedging with a small trunk – like these pictures)
The secret with pleaching is that ficus are evergreen and pleach very easily. These particular ficus are the Emerald Green Ficus Flash Hilii and are very lush and are fantastic for doing a pleached hedge.
Also as Ficus have been renowned for growing an aggressive root system, the pleaching effect actually keeps the roots under control and allows for you to grow these Ficus in very confined spaces and gardens. These days with the rapid growth of our cities, lots of people are having smaller and smaller gardens!
The beauty of the pleach hedge is it is very good for small gardens as you can do a 2 or even sometime 3 layer effect. It allows for a garden bed underneath the hedge, maximising your gardens beauty, colour and depth.
It's like having a 2 or 3 story garden as you really get the 2 story effect which is becoming more and more stylish in the modern garden. Pleaching creates another dimension to your garden!
Make the best use of your confined space this summer and come and check out our Pleached Standard Ficus for only $26.90 each in an 8" pot ranging from 3-4ft tall in height and pleaching from 1-2ft tall.