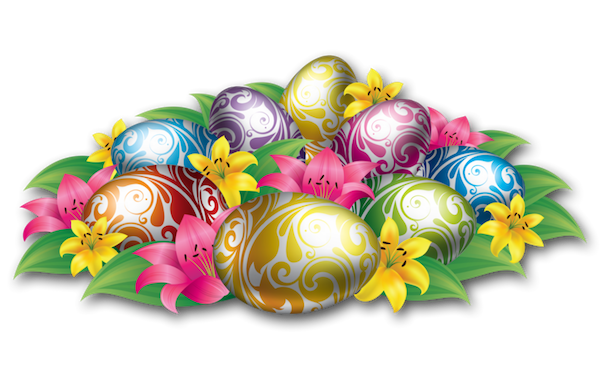 "Easter is the best time of the year to plant. The weather is cooling, the soil is still warm and anything planted now will require very little watering from now until Christmas. Plants will establish new roots in the warm soil before Winter sets in then grow strongly throughout Spring and then will be well established, ready for the hot Summer weather! It's also a great time to buy as our nursery is absolutely FULL of large bushy plants at low low prices, just check out our specials below!
So if you're planning a garden project for Easter send us your planting list so that we can give you a good quote or, if you need help working out what to plant, call into our Campbellfield store or give us a call and we can help you with a suitable garden design and organise to have your plants ready for pick up or delivery by Easter!! We'll be open EVERY DAY over Easter so come on down and grab yourself a bargain!"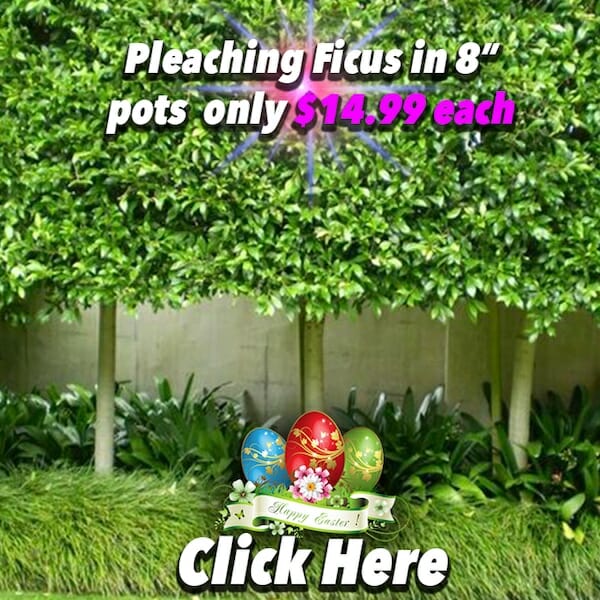 See more Pleaching Ficus sizes by clicking on the picture above
Lush Evergreen foliage
Give your garden a three dimensional look
Perfect for compact gardens Order yours now!!
Stylish Pleaching Ficus in 8" pots only $14.99 each – BUY HERE
Watch the video below to see the various sizes available in the Pleaching Ficus.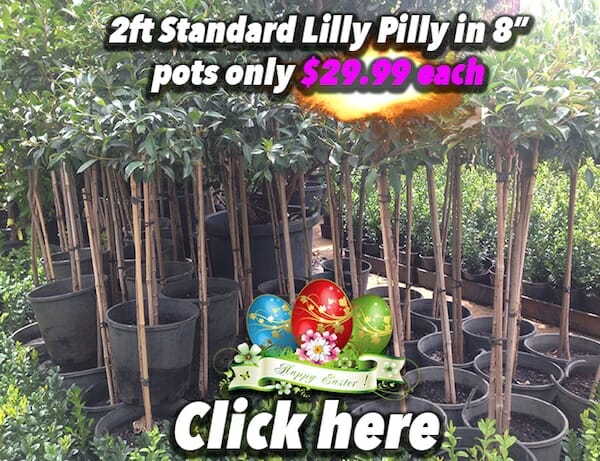 See more Std Lilly Pilly's & Neighbours Be Gone sizes by clicking on the picture above
Landscaping favorite
Beautiful coloured foliage
Can be grown in pots
Order yours now!! 2ft Std Lilly Pilly in 8" pots only $29.99 each – BUY HERE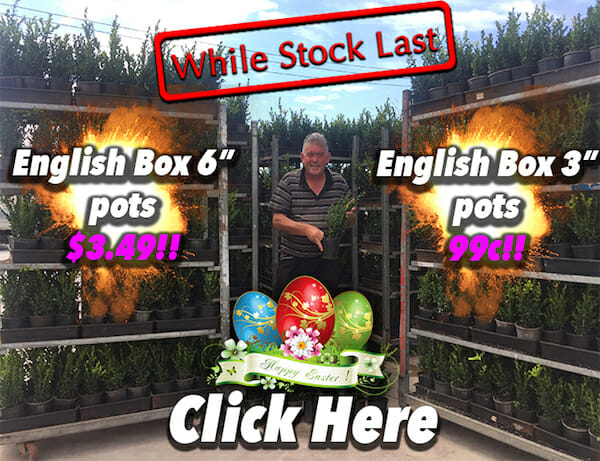 Create beautiful hedges and borders
Many varieties to choose from
Perfect for any garden type
HURRY STOCKS ARE LIMITED – SELLING QUICKLY
Check out the selection of Box and Border specials – CLICK HERE
Super effective for hedging
Quick Growing
Everygreen and hardy!
Order yours now!! 5ft tall Silver Sheen Pittosporums in 10" pots only $11.99 each – BUY HERE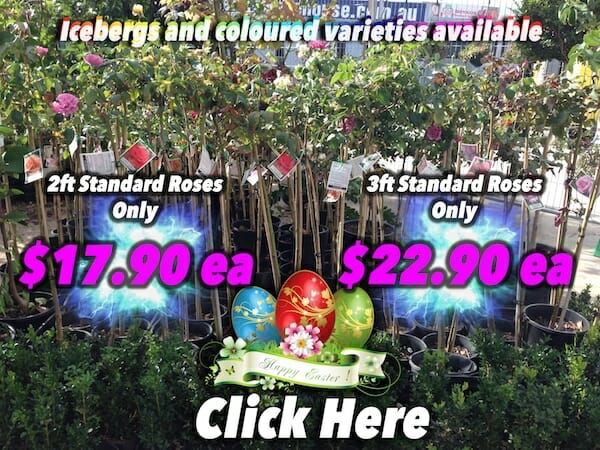 Icebergs and coloured varieties available

Perfect for adding colour to the garden

Landscaping made easy
Check out the selection of Standard Roses starting from $17.90 each – CLICK HERE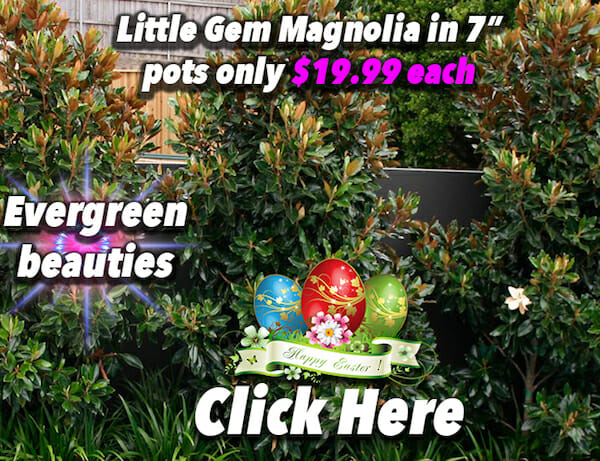 Gorgeous dark green glossy foliage
Makes a classy Hedge
Evergreen with beautiful velvet undertones
Order yours now!! Little Gem Magnolias in 8" pots only $19.99 each – BUY HERE

Beautifully scented
Prolific flowering
Great for low landscaping
Get your 6" potted Gardenia Florida only $7.99 each – CLICK HERE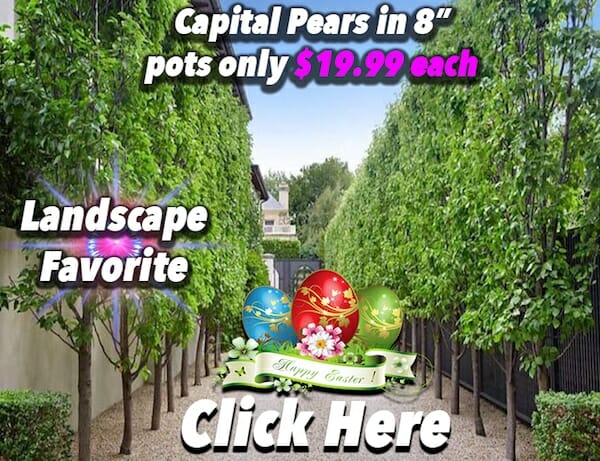 See more Ornamental Pear sizes by clicking on the picture above
Beautiful seasonal colours
Provide excellent privacy
Landscape favourite
Order yours now!! Capital Pears in 8" pots only $19.99 each – BUY HERE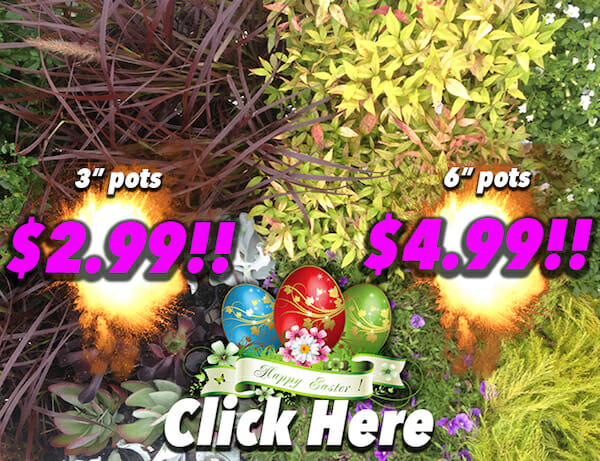 Cheap for landscaping
Great colours available
Young, vigorous and establish quickly
Check out the selection of 3" & 6" pot clearance specials – CLICK HERE
Watch the video below to see the 6″ potted colour Clearance!!!"