You can buy Ornamental Pears during late Winter/early Spring as "bare-rooted" trees which makes them a little cheaper than buying them in a pot. If you buy them at this time and plant them, you will get a good strong, fast burst of growth and they will double or triple in height quite quickly.

As their name suggest, Ornamental Pears do not produce fruit. While some do produce a tiny pear "fruit", it's not really edible, so if you want a pear tree that gives you lovely juicy pears these are not the one to choose. Check out our edible pear tree collection if fruit is what you want.
Sun Requirements: Prefers a full sun position but will grow in partial shade.
Water Requirements: Water regularly until established. Once established they are drought-hardy.
Soil Type: Can grow in almost any soil type as they're as tough as nails! They don't enjoy soggy roots, so if this is your soil type, plant them in an elevated bed.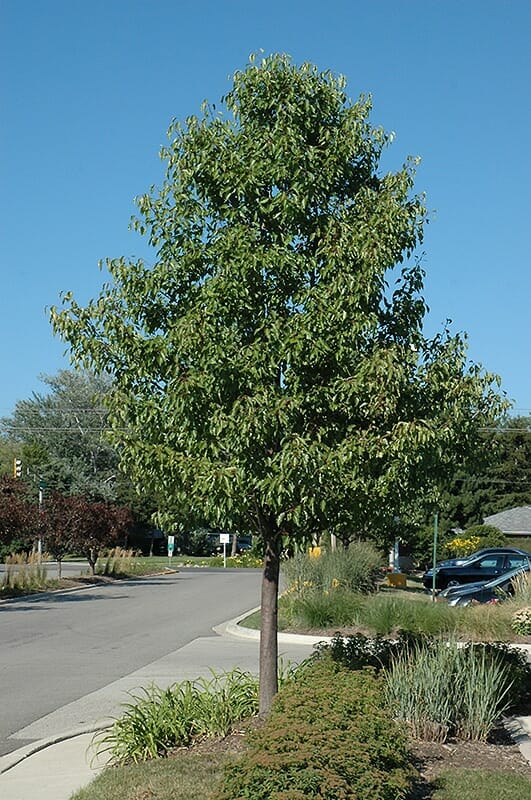 Fertilizing: Slow Release general-purpose fertilizer in spring and autumn, every 6 months. Use an all purpose fertiliser such as Charlie Carp All Purpose or Osmocote Total All Purpose.
Pruning: Late winter just before bud swell or in the spring, but in general it's not necessary. Pruning can be done to correct form. For more on pruning, see our Pruning advice page.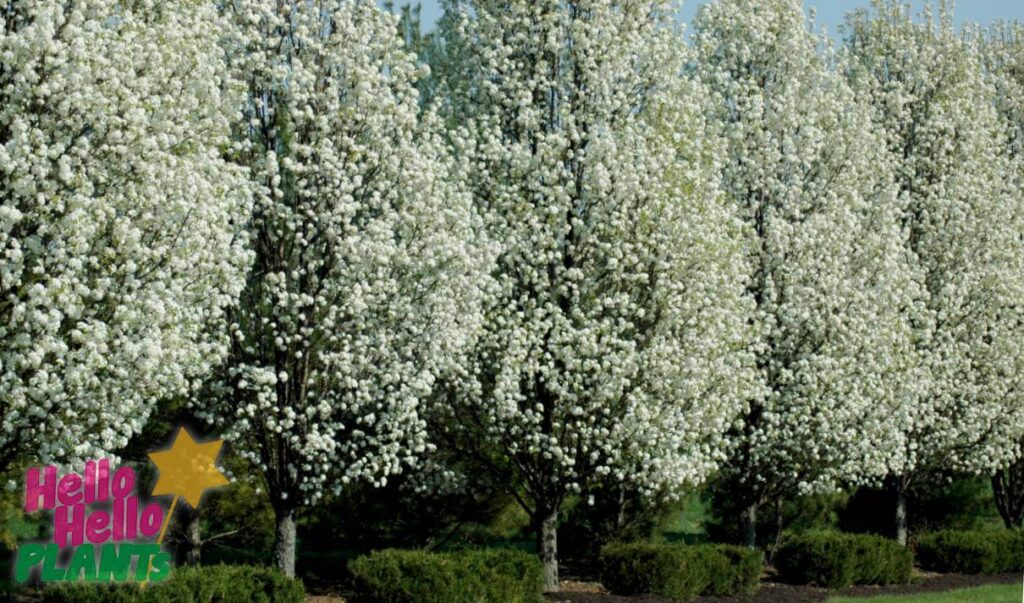 When planting for screening, if you want a really tight screen then plant around 1-1.5 metres or 2-2.5 metres apart so they will grow in an interlocking fashion, especially if you really want to block out something entirely. But in rural or semi-rural environments where you might want a more open screen, then planting 3 – 5 metres apart would be fine, depending on which variety you have chosen.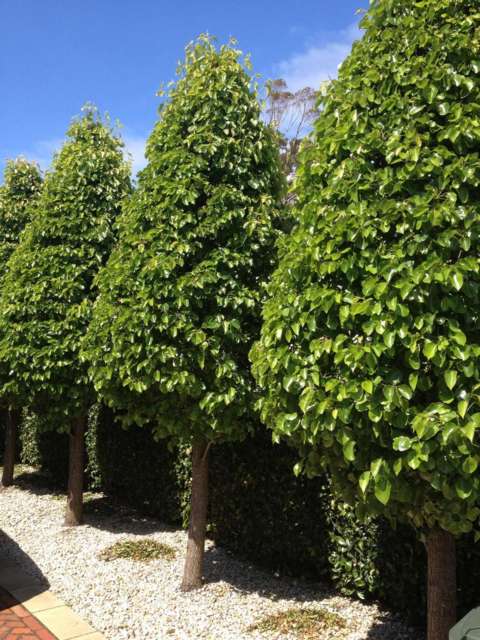 Many people choose to use Ornamental Pears as a natural screen to block out something unsightly you don't want to see, like a block of units next door, an unattractive wall or even to create some privacy for yourself. 
If you want a really tall screen then choose something like a Capital. However, if you are wanting a lower, wider screen they you might want to choose a Manchurian, which you can hedge up to make it provide even better screening. 
Ornamental Pears are an extremely hardy plant that can survive in almost all conditions, except for planting in extremely wet soil with poor draining. They do not like getting their feet too wet. They are extremely hardy to wind, frost, heat and drought and will thrive even in average soil or in fairly coastal areas (not beachfront but coastal.) You can prune them quite hard too.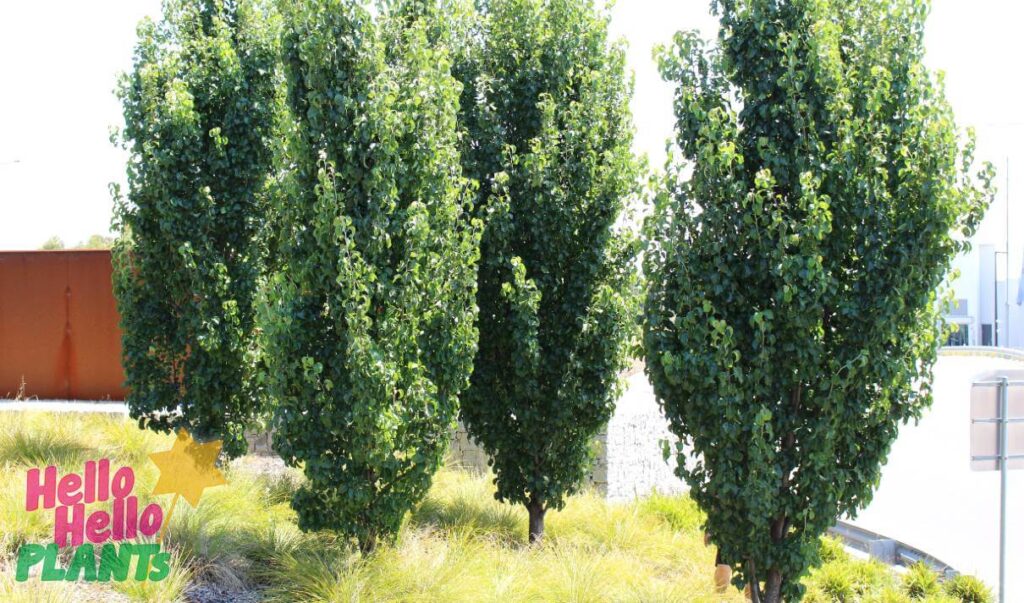 The Top Five
These varieties of Ornamental Pear Trees are the most popular, so they are also the ones that are are reliably in supply. Scroll down to see details about each.
The most popular Ornamental Pear is definitely the Capital variety. This is a tall and quite elegant looking tree, with a thinner profile that is very popular for creating an avenue look down your driveway or alongside a path.
As they can grow up to 10 metres in height they can look particularly impressive on rural or semi-rural properties where you want to create that long avenue look for your arrival home.
Capital pears are the narrowest growing of all the ornamental pear trees. These pears look great used to frame entrance ways, multi-planted to create a mini pear tree forest, or used as a tall narrow screen that requires little or no maintenance.
They develop a small bare trunk at the base which can be used as a feature or under-planted to create a dense leafy look in the garden. Plant in full sun to part shade in reasonably well-drained soils for optimum growth.
Cleveland select pears ("brand name" Chanticleer) are medium-sized growing trees that form a very even uniform shape if left untrimmed. They are fast-growing trees that have brilliant red autumn colour, deep green Summer foliage, and white Spring blossom. These trees can be used as a feature in the garden or planted as an avenue or driveway specimen.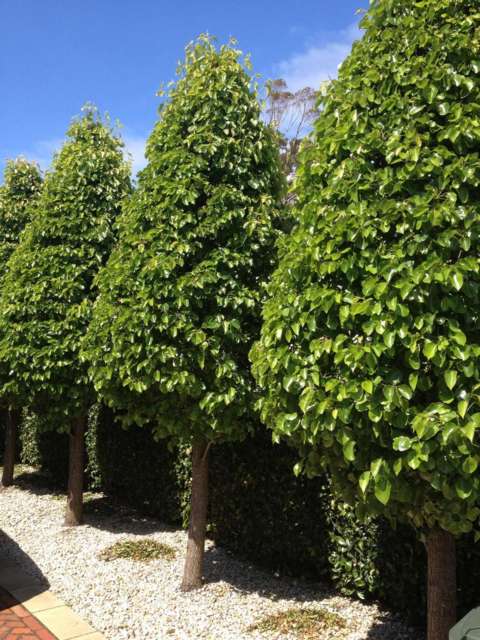 Everscreen pears, also commonly known as 'Winter Glow' or 'Evergreen Pear', are the only ornamental pear tree that retains their foliage during the winter months when grown in warmer climates. Everscreen is a clever name for what is basically an evergreen Ornamental Pear that will not lose its leaves in Autumn, nor will they turn a different colour. 
In cold climates, for example, rural parts of Victoria such as Hepburn, Murrindindi or South Gippsland Shires, these pears will most likely lose their leaves in the winter. 
These pears are excellent for use as an evergreen screen, and when you create a hedge or screen, or pleach with an Everscreen it will remain the same all year round if you are in the warmer parts of Victoria (Melbourne and coastal areas), as well as further north.
The Everscreen has a similar teardrop shape to the Cleveland but is a smaller and more narrow in shape. They respond well to pruning, but if left untrimmed can reach a height of 6m and width of 4m.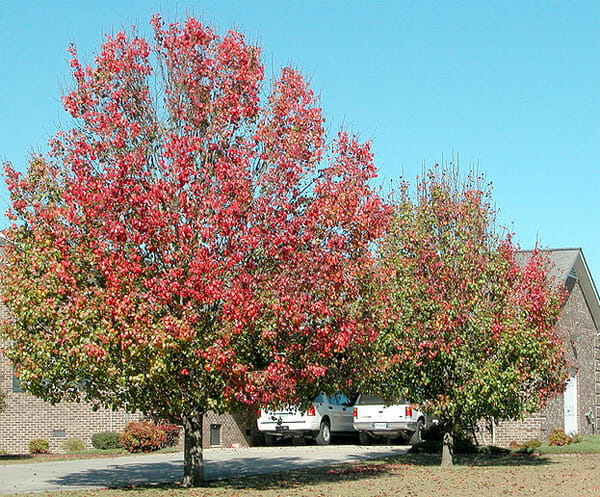 The Bradford is the giant of the Ornamental Pear family, and are the original ornamental pear from which all other pears were bred.
They have a sort of teardrop shape but can grow up to a height of 15 metres and up to 5 metres wide, so its best used singularly as say a feature tree in the middle of a large garden area. This also makes it a wonderful rural property or large feature shade tree.
Bradford pears can be affected by storms, their branches not able to withstand high winds as well as the other varieties. So keep this in mind if planting close to houses or power lines.
Manchurian pear trees are a larger growing broad spreading Ornamental Pear tree up to 10m high x 8m wide. These can be planted as single specimens, used as an avenue or driveway planting, or clipped to form pleached screens. 
These pears have brilliant red autumn foliage and glossy green foliage in Spring & Summer and they become covered with small white flowers in early Spring.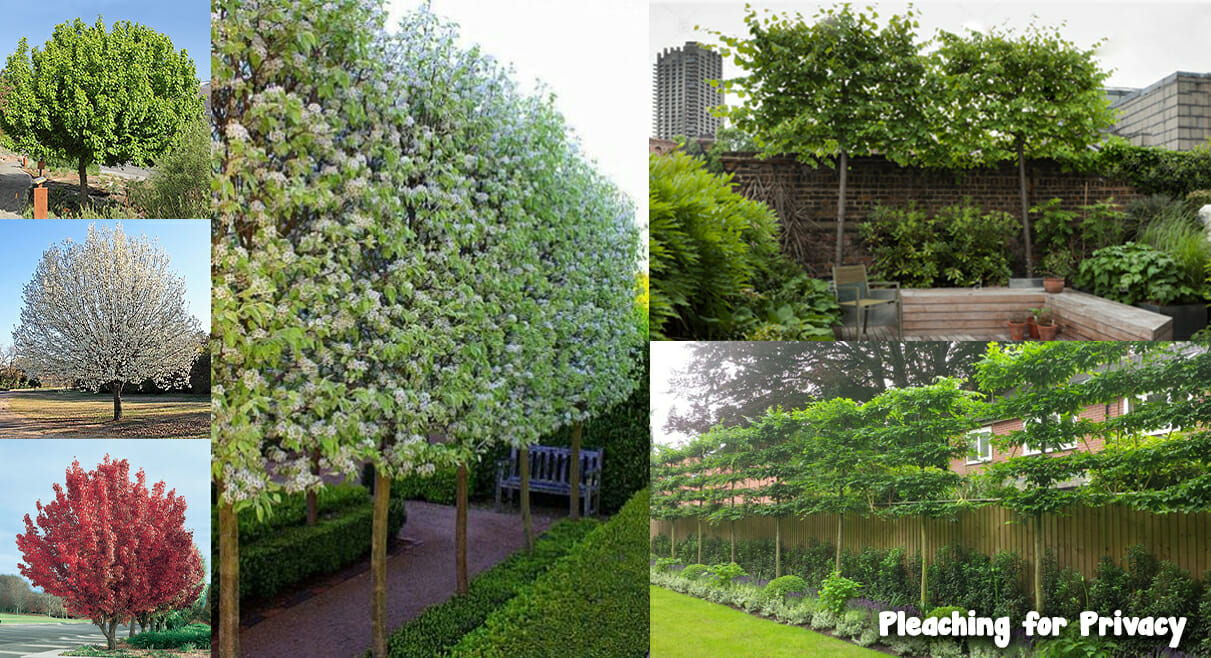 Of the two best options for screening or pleaching (Everscreen and Manchurian) Manchurians are the one to chose for autumn colour. They will lose its leaves, creating a gorgeous look for a few weeks, before letting in light and allowing you to see through in winter.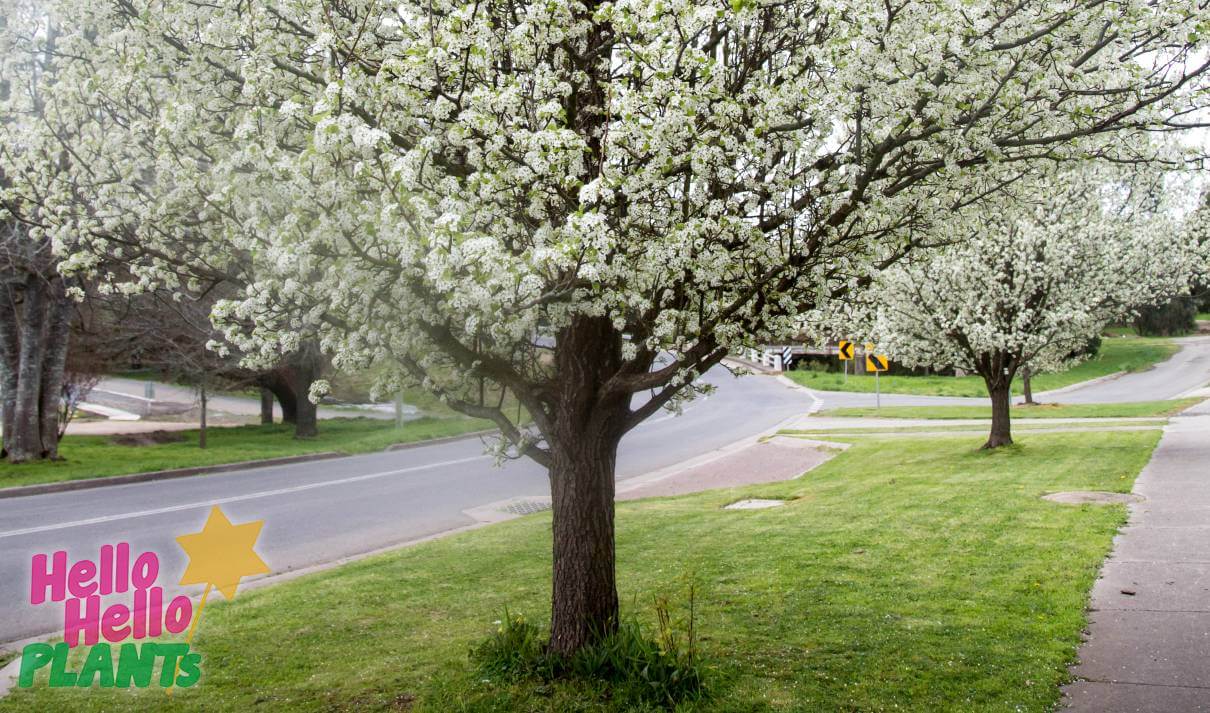 Aristocrat pears are beautiful, almost perfect teardrop shape that is so neat it appears to be clipped. This tree has fantastic scarlet red hues during Autumn and puts on yet another show in spring with an abundance of brilliant white blooms followed by brown-colored fruits. This is the beauty queen of the Ornamental Pears.
With a shape similar to that of the ever popular Capital pear, the Fronzam pear is perfect for the suburban garden. Its narrow growing habit makes it suitable for tight spaces, lining walkways or driveways, not to mention its gorgeous autumnal colours of reddish purple and vibrant spring blossom. Growing to height of 10m by 4m wide makes it a very tidy, low maintenance pear!
Decidedly different from many ornamental pears on the market, the Southworth Dancer produces much smaller, serrated leaves similar to that of a Birch tree. They begin as a silvery-green before deepening, then eventually turning yellow in the autumn. This pear got its name from its leaves, which dance in the slightest of breezes! Growing to a height of 7m by 5m wide makes it a beautiful addition to the rural, acreage or suburban garden.
Hello Hello Plants is an online plant superstore based in Melbourne, Australia. We maintain our own fleet so we can deliver door-to-door all over Victoria. We stock a select range of the plants you see online at our physical retail nursery in Campbellfield (sadly they can't all fit). We offer a one-on-one garden design service, and our resident garden guru Chris has over 60 years experience in the plant word and is passionate about educating people on plants & gardening.
Follow us for the latest info, videos & more: