Archive for February 2017 | Monthly archive page
Comments Off

on Hello Hello – Summer Clearance!!!
"Me mates selling his Box super cheap and now is the time to grab yourself a bargain" – Chris Lucas – Store Manager.  Perfect for hedges and borders Beautiful lush green Very hardy Landscape favourite Beautiful and elegant with 4 true seasons of colour Perfect for privacy and screening Super effective for hedging Quick Growing Everygreen […]
Comments Off

on Amazing Box Hedge and Border Specials!!!
We're clearing out 20,000 English Box in 6" pots that are 10″ to 15" inches tall for only $3.49 each! You don't have to buy 100, you don't have to buy 50, you don't even have to buy 10! Come in and buy 1 to get this spectacular price! It's about a 3rd of what […]
Want to Ask the Tutu Guru?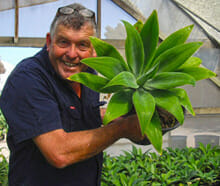 Simply visit our
Contact page
and submit your garden or plant question.