Hello Hello and Happy Easter dear gardening Friends!
Easter celebrates the defeat of death and the hope of salvation, commemorating the Resurrection of Jesus. The egg, an ancient symbol of new life, has been associated with pagan festivals celebrating spring. From a Christian perspective, Easter eggs are said to represent Jesus' emergence from the tomb and resurrection. Decorating eggs for Easter is a tradition that dates back to at least the 13th century. One explanation for this custom is that eggs were formerly a forbidden food during the Lenten season, so people would paint and decorate them to mark the end of the period of penance and fasting, then eat them on Easter as a celebration.
To celebrate Easter, some of us might go to church, organise an Easter egg hunt for the kids, have family over for lunch, or maybe just drive off for a long weekend getaway. Gardeners will undoubtedly make the most of the long weekend tidying up the garden, planting some Autumn/Winter flowers and veggies most certainly come down to the nursery to get some amazing deals!
If you want to do a complete garden makeover, now is the perfect time of the year with cool temperatures and generous rainfall. Plants get established very fast, growing big and healthy. Over the next two weeks, we are having an Egg-Citing Easter Sale! There are lots of fantastic specials in each and every category for your every garden needs! Take a look at our top specials for Easter! How EGG-CITING!
Easter Egg Hunt !
Click on the photo below to see this post on our Facebook page!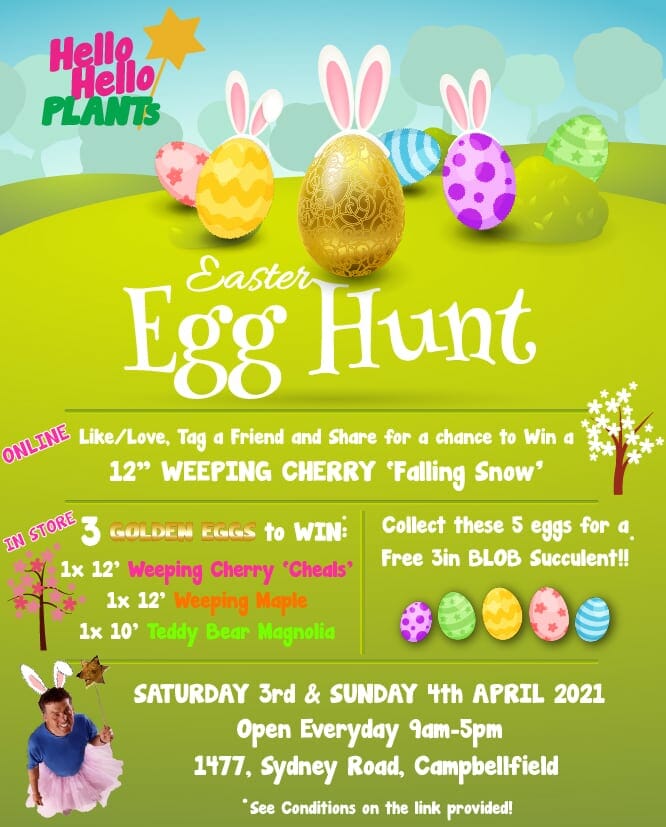 Conditions: The prizes are not exchangeable or redeemable for cash. Blob Succulents are only one per person until stocks last. Only 3 Golden Eggs to be found, with 3 Prizes. A Golden Egg Finder can choose 1 of the 3 Top prizes! We will request a photo of the winners with their prize for our social media. If there are no finders for one of the Golden Eggs, we will do a random lucky draw for everyone who liked, commented and shared this post, which is on our Facebook page! The prizes can only be collected from our store. If you wish to have it delivered, there will be a delivery cost.
Feature Trees
Tall Hedges and Screening
Borders
Colourful
SUPER CHEAP!!
Indoors
Edibles
Modern
Natives
Climbers
Groundcovers!
We will update this list with more specials during the week, so check back in! 🙂