At this time of the year many people are thinking about putting their properties on the market towards the end of Spring and in Summer. With the current lock-down, there has been a dip in property trading and this will surely take off once the restrictions are lifted. Property values have gone down slightly according to market trends and there are varying predictions for the remainder of the year. If you are thinking of putting your property on the market, put all the odds in your favor. Invest in some plants and landscaping to make the garden pop, and this will increase your property value by thousands of dollars!
And if you are thinking of doing it in a couple of years, the best time to start is now!
Take a look at the photo below.  The difference is striking.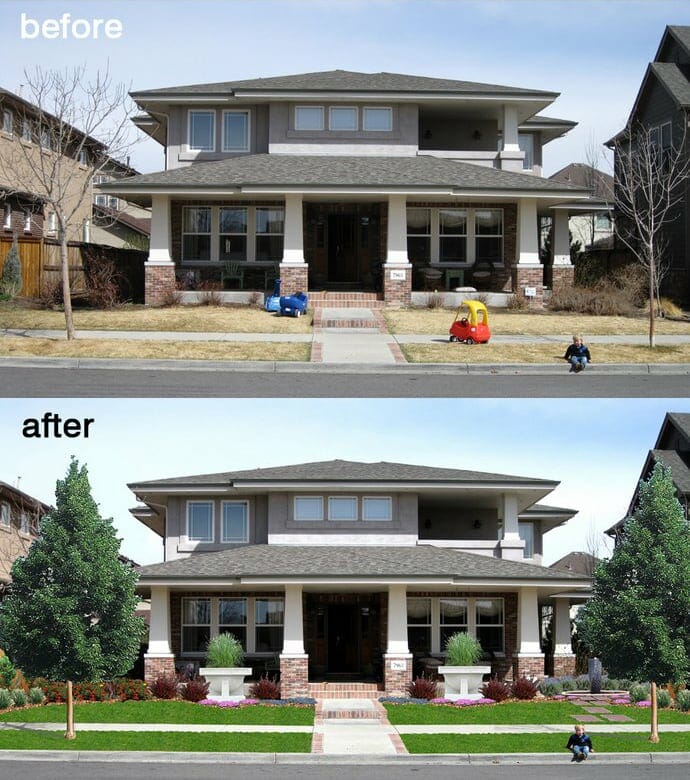 Cost of landscaping and return on investment?
It can cost anywhere from $500 to $1,500 for the landscape design of a small garden, $1,500 to $3,000 for the landscape design of a mid-sized garden, and roughly $3,000 to $6,500 for that of a large garden. According to research, good landscaping can add up to 20% to your home's overall value. That could be $100,000 or more when you sell your property.
With the recent lock-down, a lot of people have realized the importance of the garden. Houses with great looking gardens make you feel better and have a greater appeal. It is also worth noting that houses in streets that have many trees on sidewalks also have a higher value.
What is great with landscaping is that it immediately adds value, but also increases the value over time. Plants grow to be more beautiful every year and provide fantastic flower shows, more fruit, or lush foliage.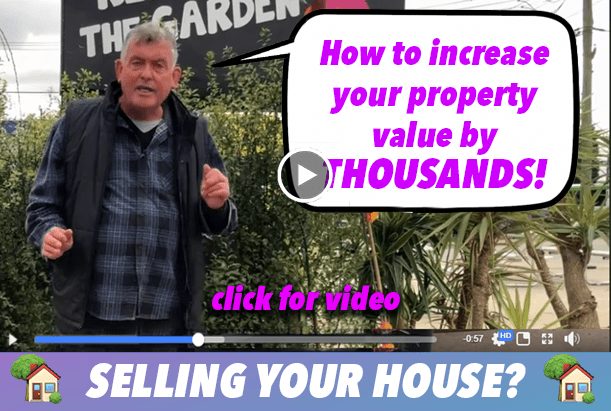 How to get started?
It is a very easy process. The first thing to know is when are you going onto the market? Second thing is to know is who your potential customers are and what do they like.
Once this is established, setting up your property for success is a 4 step process:
1. Tidy!  Take a good look at the garden and remove anything that looks ugly and unfashionable. Some plants are probably overgrown and need a good trim to tidy them up. Let some sunshine and fresh air flow through. Give existing plants some fertilizer to make them nice and lush.
2. Lawn. If you have a sad-looking lawn, fix it! There should be no dead patches. Put down topsoil and grass seed, water it regularly and it will be looking great in no time.
3. Ask the experts. Send us an email at sales@hellohelloplants.com.au with your photos and measurements of your yard. We have a wealth of knowledge about garden design and we can tailor a plan to make your garden pop.
4. Start Planting. Plant your big and cheap plants now for an impressive garden later. Doing this simple process can make all the difference.
There are some tips to consider:
• Privacy – We all want to feel cozy in our backyard, but that is not possible if we have that nosy neighbor always peeking over for a chat. Some tall Lilly Pillies like Neighbours-be-Gone or a Silver Sheen Pittosporum hedge should quickly fix that problem.
• Lawn edging- A neat lawn that looks restrained and tamed, gives the appearance of being easier to maintain and is a popular selling point.
• Mulch and Weed – Keep those beds tidy and mulched with some black, red, or natural mulch, whichever creates the best harmony with the rest of the garden and the house.
• Repetition- Instead of having too many varieties of plants, consider planting a lot of the same plants in clusters for more dramatic effect.
• Trees- Keep in mind that some trees grow quite big.  Some are maintenance-free, while others do need some care. Be careful NOT to plant big trees close to structures, pipes, and pools as they might cause damage further down the line. If you are unsure about what trees to plant, reach out to us and we will advise you.
• Instant look- If you want the instant look, be sure to pick out bigger pot sizes with established plants. If you are unsure if they are suitable, give us a call or send us an email.
Our plant recommendations:
The most popular plants that make a big difference are Lilly Pillies, Topiary Box Balls, Maples, and cottage flowers such as daisies, cordylines, and grasses.
• Colourful Flowers – These make the garden pop with life and are too easy to plant!
• Maples – Japanese maples are one of the most popular plants to give a garden a wow factor. We have lots of big established ones to achieve instant transformation.
• Privacy screens – Here are some of the best instant screens for privacy
• Topiaries – Standard plants and Topiaries look fantastic and have a great appeal. It is really easy to pop in English box balls or standard lilly pillys for a striking modern look.
• Natives – Native plants have a high appeal and are beneficial to the local fauna. A few bird attracting plants such as banksias, Callistemons and Grevilleas are especially good, and seeing beautiful birds in the garden is a great bonus.
• Tropical corners – We all love little cosy tropical corners, and those are easy to achieve with giant birds of paradise, palms, and cordylines for colour
• Grasses – Grasses are great for borders, accents, or focal points.
• Box – Perfect for edging, they give shape and structure to gardens.
• Rockeries – If you have an unruly little wild rock corner, you can easily pop in some tough sedums succulents that will suppress weeds and give some great color.
• Groundcovers – Ideal to suppress weeds and cover some unsightly places
• Climbers – Some climbers can go up on fences or structures and look fabulous.
• Trees – Some trees have such a striking look that they can transform any garden One such plant is the silver birch, easily one of the most popular feature trees in Melbourne.
• Indoor Plants – These bring indoor spaces to life and make a house feel like a home.
That is all for the plant suggestions. All the best in transforming your yard. It is definitely a very rewarding effort!