WE'RE OPEN!!!
It is already November in a couple of days and the weather is looking beautiful here in Melbourne! With the lock-down finally lifted, we were so happy to see all of you back in store these past few days! For those who have not been come in yet, we have 3 great reasons for you to do so!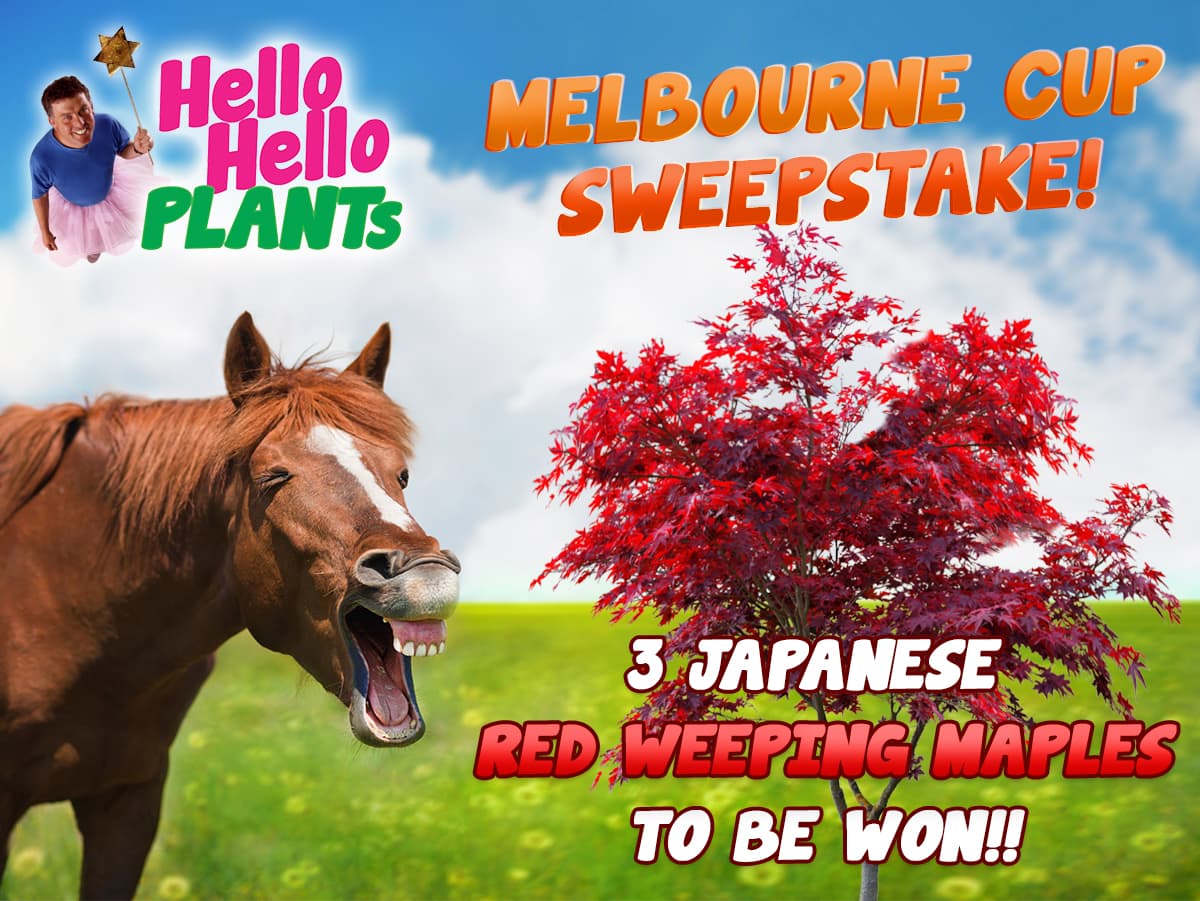 🍁 Open Cup Day –3 Japanese maples to be won! 🐎
Be sure to come over this weekend and early next week to get some fantastic deals and a chance to participate in our Cup day Sweepstakes! We will be open all day from 9am to 5pm on Melbourne Cup day, Tuesday the 2nd. To celebrate this and the reopening of the store, we are doing a sweepstakes with 3 amazing prizes to be won! 👉
🥇1st –  16″ pot 5ft tall Inaba Shidare🍁 Worth $300!
🥈2nd –  12″ pot 2ft tall Inaba Shidare🍁 Worth $160!
🥉3rd – 10″ pot 4ft tall Inaba Shidare🍁 Worth $120!
(See Photos on Facebook by clicking here or our Facebook Story)
To participate all you need to do is come and shop in-store starting this Saturday at 9am until Tuesday the 2nd at 5pm and every $200 purchase will give you a ticket to the raffle which will be drawn by Chris on Wednesday the 3rd of November around midday.
The Prizes must be collected in-store in Campbellfield within 12 days. Prizes cannot be exchanged or redeemed for cash. We will kindly ask for photos of the winners and their prize, to be featured on our social media.
We are also doing a  MASSIVE SALE on all your favorite plants! We have brought in beautiful FRESH NEW STOCK, that is looking so lush and fantastic you will want to buy them by the tray, to fill up every corner of your garden. That is perfect as we have some fantastic BULK BUY discounts!!
Ok, here is what we have in store for you:
3 Inch Specials
3 Inch BULK BUYS – Save Even More!
6 Inch Specials
6 Inch BULK BUYS – Save Even More!
More Specials!
Amazing Cottage flowers!
Fruit Trees!
That's not all!!
We have many more specials in-store only at:
1477, Sydney Road Campbellfield!
Please remember to wear your mask and try your best to observe the social distancing, for everybody's safety, our staff, and your own!
We are so excited to see you all in-store!!