When we think about winter, we think about the cold, rainy days and dull landscapes. Many people prefer to retreat to the warm and cozy indoors since many trees are bare, there are very few flowers blooming, and the garden has lost its usual appeal. If that is the case for your garden, this list is perfect for you! There are so many plants to pop in the garden to make it look great year-round and entice you back into the gaden, even on the gloomiest of winter days. These are colorful, winter hardy, and easy to grow!
Top 10 Plants for Winter Garden Colour!
Coprosma

Cordylines

Nandina

Loropetalum
Stachys Lambs Ears
Carex
Flax
Agonis
Alternanthera
Cerastium Snow in Summer
Some additional choices:
Goldfussia
Helichrysum Licorice Plants
Melaleuca 'Revolution Gold'
Lophomyrtus 'Black Stallion'


Pieris 'Temple Bells'

Eremophila Emu Bush
 Coprosma 
Coprosmas are truly outstanding evergreen plants that bear vibrant, coloured shiny foliage. The leaf color is at its most intense in spring and late autumn but is still stunning at other times of the year. Grows to a height of 1 meter. Who doesn't want gorgeous color all year round? We do!
Cordyline 
There are several varieties of colorful Cordylines to pick from for the garden. Here are 2 of our favorites!
This fantastic 'Electric Pink' Cordyline makes a brilliant statement in anyone's garden or pot. With its hot pink striped leaves, it is easily considered one of the best Cordylines yet! The Electric Pink Cordyline is a compact, low-maintenance plant. It can withstand the heat just as well as the frost without losing that brilliant pink colour. Hardy and low maintenance while still having color? We'll take some!
'Torbay Dazzler' Cordyline is recognizable by its green & yellow striped leaves with pink middle variegation on new growth that adds a splash of colour. Hardy and tolerant of most soil conditions, the 'Torbay Dazzler' prefers well-drained soil in part sun to full sun positions. It is slow-growing, but once established it can tolerate extended dry periods and grows to a height of 1.5-2m. This plant is a great way to add some height and colour to your garden, certainly one of our favorites!
Nandina 
Nandina domestica 'Nana' or 'Dwarf Nandina' is a tough evergreen shrub that doesn't mind a wide range of climates!  Hot and dry or cold and frosty, this little legend is very adaptable. In cold climates, the foliage turns a deep red and in spring the new growth flushes with bright green. Enjoys being in full sun and grows about 60x60cm. Lovely bright colour all year long and super low maintenance? Sign us up!
'Moon Bay' is a variety of Dwarf Nandina, which has lime to emerald green leaves that turn red in winter. 'Moon Bay' Nandina likes both full sunlight and partial shade. This variety is tolerant of drought and heavy shade and grows 80x80cm. A beautiful and easy way to add some gradients of warm reds and greens into your garden!. This is definitely one of our top favorites!
Loropetalum
Loropetalums are evergreen, low growing and spreading shrubs with unusual and ornamental reddish-purple foliage, providing year round interest in the garden landscape. They produce fluorescent purple flowers with tendril-like petals in the spring and summer. This standout foliage and flower combo makes it a must have feature hedge or topiary plant. Passion for purple? Yes please!
Stachys 'Lambs Ears'
'Lamb's Ear' is a flowering perennial plant with soft, furry foliage resembling, you guessed it, a lamb's ear! For most of the year, it's low growing but its flower stalks can reach roughly 1 meter. Hardy and low maintenance, it is ideal for rockeries, borders and pots. We love the soft velvet texture this plant gives off and we are sure you'll love it just as much!
Carex
Sedge Grass is the grass of many colours! The soft, mounding foliage of Carex can be seen in greens, yellows, blues and fluorescent oranges! They keep compact and low, ideal for mass plantings, borders and pots. Carex tolerate full sun to part shade and a wide variety of soil and weather conditions. If you're after versatile and easy, you've come to the right plant!
Flax 
Phormiums, more commonly known as Flax, are one of the toughest plants around! Alongside Cordylines and Yuccas, they are frequently purchased for those needing a low maintenance garden. And it's no wonder why when they come in such a range of colours! Pinks, reds, greens and rich purples, mass planted or as a feature! Flax are suitable for the Modern, Low Maintenance or Coastal garden style, growing well in pots, balconies, along driveways and high traffic areas. It is a real master of self reliance!
Agonis
Need a native with natural winter colour? Agonis will give you that! The long, wavy and weeping foliage of the Agonis come in a deep burgundy, dark, plum purple in the 'After Dark' variety and variegated yellow and pink if you purchase an Agonis 'Flamingo'! As natives do, they are tolerant of whatever the weather can throw at them, plus they can be used in a variety of ways including hedging and screening, a feature tree or some have even managed large topiary! What a wonderful winter wonder!
Alternanthera
Little Ruby is a very compact, ground-covering variety with attractive, dark burgundy leaves. It is a hardy, easy-care plant that forms a dense habit. It bears clusters of small cream flowers. It is a fantastic container plant and also suits wall planting.
Little Ruby likes a part shade to full sun position but performs best in full sun. Thrives in moist, well-drained soil, but is an adaptable plant to different situations. They respond well to regular tip pruning.
Cerastium Snow in Summer
A very useful groundcover perennial, often grown in dry, sunny areas with poor soil. Plants form a low, fast-spreading mat of silvery-grey leaves, studded with tiny white star flowers in late spring and early summer. An indestructible choice for difficult sites, and tolerant of most soil types. Grows 20-30cm tall and 30-40cm tall. Needing a hardy, low maintenance but a still gorgeous option for your garden? Look no further, this is just the plant you need!
Additional choices for Winter colour: 
Strobelanthes 'Goldfussia' 
'Goldfussia' has shiny, dark green leaves with even darker purple new growth. This purple foliage remains purple in sunnier positions, reverting to a greener colour in shadier spots. The flowers are mauve in color and appear in spring, and intermittently throughout the year. It likes a warm, sheltered position. A great way to add some gorgeous deep tones to the garden while still flowering! We love them!
Helichrysum 'Licorice'
'Licorice Plant' is a moderately hardy shrub that will tolerate mild frosts and extended dry periods. It prefers well-drained soil and good air movement. The felty foliage has a stunning, almost luminescent color which gives the plant a central place in any perennial garden. It will grow to approximately 1.3m in height.  It grows very well in part shade or full sun and the soft cream flowers are excellent for drying and floral arrangements. A great way to add some gorgeous soft textures to the garden!
Melaleuca 'Revolution Gold'
'Revolution Gold' is a dense, small, upright tree, with attractive golden foliage. The foliage becomes more intense in sunnier positions. Makes a great colour contrasted screening shrub, windbreak or as a feature specimen.
'Revolution Gold' responds well to pruning to encourage a more dense habit. Small white flowers pop up in summer. It suits most soil types and positions, drought and frost tolerant. Grows to approximately 3-4m in height. This is a low maintenance plant that is great for coastal gardens. Its a gold standard native for the winter garden!
Lophomyrtus 'Black Stallion'
Lophomyrtus 'Black Stallion' is as the name suggests; a dark, robust little native! Its fine foliage is dark purple and burgundy with little white fluffy flowers speckled across the shrub in  summer. If trimmed it can be kept as a colourful low border or hedge.
Black Stallion likes a position of full sunlight in slightly moist soil. It can tolerate both frost and coastal positions, and grows to a maximum height of approximately 1.5 meters.

Pieris 'Forest Flame' 
'Forest Flame' provides continuous brilliant colors all season long. The new growth emerges bright red and matures to green. Long-lasting bell-shaped white flowers bloom in spring. Evergreen with glossy foliage, this shrub matures to: 1.2-1.8m h x w and prefers a full sun to part shade position.
Eremophila 'Emu Bush'
'Emu Bush' is a lovely evergreen ground-covering shrub that has dense, soft grey foliage and gorgeous contrasting yellow-gold flowers. Its flowers are in bloom from spring through and into summer, and they are also bird attracting.
'Emu Bush' is drought and frost tolerant. Ideally placed in a partial shade position with dry well-drained soil. Perfect for mass planting and great for large containers.
Here are some more articles you may like: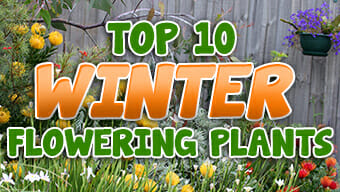 Sign up for our newsletter below
We will send you gardening tips, great deals, and exclusive giveaways. Happy Gardening!