Melbourne gardens are as many and varied as Melbourne residents. It's a cultural melting pot that most people embrace, and our gardens often reflect our mix of origins and tastes.
Walking the streets of Thomastown in Melbourne's north, we saw these two examples of modern landscaping plants mixed with traditional box hedges in small, tidy beds. These make an impressive focus point in a garden! And not as hard to take care of as their carefully clipped shapes suggest.
Agaves and Box Leaf Privet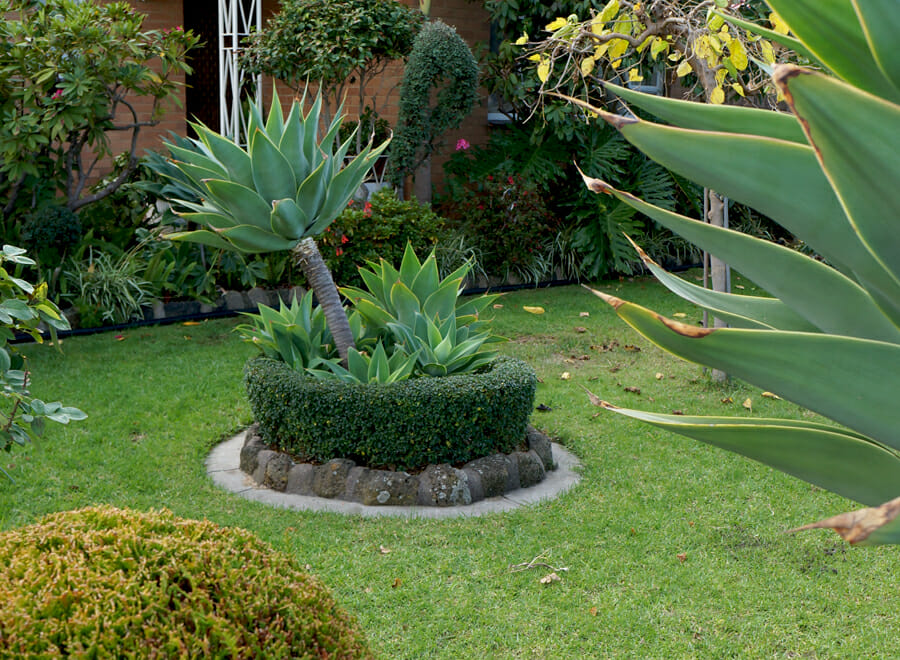 Here we have a small Box Leaf Privet hedge surrounding a multi-headed cluster of agaves. Agaves are one of the easiest plants to establish and maintain, and give you a lot in terms of sculptural contrast for little maintainence. We cannot change the fact that a neat box hedge requires it's trim a few times a year, but using low maintainence plants in the centre cuts the work down. On the plus side, Box Leaf Privet tolerates almost every soil type and can succeed where sometimes English Box can't.
What you need:
For each mini bed this size (1 metre across) you would only need:
8x Box Leaf Privet
3x Agave Attenuata
English Box, Cycads, Silver Star Yuccas and an Olive on top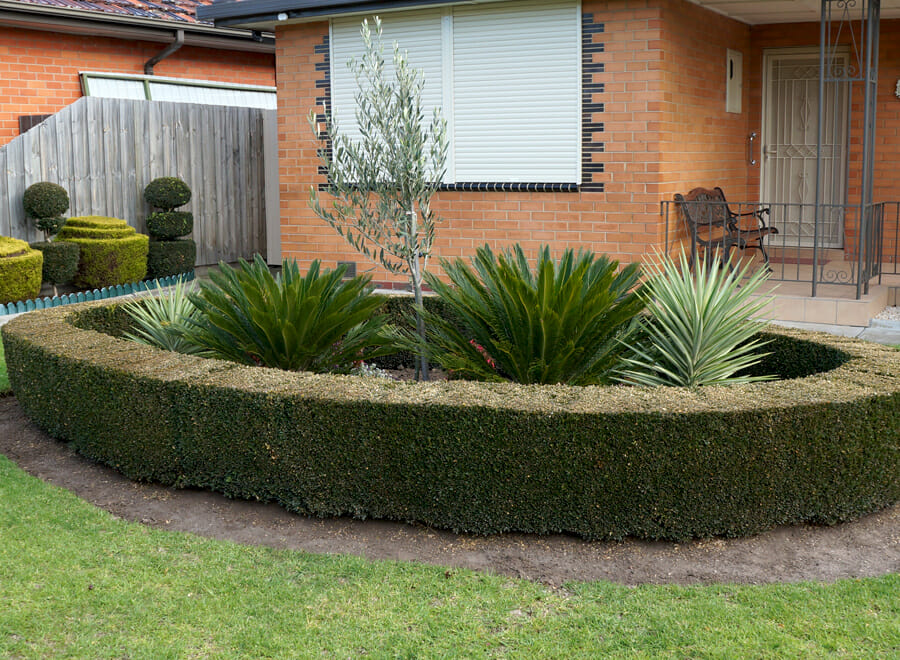 Here's another great example of a round box hedge. This time it's a tightly clipped English Box oval, with some modern, low maintainence plants in the centre. At the outside ends are two beautiful yuccas of the variety "Silver Streak". Then we have two nice sized cycads and a young olive tree in the centre. Once the tree reaches maturity, this feature garden bed is going to look really stunning.
What you need:
For each bed this size (3 metres across) you would need:
40x English Box
2x Yuccas
2x Cycads
1x Olive Tree