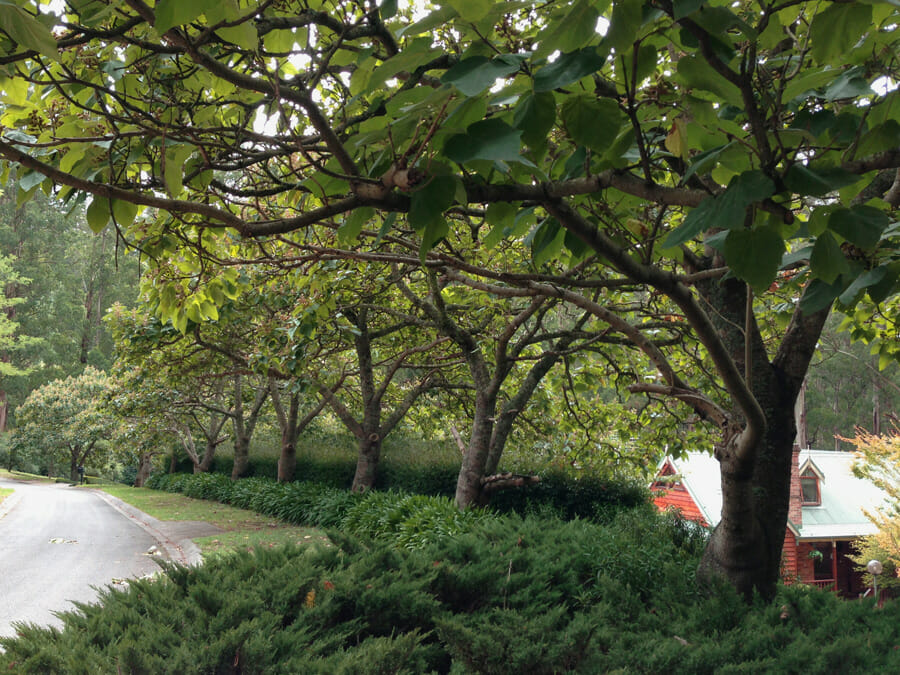 Powton Sapphire Dragon Paulownia Trees 20 Years On
Yesterday we visited Chris & Marie's former family home in Mt Dandenong and got a look at a mature avenue of Powton Sapphire Dragon trees. Chris originally planted these trees along the street, and it was wonderful to see how well they are doing 20 years on.
The secret of the Powton Sapphire Dragon according to Chris is that many Paulownia trees grow and grow and grow all their lives, and become unmanageable. This gives Paulownias a bad name. So Chris travelled to central China during his breeding and selection process and found a unique variety of Paulownia tree that grew incredibly fast in its first 24 months, then reached maturity and became a slow growing tree that put most of its energy into unbelievable flower output each year. This became the Powton Sapphire Dragon, which has flower stems up to 1 meter long with 300 flowers on each, and is a more prolific flowerer than a Jacaranda tree.
While they're not in flower now, they still looked beautiful with their gnarled branches covered with large graceful leaves, underplanted with agapanthus and backed with a lilly pilly hedge.
We'll have to go back in Spring and see how they look in flower!