This morning Chris and the crew from the Mix 101.1 Breakfast Show got up bright and early to surprise lucky and lovely Vickie from Fairfield, who was the first winner of our Garden Rescue Makeover Competition running this week.
Vickie has created an urban organic oasis in her small backyard, complete with chooks, dogs, custom built compost bins and a bounty of home grown fruits and veggies. However the recent dry spell has killed off several plants, and the task of tending to such a paradise had left Vickie with some overgrown and neglected corners.
Watch the video below: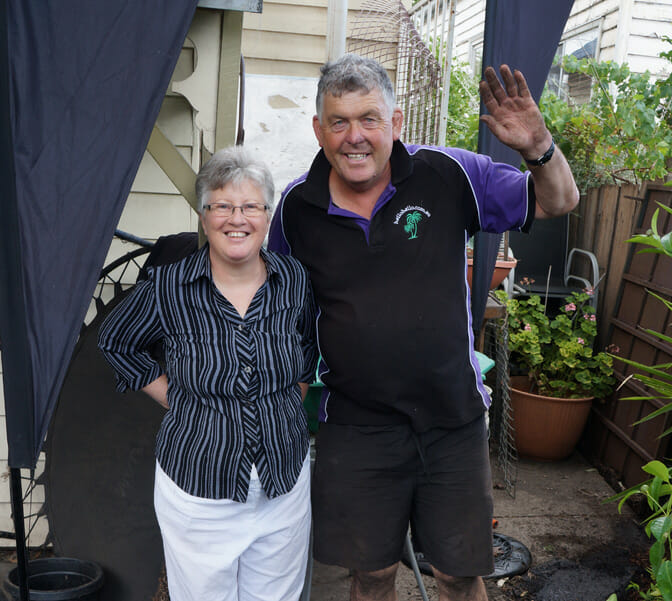 Chris spotted a corner with some overgrown and frazzled Monstera which had split its pots and rooted deep into the ground. Just next to this tangled mess was Vickie's outdoor setting, so Chris decided to create a nicer space for Vickie to enjoy surveying the rest of her well-loved garden from.
First we had to remove the offending Monstera and its chunky roots, and apply a good soak of Devotion Soil Wetter to the area and water it in. This began the process of softening and re-hydrating the soil. Chris marked out a curved garden bed beneath the partial shade of a large established Grevillea robusta. He then shoveled and turned the soil in the bed area and added more soil wetter, which was again watered in by our handy Mix FM garden gnome.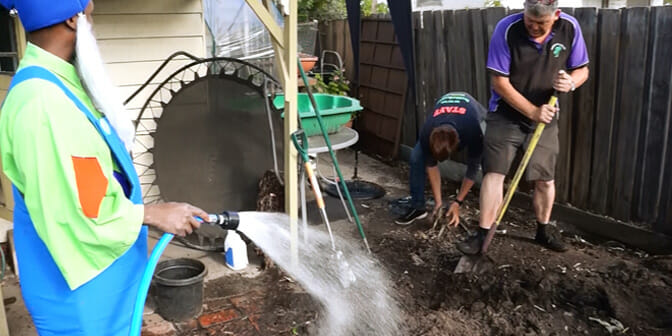 To give the new plants some root space of their own, we ordered 1 cubic metre of premium soil blended with mushroom compost to create a raised bed just under 1ft high. Some large rocks in the existing garden placed throughout the bed provided interest and structure. More soil wetter and a good watering were applied, as we found the soil was also dried from the hot weather and was "hydrophobic" – tending to repel water.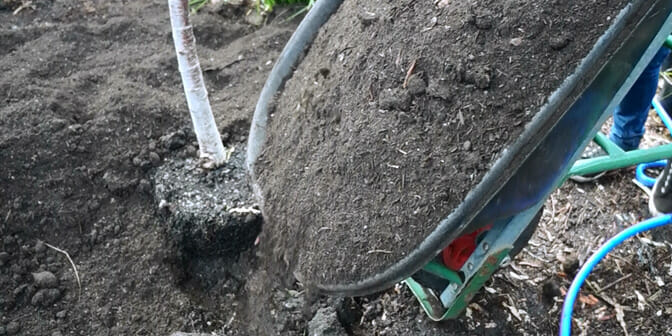 Chris selected 4 small growing trees to star in Vickie's new garden: an Emperor Mandarin, a Pink Weeping Cherry, a Crimson Sentry Maple and a Yucca Sculpture. This relatively eclectic mix echoed Vickie's existing living patchwork garden. To tie these together Chris selected a more limited pallet of low shrubs, grasses and succulents for filling in the bed around the trees. These included Blue Chalk Sticks, Dwarf Nandina, Knotted Rush Grass and Black Mondo Grass.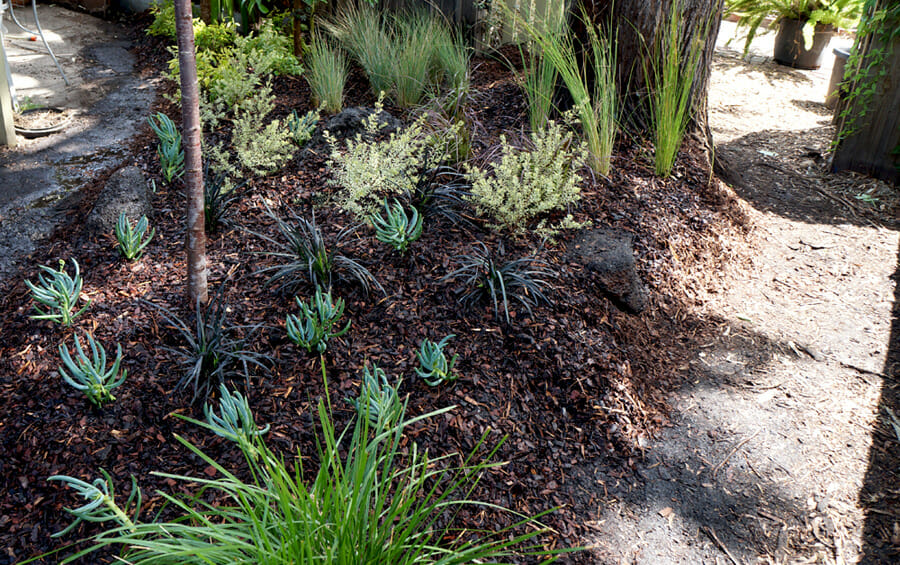 We finished the bed with half a cubic metre of pine bark to blend it with the rest of the garden, prevent erosion and assist with water retention. The finished product looked great and Vickie was very happy with the change and lift in her backyard. Chris gave her a premium wide hose and rosette nozzle to help her get through the remaining dry weather, and in return Vickie gifted us with some of her lovely home-grown produce. Thanks Vickie!