Have you had a Garden Design done at our nursery within the past 3 years?
We are looking for great success stories of empty gardens transformed into beautiful ones, following a garden design done by Chris at our nursery. This could be a front yard or back yard, small or big garden that has been transformed. Here is a great example sent to us by Rob and Kath, along with a lovely message:
"Hi Chris, Tania, and Team,
A big thank you for designing and providing the best plants for our home. We
love it and so does everyone in the Neighbourhood. Chris, you did such a great design for us that people stop to comment on how the garden complements the house. We have no hesitation in advertising Hello Hello with what you have provided us.
Looking forward to visiting you again.
Thank you.
Rob and Kath" 😍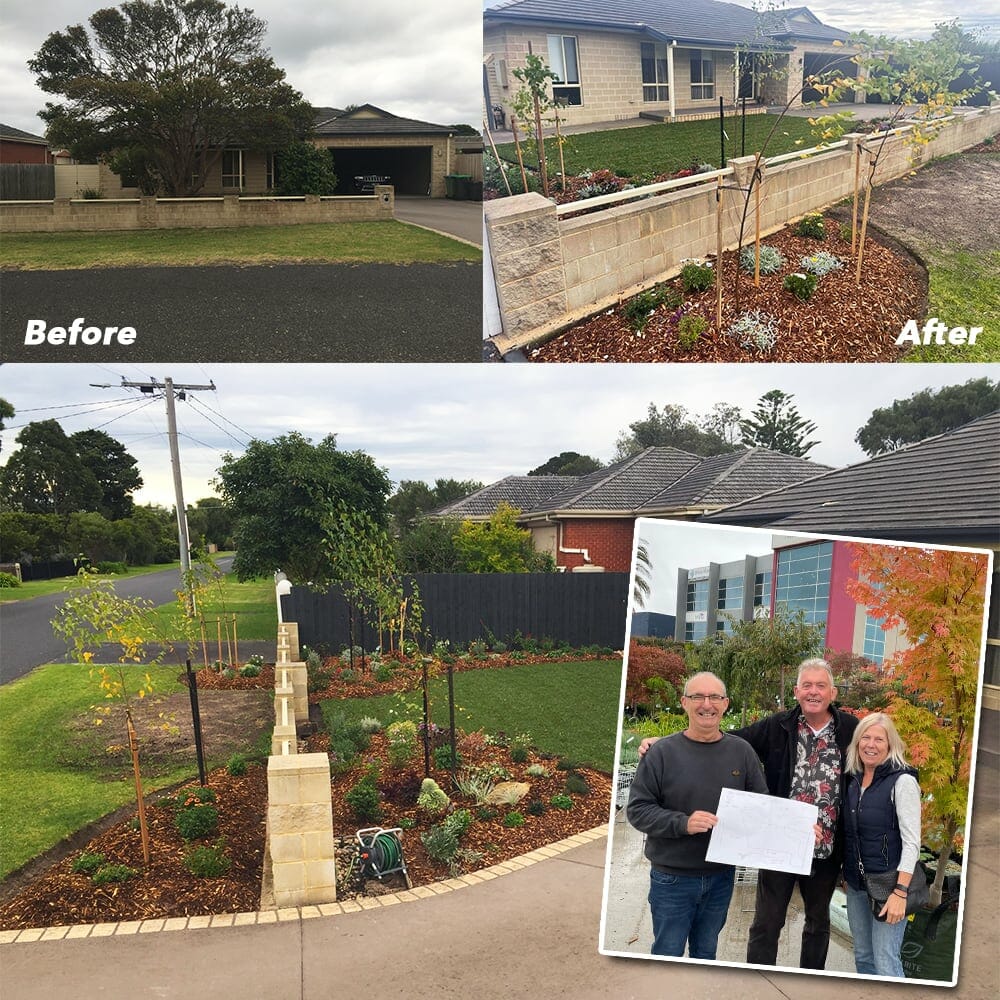 Send us your Garden Design photos and you could win one of three $500 Gift Vouchers to spend at our nursery!
There are 3 vouchers to be won over the next 3 weeks!
We will pick the best photos and stories from those submitted, drawing 3 lucky winners at random from those picked. These lucky winners will then be contacted to get their $500 gift vouchers! The vouchers can be used in-store or online on any products at our nursery. This competition starts on Thursday the 12th May and ends on the 2nd June 2022! See our full terms and conditions at the end of the page.
Fill out the form below, tell us your story and upload your before and after photos:
Terms and Conditions of participation:
The garden design should have been done by Chris at Hello Hello Plants nursery within the past 3 years.
The top 10 stories and photos will be chosen by Chris and a random draw will be carried out to determine the 3 lucky winners!
By submitting the photos, you grant us permission to use them on our advertising materials or social media without any restrictions.
Submissions start Thursday the 12th of May and end on the 2nd of June 2022.
The lucky draw will be announced on the 8th of June 2022 and winners will be contacted shortly after.
Freebies cannot be claimed in conjunction with this voucher.
Free delivery cannot be claimed in conjunction with this voucher.
Upload a maximum of 6 best images.
Images should be resized and not be more than 2mb each( Send yourself the image on social media for a quick resize. E.g Send yourself the photos on Facebook messenger. They will be automatically resized. Save them and send us those)
If you have trouble uploading the photos here, please send them directly to marketing@hellohelloplants.com.au