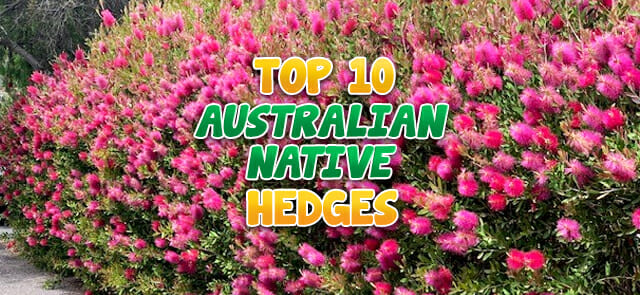 Top 10 Australian Native Hedges
We find natives are a love 'em or leave 'em, hit and miss or sorely misunderstood plant species with many Victorians. But the following list of native hedging plants will make anyone rethink their idea about natives!
Not only do many natives grow extremely well in the varied conditions around Victoria, but they have a certain charm and character, which can be emphasised with a bit of tender loving care. Like most hedging plants, give them a light prune, shape them according to your needs and you will find you will have one of the most unique and hardy hedges on the block!
Top 10 Australian Native Hedges
Syzygium 'Lilly Pilly'
Callistemon 'Bottlebrush'
Grevillea
Westringia
Correa
Adenanthos 'Woolly Bush'
Agonis 'Willow Myrtle'
Dodonaea 'Hop Bush'
Leptospermum 'Tea Tree'
Rhagodia 'Salt Bush'
Some more options are: 
Acacia
Prostanthera 'Mint Bush'
Philotheca 'Wax Flower'
Syzygium 'Lilly Pilly'
Single-handedly the most popular Australian native hedging plant, and most people don't even realise it's a native! Stunning glossy green leaves, tender red new growth and certain varieties produce beautiful flowers and edible berries (Yup! A hedge that provides a great source of fruit!) They come in many shapes and sizes as well including dwarf hedging lilly pilly, columnar lilly pilly, narrow lilly pilly that requires very little pruning and, of course, your big, dense, neighbours-be-gone varieties!
Callistemon 'Bottlebrush'
A tough but elegant feature tree that doubles as a hedge or screen! The Callistemon can block out any neighbour in almost any condition. They tolerate heat, drought, frost and coastal conditions as well as clay or sandy soils! Plus Callistemon comes in a variety of floral colours such as white, red, pink, yellow and purple. They truly are a gorgeous native. 
Grevillea
Much like the Callistemon, the Grevillea are another tough contender to the Australian climate. Heat, frost, sandy and clay soils are no issue for Grevillea. And their colourful native flowers are not only loved by many a neighbour but also by the local bird life. Grevilleas come in groundcover forms as well as up to 3m tall, bushy shrubs, making ideal hedges and screens.
Westringia
Commonly seen in a lot of housing estates, and for a very good reason! Westringia is one of the best choices for a native box hedging plant. Westringia produces star-shaped flowers in purple, pink or white and when trimmed create a dense, compact habit. They are very easily shaped into square hedging, some have been tried very successfully as topiary!
Correa
The next best contender for native box hedging is Correa. Just like Westringia, it is commonly used in many housing estates, not only for its gorgeous and versatile appearance but also due to its hardy nature. Correa tolerates poor soils, heat, part shade and frost. They, too, come in a variety of sizes and styles, including elongated green leaves such as that on the Correa reflexa or rounded, grey-green leaves like that of Corra alba. 
Adenanthos 'Woolly Bush'
If you're after super soft, fluffy, dense foliage, look no further! This shrub is like hugging a giant teddy bear plant! It is ridiculously soft, staff and customers can't help but touch them when they walk past them in the nursery. And they make wonderful hedges! Adenanthos produce little red flowers and tolerate sandy soils, light frosts and full sun. 

Agonis 'Willow Myrtle'
Tall, elegant hedging is what comes to mind when Agonis is mentioned. These elegant plants have slightly weeping foliage that comes in greens, maroons and purples. When grown as a large, blockout hedge, they make quite the impact! Tolerating drought, heat, frost and coastal conditions make it a very popular large native hedging plant.
Dodonaea 'Hop Bush'
Another much like the Agonis but more robust and upright. Dodonaea comes in a variety of colours and sizes and are able to make narrow, low-maintenance hedging right up to large, colourful feature hedges. They, too, tolerate most soil conditions, drought and frost. 
Leptospermum 'Tea Tree'
A native pollinator and bee favourite, Leptospermum 'Tea Tree' are popular in every native garden. 'Tea Tree' comes in small, low hedging sizes right up to tall, neighbour-screening hedges and there are many colours to choose from in both foliage and flower! 

Rhagodia 'Salt Bush'
A medium to low hedging plant with stand-out foliage! 'Salt Bush' are a silver foliage native that respond really well to shaping and pruning. Many councils have taken on Westringia, Correa and Salt Bush as their go to hedging and topiary shrubs in public spaces. In fact many a round-a-bout across Melbourne can be seen adorned with these three plants, trimmed and shaped as if they were your regular English Box shrub! And Salt Bush is as hardy as they come, tolerating all soil types, coastal conditions, frost, drought and heat. 
Honourable Mentions
Acacia
We can't pass up on mentioning Acacia's in this list. There are a few varieties that make soft, green hedges and screens. Acacia fimbriata is a gorgeous, tall hedging native that produces the classic yellow pompom flower of the Acacia family. Acacia 'Limelight' is a much shorter, hybrid Acacia that is ideal for borders and edging, with soft, delicate, slender green foliage and almost inconspicuous flowers.
Prostanthera 'Mint Bush'
Often overlooked but suddenly makes an appearance in spring to summer when it puts on a spectacular show of purple flowers, covering the entire plant! Often they will be spotted along the roadside in the Wombat State Forest causing drivers to slow down and ponder 'What is that plant?' Little do they know it also makes a wonderful hedging and large topiary shrub. If you want a purple hedge, look no further!
Philotheca 'Wax Flower'
Used for box or medium hedging, or the occasional large topiary feature, Philotheca produces a dense, green habit when trimmed and maintained regularly. Plus, they have a delicate aroma when trimmed. Philotheca 'Wax Flower' produce small white flowers and tolerate a wide range of conditions including drought, poor soils and frost.
Here are some more articles you may like: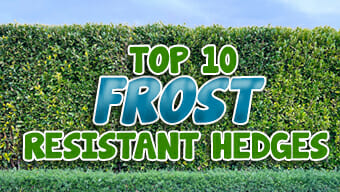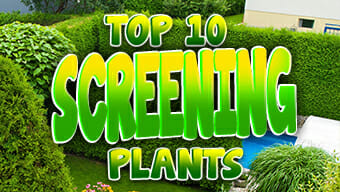 Sign up for our newsletter below
We will send you gardening tips, great deals, and exclusive giveaways. Happy Gardening!