Living in regional Victoria can have some drawbacks in the garden that those in the city may take for granted. Our regional gardens are more susceptible to extreme conditions such as heat, wind, hungry native animals and, in particular, the cold and ice.
To protect your garden from the icy cold of winter, and the frosts of late autumn and early spring, it is wise to create a barrier or hedge. And this hedge has got to be a toughie to block these kinds of temperatures!
Australian Natives are obviously the most suited plant to endure frosts and the Australian climate, having spent centuries acclimatising to this sometimes cruel environment. In fact, we could fill this entire hedging list with natives alone! Instead, here is the list of Top 10 Australian Native Hedges, all of which are frost resistant and perfect for hedging. You'll find Callistemons, Grevilleas and Westringia just to name a few!
For alternatives to our wonderful natives, here is our list of super tough, built-to-last hedges that can endure the cold.
Top 10 Frost Resistant Hedge
Escallonia iveyii
Photinia robusta
Prunus lausitanica 'Portuguese laurel'
Prunus laurocerasus 'Cherry Laurel'
Ligustrum undulatum 'Box leaf Privet'
Laurus nobilis 'Bay Tree'
Buxus sempervirens English Box
Hebe
Pittosporum 'Silver Sheen' and 'Tobira'
Cupressocyparis 'Castlewellan Gold' and 'Leighton Green'
Escallonia iveyii
A glossy-green, robust hedging plant with clusters of white flowers that bloom in the summer. Escallonia iveyi are used as medium hedging, formally pruned or in its natural, unkempt form. Known to endure low temperatures, frosts and even light snow! It is suited to Cottage, Formal or Hampton-style gardens.
Photinia robusta
This colourful hedge can be spotted from miles away, with vibrant red new growth. This sturdy plant can be trimmed as a medium or tall hedge, looking quite striking when trimmed into a formal hedge. Photinia produces small, white clusters of flowers in the spring. Suited to Formal or Cottage gardens. There are a few varieties of Photinia, all of which are suited to frost and cold tolerant hedging.
Prunus lausitanica 'Portuguese laurel'
Truly elegant and formal as a hedge, the Portuguese Laurel is a stunning, dark green foliage plant with long, white flowers that bloom in summer. It can be kept as a medium or tall hedge and can also be pleached. Portuguese Laurel does require regular pruning to maintain its shape. It can tolerate a wide variety of environmental conditions, heat, poor soils and light snow included.
Prunus laurocerasus 'Cherry Laurel'
Much like its cousin, Portuguese Laurel, Cherry Laurel is another hardy plant suited to big and medium hedging. Its large, glossy green leaves create dense hedges that block sound, wind and cold. Cherry Laurel also produces white clusters of flowers in the spring that, unlike the Portuguese Laurel, protrude upward in a candelabra-like fashion. Tolerates poor soils, wind, heat, frost and light snow. Best suited to Formal, Cottage, Modern, Lush & Leafy and Woodland garden types.
Ligustrum undulatum 'Box leaf Privet'
Commonly known as a box hedging plant, this versatile little beauty can also be grown and trimmed into medium and large hedges. It is best kept neatly hedged as it can look quite untidy when left to its own devices. It is a very hardy plant, enduring extreme heat, clay soils and frost. Unlike many other hedging plants, Box Leaf Privet does not produce flowers so it is a wonderful addition to the Low Maintenance garden or Poolside.
Laurus nobilis 'Bay Tree'
Bay Leaf is not only suited to the culinary garden. Laurus nobilis is a very popular Formal garden addition, often utilised as gorgeous potted standards, topiaries and pleached or full, formal hedges. It is a slow to medium growing plant so it doesn't take much to maintain and once established, produces little inconspicuous yellow flowers. A great addition to the frost-tolerant garden.
Buxus sempervirens English Box
A classic box hedging plant that can also be used as a medium hedge, English Box is a tough plant. Known to tolerate snow and ice, this slow grower suits almost any garden style from Cottage, Formal to Modern or Woodland. As it's slow-growing it requires very little maintenance to keep it looking neat and it doesn't produce any flowers, great for poolside or pathways.
Hebe
If you're after that box hedge look but with more colour, look no further. There are many varieties of Hebe available, all of which are frost and cold tolerant. With flower colours ranging from white to pink, purple and almost blue, there are lots to choose from! They are best suited for box or medium hedging and can be formally trimmed or left unkempt. Suitable for Formal, Modern, Pots & Containers, Woodland or Cottage garden types.
Pittosporum 'Silver Sheen' and 'Miss Muffet'
Fast-growing hedging is what Pittosporums are known for and all Pittosporums are cold and frost tolerant. For maximum performance, plant in well-drained, rich soil and you'll have your hedge in no time! The 'Silver Sheen' and other similar varieties have small, rippled leaves but don't let their size fool you. They can create a very dense and neatly trimmed hedge. But if you're after a broader leaf variety, the 'Miss Muffet' Tobira Pittosporum has a deeper green, a long leaf that can tolerate even snow! Commonly found in Modern or Cottage gardens.
Cupressocyparis 'Castlewellan Gold' and 'Leighton Green'
The most popular rural or acreage hedging plant are these big, lush conifers. If left to their own devices they can grow many metres tall and wide but kept neatly trimmed and maintained, they become one of the most stunning, shapely and formal-looking frost tolerant hedges. 'Leighton Green' and 'Castlewellan Gold' Conifers are best suited for tall hedging and not ideal for the small suburban or unit garden. They produce no flowers and are so dense they block sound and wind too! As mentioned they are found in Acreage style gardens as well as Formal, Hampton or Mediterranean garden types.
Here are some more articles you may like: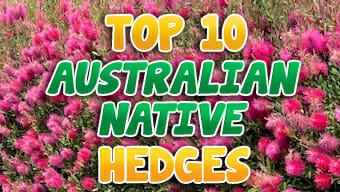 Sign up for our newsletter below
We will send you gardening tips, great deals, and exclusive giveaways. Happy Gardening!