In line with the Victorian Government's latest direction to prevent the spread of COVID-19, our Campbellfield retail store will be closed from Thursday the 6th of August to all customers except for genuine tradespeople (builders, landscapers, developers, farmers etc).
You can continue to purchase plants from us online via our website, or over the phone on (03) 9359 3331. Our retail store's customer service staff will switch focus to answering your phone and email inquiries. We will continue to offer our contactless delivery service throughout metro Melbourne and regional zones, as well as posting smaller plants across the East Coast of Australia. In support of all those people doing the right thing and staying at home, we have decided to continue to offer free delivery on all orders over $300 within Metro Melbourne and to most regional Victorian centres, despite the cost to our business.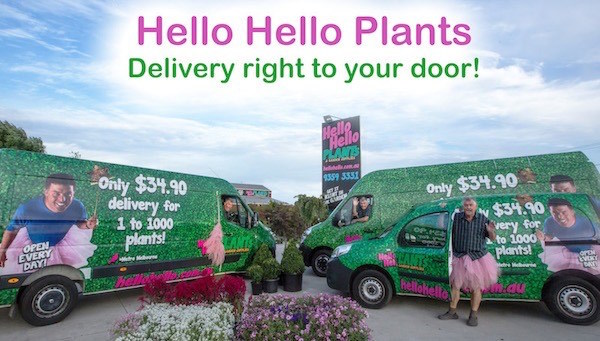 In the last few weeks we have received an unprecedented number of orders for delivery, but we are confident in continuing to fulfill your orders. There may be some delay as we adjust our business to face these new hurdles, re-deploying staff and managing the change. But we have met the challenges this year has thrown at us so far, and our 6-vehicle fleet will keep doing laps of Victoria from morning to night 7 days a week. We have maintained growing at our own farm in preparation for Spring despite these uncertain times, and we are working closely with dozens of suppliers and small Victorian growers to maintain availability of the broadest possible range of plants.
As the Victorian Government has announced, we can & will also continue to operate a Click & Collect service, allowing you to pick up your plants from our Campbellfield store. If you are picking up from us after Thursday the 6th of August, you will receive special instructions on how to safely do so. However, if you do select this option, please ensure that you are not violating stay at home restrictions by visiting us to collect your plants. Instead, it's safer to select one of our contactless delivery options.
It is not unusual at the moment for all of our phone lines to be busy with customer inquiries. If you cannot get through to us over the phone on (03) 9359 3331, please email sales@hellohelloplants.com.au for general inquires, to check the availability of any products or to make an order. For an existing order, please email orders@hellohelloplants.com.au.
You can also still get a free Garden Design Consultation and we will be delivering these via video chat (Zoom, Facetime, etc). We have limited places so it's best to book in advance.
Please be kind to our staff. They all want you to get your plants, and they are working extremely hard to make sure you do so.
Keep calm and garden on Victoria, from all of us at Hello Hello Plants.