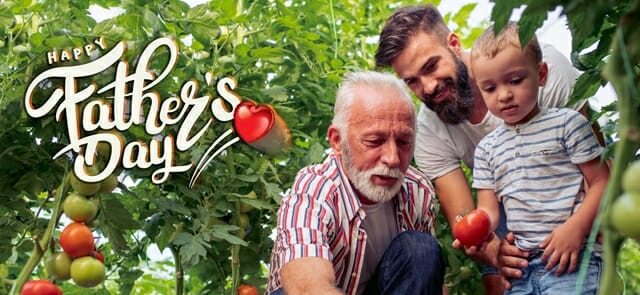 Father's Day 2020 in the Garden
In Australia on Sunday the 6th of September we celebrate Father's Day, a celebration of dads, honouring fatherhood, paternal bonds and the role fathers play in society. Do not miss this opportunity to tell your dad and/or granddad how much they mean to you on this day, but also every other day!
This year in Victoria, Father's Day is possibly a bit tough for many of us, as lockdown restrictions might mean we can't see dad on the day. But we can still get creative and send some love his way! Especially some wonderful plants and supplies for the garden.
Father's Day Deliveries to Dad
All around Victoria, the postal, courier and delivery network is feeling the strain of lock-down demand, and here at Hello Hello Plants we are working double shifts and delivering every day from morning to night just to keep up! That being said, there are some delays all round.
If you want to give dad the gift of plants, these may not reach him in time or on Father's Day. We suggest two options:
1. The best choice is getting dad one of our email gift vouchers. While we also offer physical gift cards, we're all at the mercy of Australia Post at the moment and we cannot guarantee that a posted card will arrive on time. You can elect to have this sent straight to dad's email, or sent to your own email to then forward to him or print on the day. Then he can order what he wants on our website and get home delivery.
2. If you want to specifically pick out plants for dad, you can still order a surprise gift for him, and then send him copy of his order on Father's Day and let him know it's on the way. Our current turnaround time is 1-10 days with an average of 6 days during lockdown. Just specify in your order notes if we shouldn't deliver BEFORE Father's Day!
Gift Vouchers and Hand Written Cards!
How about giving dad the gift of his choice? A gift voucher is perfect if you have no idea what he would like and want to let him choose. Also, we can add a handwritten card to your plant order for a very personal touch if you go for option 2 above!

Top specials for our superhero, DAD!
Click here for even more current specials!
Some more plants that Dads Love! Pines and Bonsais!
Fertilizers!
He spends so much time out in the garden and it should look like a million bucks! Healthy soil and the right fertilization regimen makes plants thrive and bloom. It makes all the time spent out there worth it. Here is a new selection of quality Australian made fertilizers you can get for him.

Potting Mix and Compost!
When you buy beautiful plants, you should not risk planting them in bad soil. There are so many potential problems, such as PH, drainage, pathogens, nutrient content, etc. So for stress-free planting, choose some professional planting mix  that will guarantee greater plant success!