One of Victoria's biggest and most successful advanced tree growers has asked us to clear out over 2,000 advanced trees. These trees have been grown for government and council development constructions and are the surplus trees. The grower is planting a whole new crop of trees for next year and these trees have to be cleared in the next few weeks. This is your chance to purchase a large specimen tree or two for the back yard, decorate your country property with colourful and interesting trees, plant an avenue or a screen.
Plant an avenue or a screen.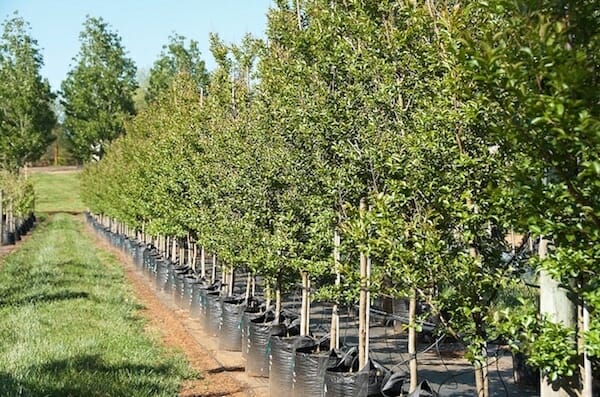 Get beautiful, big trees and do it on the cheap. Now is the best time to plant as you will need minimum watering from now till Christmas.
Normally advanced trees like this cost $200-$400, however, choose from natives, evergreens, autumn colour and blossom trees starting from only $29.90 each!
Buy your trees from Chris the Tree Man!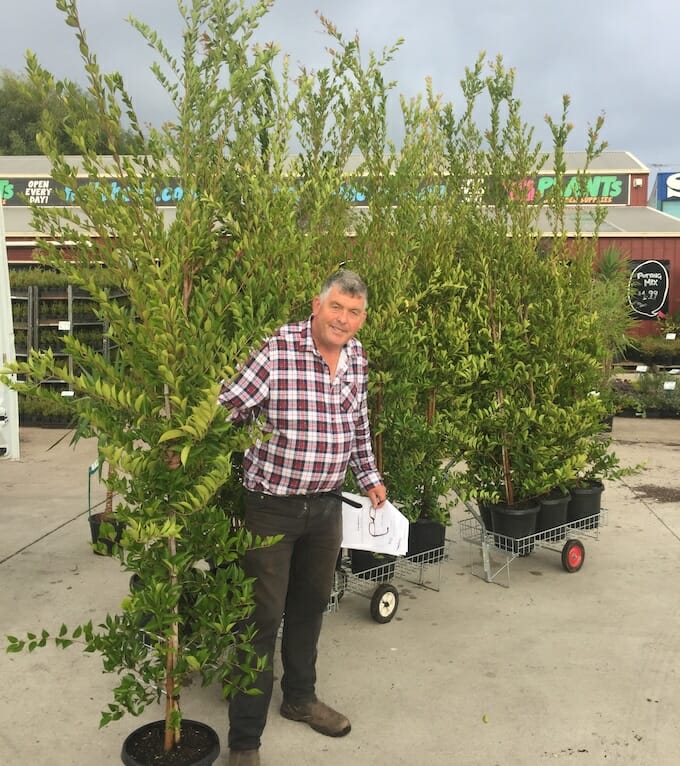 Nobody knows more about planting out trees anywhere in Victoria than Chris. If you want to plant an avenue, a screen or individual specimens and your not sure what you want, call or visit and see Chris. Tell him about your site, if its dry, has heavy soil, windy, etc, then tell him if you want tall trees, short trees, blossom trees, autumn colour, evergreen or whatever particular job you want; screen, windbreak, shade etc, and Chris will give you a couple of options at the right price. We can also organise delivery to most regions in south east Australia
From a young age…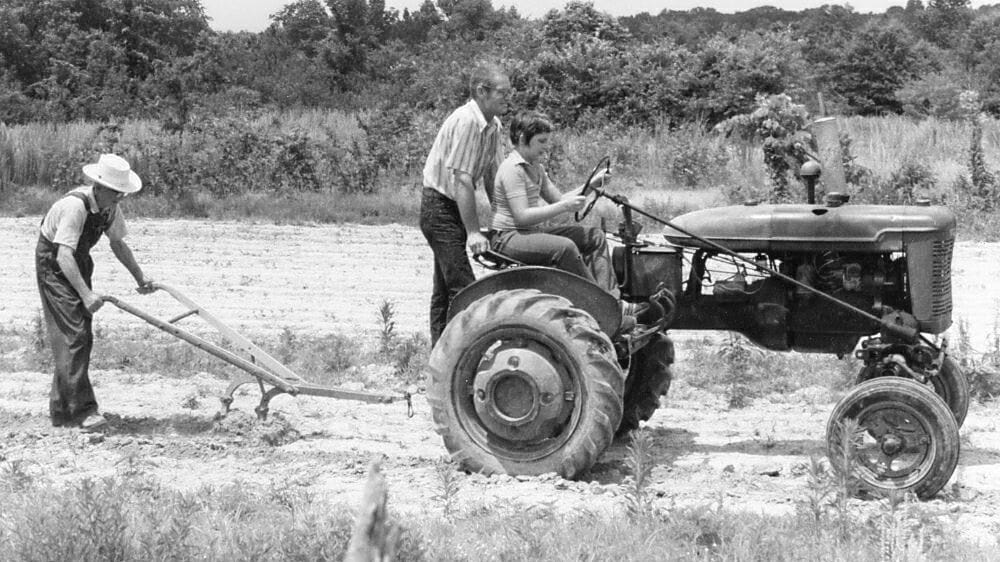 Chris was brought up helping his father in a tree propagating nursery. Chris's big break came when, to support a young family on a nurseryhand wage he started mail ordering his fathers trees through the Weekly Times. He soon learned what did well in different areas and what problems people had establishing trees. For the last forty years he spends each winter glued to the phone helping and advising landholders to get the right trees for the job.
So if you want to get the right trees for your planting to be successful and achieve the results you want, then speak to somebody who knows and loves trees;
Call: (03) 9359 3331
or Email: sales@hellohelloplants.com.au
2m tall Prunus Nigra "Purple Leaf Plum" advanced tree in 13" Pots were $99.90 now only $69.90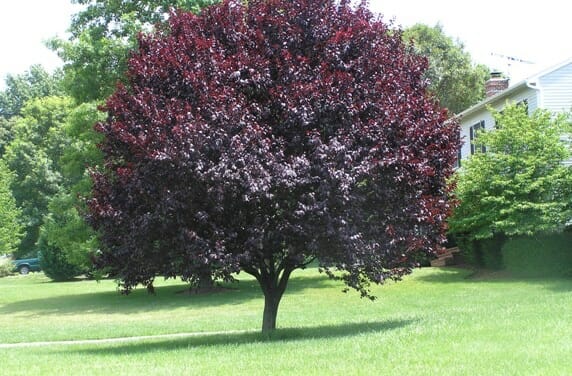 Purple leaf plums are deciduous trees that feature rich, dark black-red glossy foliage throughout spring and summer. They put out masses of small single pink flowers in spring. They will put out only a handful of small, not particularly edible fruit in a year. This means that Prunus "Nigra" are perfect as ornamental trees where the mess of fruit is not desired.
Purple leaf plums don't generally grow taller than 5 meters, so they are a good tree for small gardens. Once established are quite low maintenance. That's why you see them used as street trees throughout Melbourne.
1.5m tall Golden Robinia Fresia advanced tree in 12" pots were $79.90 now only $59.90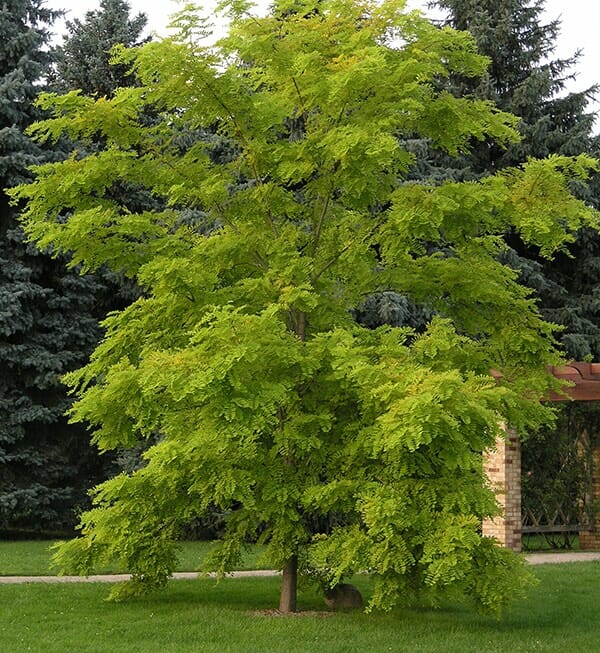 Golden Robinia has beautiful yellow Spring leaves which deepen in colour to a fresh lime-yellow during Summer, then turn golden-yellow in Autumn, before falling.
During Spring, beautiful, lightly scented clusters of wisteria-like flowers grace this tree making it a true feature.
A visual standout amongst other trees, this Robinia tree is an all round tough plant suitable for many different landscape uses. Whether as a magnificent specimen or a street tree in polluted and industrial areas, it grows with vigor and strength.
1.6m tall Swan Hill Olive advanced tree in 16" pots were $249.90 now only $79.90 –  or bulk buy 5 for $349.50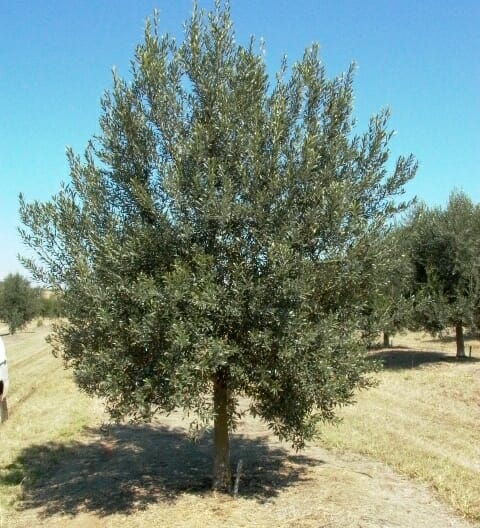 Swan Hill Olive is a unique and elegant evergreen tree that grows to approximately 6m in height or less in a pot. Likes moist to dry soils and is drought tolerant.
This particular Olive is a low fruiting variety, making it perfect for use as a street planting, on industrial sites or as a hedging plant, as it responds well to trimming. These lovely olives also grow happily in large pots for a mediterranean look!
Swan Hill Olive should be planted in a position of full sun to partial shade. This tree has a very long life span and strong branches. It bears gray-green foliage and a light gray scaly bark.