The Australian Boab tree is commonly found in Western Australia's Kimberly region. There you will find advanced ones of up to a thousand years old, with a height of 30 – 50 feet.
The Boab tree is closely related to the Madagascan and African Adansonia species and it is easily recognisable by the swollen trunk of it's base. The Boab tree is easily grown in most of Australia's dry and hot conditions, but is also suited well to Australia's humid and cooler regions too. It can grow in most soil types, but prefers a well drained soil. It is a beautiful slow growing tree that will literally give you a lifetime of joy.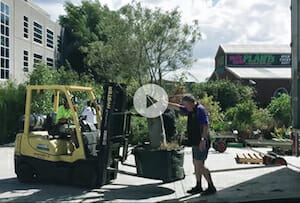 You can own a piece of that future, history with your own Boab tree today:
10" pots – $59.90 | 12" pots – $79.90 | 16" pots – $99.90
Come check out this true wonder of the world, the Boab tree and also meet King Boab himself at 1477 Sydney Rd Campbellfield.
King Boab, is a 100 year old specimen weighing over 700kg and requiring a forklift to lift him out of the Truck which he was delivered on. Click the picture to the right to watch the video of him being unloaded from the truck.
Our friends in Western Australia say that he is only a Baby, but to us he is a King!!
Also secretly, you can own King Boab for only $2999. But don't tell him, it might offend him if he knew how cheap he was!!!!