One of our biggest suppliers had their water unexpectedly cut off in one of their nursery's and we were asked to help out by taking truckloads of stock and clearing them out quickly at extremely low prices.  Some of the plants we received are listed below.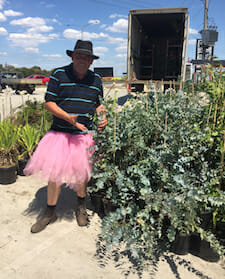 3ft Magnolia "Little Gem" 8″ pots $29.90
Golf Ball Pittosporums in 6″ pots $7.90
Agapanthus "Cloud Days" in 6″ pots for $8.90
Yucca Carnival in 6″ pots now only $4.99
4ft Assorted Gums in 10″ pots for only $11.90
3ft Std Ficus 8″ pot $26.90
Electric Pink Cordyline 7″ pot $4.99
A lot of these plants are less that wholesale prices!  We have filled the nursery with truckloads of plants and we have even had to fill half of our carpark!  We have to sell fast to keep making room for the next truckloads of plants, so have priced our plants with this in mind!
If you hook up a trailer and come in now, you can fill up your garden for less than ever before & choose from an enormous range of marked down plants.