Give Mum The Best Gift! FREE $50 GIFT CARD for Mothers Day!!
FREE $50 GIFT CARD for Mothers Day!!
Spend over $500 from now and until the May the 8th at 5pm and receive a FREE $50 Gift Voucher for Mum to buy whatever she wants at Hello Hello Plant's and Garden Supplies.
Why not do up your garden and get your Mothers Day gift at the same time! Hurry Offer MUST end this Sunday – May 8th, 5pm (Mothers Day).
THE ORIGINS OF THE COTTAGE GARDEN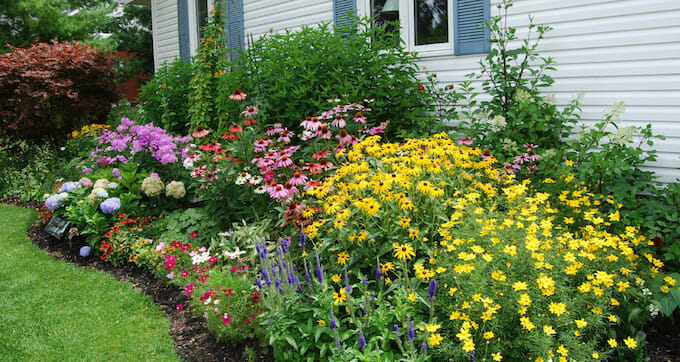 The cottage garden began as a Cornwall tradition over 150 years ago. Sailors traveling the world would bring there wives home wild flowers and shrubs they'd found from the banks of Africa, Spain and other exotic locations. Sailors would see exotic colours of flowers hanging over cliffs and they would scuttle up the cliff face often in the face of danger just to secure their rare find. The sailors would simply wet their shirts and wrap the rootball up with their wet shirts so the plants and flowers would remain alive during their journey back to England. Once the Sailors had returned home, they would spoil their wives with beautiful flowers and the small shrubs that they'd discovered. Most working sailors of the day resided in Cornwall England due to it's picturesque harbours, fishermen villages and easy to access jobs at sea. They found that bringing back their beautiful finds from other countries grew well in Cornwall due to the warmer climate and sea breeze of the peninsular county.
Chris had the fortunate opportunity to work with a lovely old lady from Cornwall England, Kay Rundall who had moved to the Dandenong Ranges in outer Melbourne where Chris was raised. He was only 7 at the time and worked in Kay's Garden for almost 10 years, keeping it well maintained and beautiful. Through Kay's wealth of knowledge on the cottage garden, Chris learnt the main concept surrounding the idea behind the cottage garden and worked out what worked and what didn't. Kay invited Chris for tea and biscuits on his breaks and he would enjoy hearing stories from Kay on how the Cornish wives use to argue and fight over different plant species. Kay would often get criticised by locals for mixing Australian Natives with her beautiful selection of cottage plants.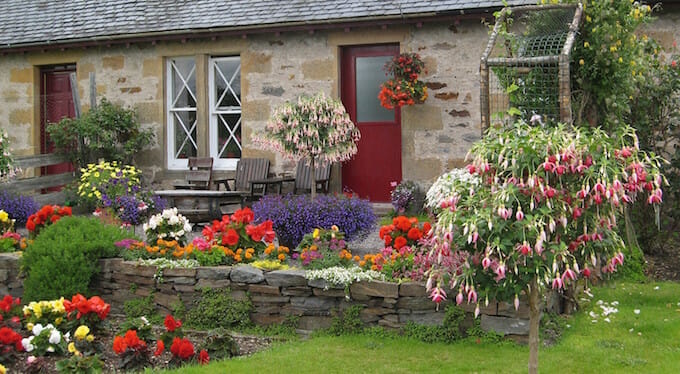 To this day Chris does several of these cottage garden designs per week. Here's one Chris just did this week for customer Karen from Sunbury who brought in a photo of a 15m x 1m garden bed which Chris looked at and suggested a cottage style garden. Through this experience Chris gained expertise in creating the ultimate Cornish style traditional cottage garden.
Karen had a budget of $300, with Chris working with her she was able to keep her budget under $240. She can't wait to see the finished product and neither can we!
Need to do up your garden??
Then head on down to 1477 Sydney Rd Campbellfield.
Or Call (03) 9359 3331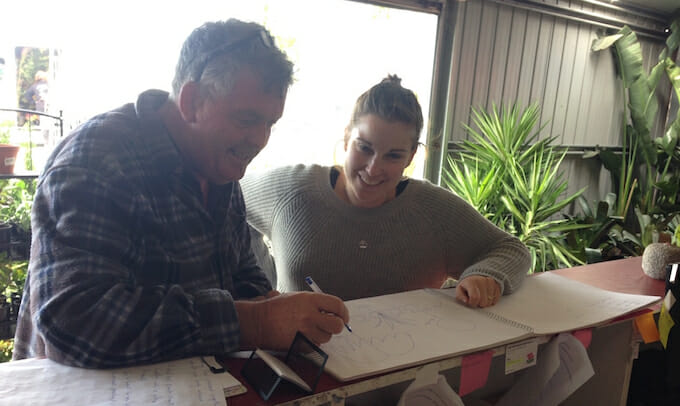 Don't forget Spend $500 or more before 5pm on May 8th and get a FREE $50 gift voucher for MUM!! Maybe she would like a cottage garden??
Hello Hello Tutu Clearance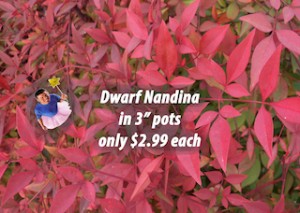 Dwarf Nandina produces beautiful red foliage in the cooler months, and is almost indestructible. These plants are great for low borders or mass plantings.
3″ Dwarf Nandina  – Only $2.99 each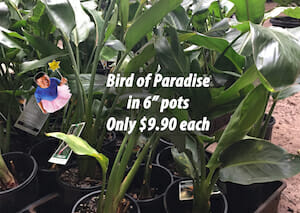 Bird of Paradise get their name from their exotic blue/orange flowers that resemble the head of a colourful tropical bird. With their large, lush foliage they are great for creating a tropical feel in the garden and can grow in part shade and full sun!
6″ Bird of Paradise – Only $9.90 each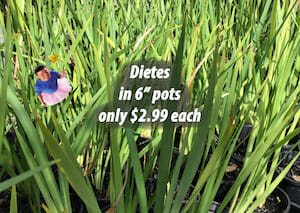 Dietes or Wild Irises are a well known exotic plant with long strappy leaves and beautiful large blooms which are white marked with yellow and violet. Wild Iris can grown in shade or sun and is tolerant of drought, salt and waterlogging, making it a versatile and very useful plant.
6″ Dietes – Only $2.99 each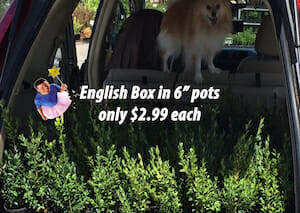 English Box needs very little water and grows in almost any soil. English Box grows in full sun through to the very deepest shade. English Box is perfect for classical, formal and even modern gardens requiring a low to medium sized border adding a touch of class in the process.
English Box in 6" pots – only $2.99 each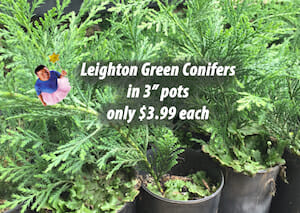 The fastest hedge for total visual, noise, dust & dirt protection. Grow a 3 meter hedge in only 2 years!! This variety is very fast & easy. Produces a classy rich green easy to maintain hedge.
3″ Leighton Green – Only $3.99 each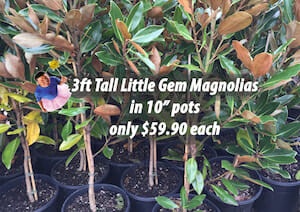 Little Gem Magnolia are a beautiful evergreen with stunning dense foliage, dark glossy green on one side and and are velvet on the other making them ideal for screening. Produces beautiful creamy-white flowers through Summer and Autumn.
8″ Little Gem Magnolias – only $24.90 each
PLEACHED FICUS
The Specials on the Pleached Ficus keep on rolling in. Pleached Ficus are a wonderful strand of Ficus Hillii Flash, which have been grown for there incredibly thick and straight trunks. This makes them the ideal candidates for Pleaching, giving your garden that 3 dimensional effect as you are able to grow something small and pretty beneath them.
Right now we have a special on the 10" potted Pleached Ficus which are 1.4m tall and start at only $49.90 each! 
Or
10 for $42.90 each (Total – $429)
50 for $36.90 each (Total – $1845)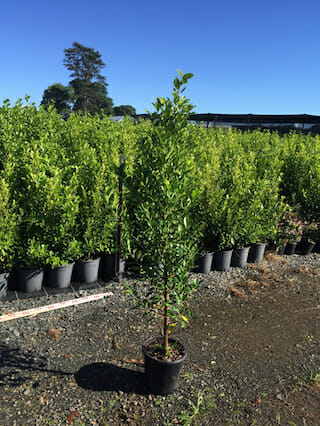 Everybody loves Lemon Scented gums!
A Lemon Scented gum in your garden through the summer will actually be repelling the mosquitos. The fragrance of the Lemon Scented gum has been proven to repel mosquitos and if the mosquitos get bad you can crush up the leaves and have them in a bowl on the table while you cook your barbie and the mosquitos won't even come near you. The smell is just heavenly and on a hot day it will fill your garden with a beautiful lemon fragrance.
But… the problem with Lemon Scented gums is they grow ENORMOUS, like this one here..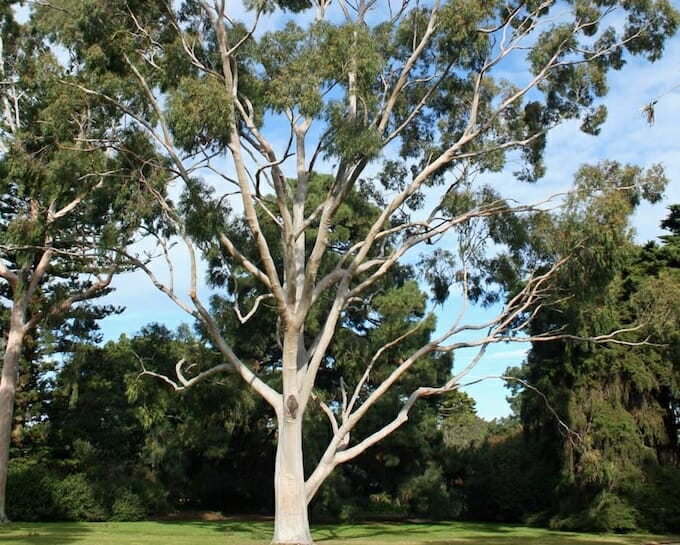 Lemon Scented have beautiful white trunks and a lovely hanging foliage with fragrance but unfortunately they grow enormous.
Recently a tree grower up in Queensland has overcome this problem and developed 2 Lemon Scented gums that are reproduced by grafting. What the growers actually do is they grow a seedling and then they graft it.
'Scentuous' – Dwarf Lemon Scented Gum 
One of these new varieties of Dwarf Lemon Scented gum is called 'Scentuous' and this only grows 6 to 7 meters tall. It has  beautiful fine hanging foliage with a lovely sharp crisp lemon fragrance and it's absolutely fabulous. It's a Eucalyptus you can grow in your garden with confidence, knowing it won't get huge.
'Baby Citro' – Dwarf Lemon Scented Gum
The other one is called 'Baby Citro' or is also known as 'The Baby'. 'The Baby' has a much broader leaf and it only grows 4 meters tall, so even if your living in a block of flats and you've only got a tiny little square for a garden, you can have a 4 meter tall Lemon Scented Gum and around the base you can plant lovely little native grasses or native plants and use it as the centre piece. It develops a lovely white trunk with wonderful cascading foliage much like it's relatives and will still produce that beautiful Lemon fragrance on a hot summers day, you can also crush up the leaves and repel mosquitos, much like it's sibilings! It is grafted and it only grows 4 meters tall!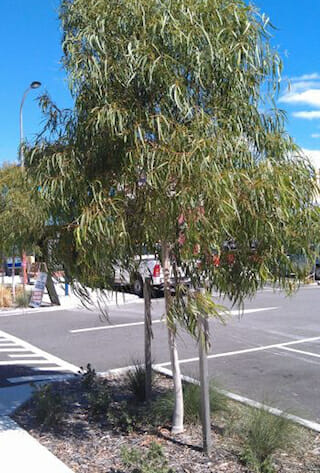 English Box
Get 6″ pot English box THIS WEEKEND for only $2.99!!
It's on again. Enjoy our fantastically priced English Box in 6″ pots for only $2.99. Be quick!
Fill up ya Ute at 1477 Sydney Rd Campbellfield
Call (03) 9359 3331
or Shop Now – www.hellohelloplants.com.au