Osteospermum, or African Daisies, have flowers that look very familiar, yet totally foreign. You may even think they've been dyed or painted. African Daisies look a lot like common daisies, with petals radiating around a center disk. When African daisies were first introduced to the market, they had vivid coloring many weren't used to seeing, with the flower's center disks looking as though they are colored with metallic paint. They are a great choice for a hardy, low growing shrub that gives a pop of colour to an otherwise tough to fill spot, repeat flowering in winter, through spring, and into summer.
African Daisies are definitely unique. The leaves will vary by variety. They can be lance-like or broadly oval-shaped and smooth, jagged, or lobed. Petals can be smooth and flat, like a daisy, or radiate out in a tubular, spoon-shape. They are a big hit with bees and butterflies.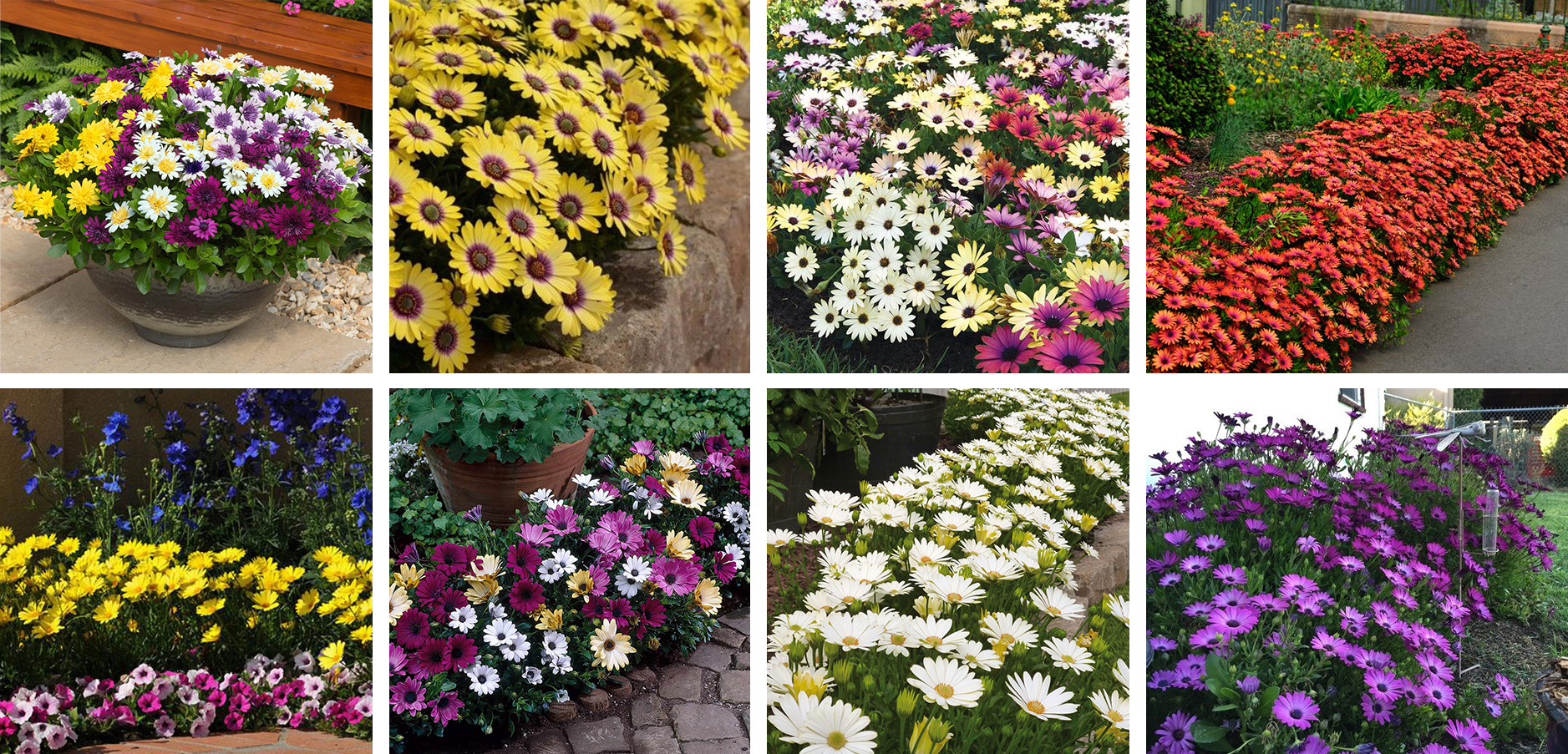 Botanical name: Osteospermum
Height: 30 to 60 centimeters Width: One meter or more
Ideal position: African daisies rely on the sun to open completely, so they love full sun, Tolerance: They will tolerate moderate frost and drought.
Suitable spots: Plant your African daisies in the garden or in a container.
When do they bloom? A mass of flowers appears from winter through to spring and also into summer.
Soil requirements: Daisies like rich, fast-draining soil and ample water until established.  However, they are very adaptable and will tolerate poor soil conditions and partial shade. Work some well-aged animal manure or organic compost into the soil to help promote abundant blooms.
Pests and diseases to watch out for: Keep caterpillars, snails, and slugs away.
Lifespan: They last for about 7-10 years
Toxicity: Harmless to your cat or dog, but do not feed leaves to goats, sheep or horses.
Propagation: African daisies do not self-seed, but they can be propagated by dividing.
Our Selection:
More Daisy varieties!
Here are some more daisy varieties such as the Marguerite daisies (Argyranthemum), seaside daisies (Erigeron), cut-leaf daisies (Brachyscome) and Felicia daisies. They are in full bloom right now and can instantly transform gardens, with their beautiful colors! They are so easy to grow and to take care of!