IT'S hard to surpass the beauty of a weeping cherry.
The weeping cherry tree, Prunus pendula is an ornamental that has been cultivated in Japan for many centuries. They have slender and flexile branches that lead them to gracefully weep and sway in the wind. Once developed, the branches become firm and stiff, making them quite tough. In spring, they are covered in white or pink, single or double flowers, often before the leaves emerge. Small but showy, the blossoms are held in clusters of 2-5 flowers. They are a perfect feature plant for the home garden or the focal point of a front yard landscape.
Flowering cherry trees do well in most gardens and they require very little care.
Here are a few tips when growing them:
• Flowering cherries require full sun and good air circulation. Plant your tree in a spot that is not too shady or crowded. Make sure the mature height and spread of the tree you wish to purchase will fit your intended area.
• Flowering cherries require moist, relatively fertile, well-drained soil. Easy to grow, they are not fussy, although they dislike poorly drained soil and
will not tolerate boggy conditions. They should be watered thoroughly after planting and until the tree is well-established.
• Flowering cherries grow best if left alone so it is best to avoid pruning aside from removing dead, diseased, or damaged growth. If you need to shape
your tree, do so after flowering in early summer, because there are fewer diseases then and you won't remove the lower buds.
• Flowering cherries are susceptible to insect and fungal disease problems. Regular pruning to thin out branches and allow for better air and light
circulation will help keep your tree healthy. Watch for caterpillars, leaf-mining moths, bacterial canker, and blossom wilt.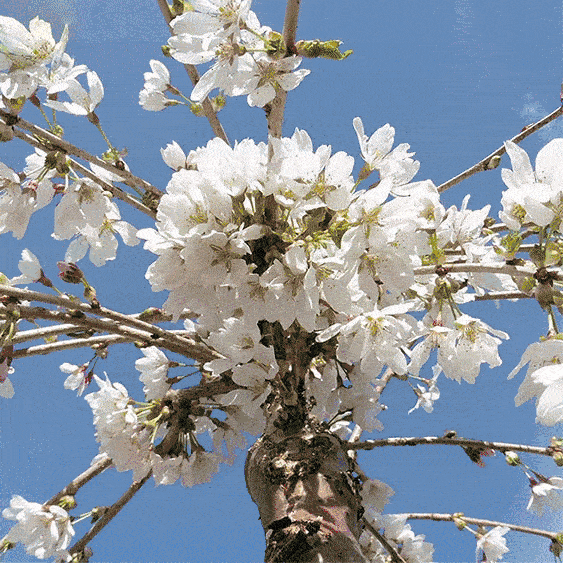 Spend over $500 in store or over the phone as from the 21st of November 2020, you get a FREE Weeping cherry in a 12″ pot that is 6ft tall, worth $100!! You have a choice of Pink or White to choose from, until stocks last!