Offer extended until 5pm Sunday 15th February.
Melbourne is about to have it's first nice bout of warm weather in weeks. It felt like Summer had passed us by for a little while there! It's really more of an "English" heat wave, with 7 days of temperatures between 30-35.
Some customers are worried about planting during this time. Late Summer is actually the best time to plant plants, and it's a big production time in the nursery industry. The worst of any possible heat is over, and plants are in growing mode right through to Winter, meaning they establish quickly after planting and keep putting out new growth for months. Remember, hot weather is not your garden's enemy, only lack of water is. So water well and your new plants will flourish in the warmth.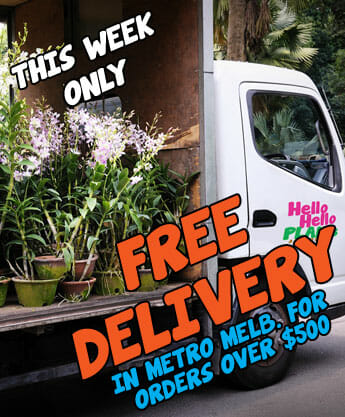 To encourage you to get out into the garden and get planting during this period of fine weather, we have formulated a WARM WEATHER WONDER DEAL. You get:
The lowest prices you'll get this year on a huge range of plants.

Free metro Melbourne delivery when you spend over $500

PLUS 100L of professional planting mix free. (This is mixed in during planting to balance out and improve your ground soil).
This deal lasts until the end of the "heat wave" (Wednesday the 11th February according to the weather man, but we'll keep you posted). If you are truly concerned about the warm weather, you can even buy now to get the deal, and we'll deliver later in the month at your request.
If you're buying online, just use the coupon code FREEDELIVERY at the checkout. Otherwise mention our Warm Weather Wonder Deal when ordering over the phone or in store at our Ascot Vale nursery.
Plants to Buy Now…