Last year Robbie from Lalor missed out on getting his Standard Bare Rooted Icebergs and had to wait a whole year to get them for only $9.90 each! Don't let this be you! Get into Hello Hello Plants now while there is still time.
Visit: 1477 Sydney Rd Campbellfield | Call: (03) 9359 3331 | Order: www.hellohelloplants.com.au
HURRY!!
Right now you can save heaps on our bare rooted plants and trees, simply check out the specials below, or come and help yourself to our bare rooted sale.
Spring is definitely here in Melbourne! With the AFL Grand Final and Spring Carnival fast approaching, now is the time to get in the garden and finish that project.
Also the temperature is perfect to get your plants established and you'll save heaps when you purchase at bare rooted prices.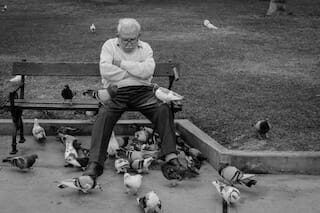 Melbourne Metro Delivery only $34.90!
Order now!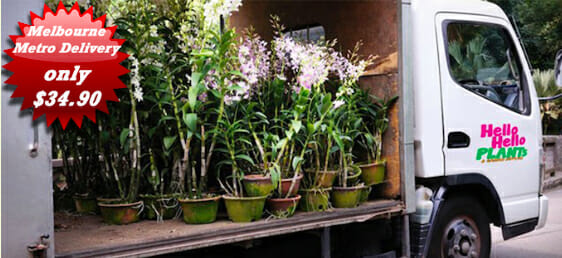 That's right not only can you get incredibly cheap plants and trees in their bare rooted form, but you can also get them delivered to you anywhere in Melbourne Metro for only $34.90! Only $34.90 for 1 to a 1000 plants. So get shopping NOW!
Click here to go shopping online.
Call: (03) 9359 3331
Visit: 1477 Sydney Rd Campbellfield.
3ft Std Bare Rooted Iceberg Roses from only $17.90 each!!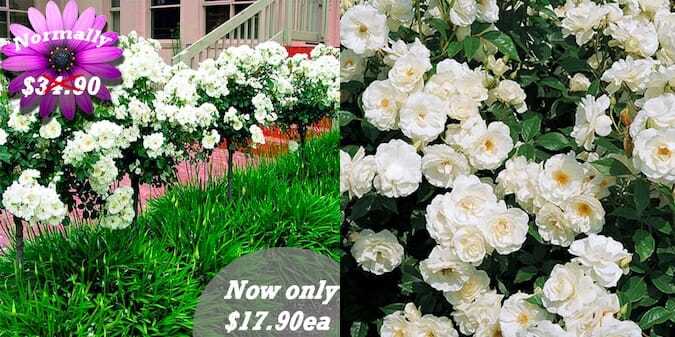 If you're thinking about getting Standard Iceberg Roses then now is the time to do it. At nearly 3x less then the price they retail for in Spring, you'll not only be doing your garden a favour but your wallet too.
Order now – before they run out!
Get beautiful 2ft Standard Bare Rooted Iceberg Roses for only $9.90 each. Normally $27.90
and… the deal of the year!
Get beautiful 3ft Standard Bare Rooted Iceberg Roses for only $17.90 each. (Normally $34.90)
Click the video below to watch these beautiful Bare Rooted Standard Roses in action!
2" potted English Box for only 99c each!
Get beautiful English Box in 2" pots for only 99c each, (normally $2.90)
English box are the classic all rounder for creating wonderful enclosed landscapes and gardens. Whether you're creating a border or a hedge, English Box will deliver every time with spectacular results.
A hardy contender to any garden and will tolerate most conditions, English Box is also a wonderful selection for the beginning garden enthusiast.
4ft tall Bare Rooted Silver Birch only $9.90 each!
Pick up your Bare Rooted 4ft tall Silver Birch NOW, for only $9.90 each!!
Hurry stocks are limited.
Silver Birch are a small growing tree with an inoffensive root system, that's beautiful all year round. In Winter you have a lovely naked tree with a fabulous white trunk and branches! To enhance that feature you can plant them in clumps of 3 or more, providing a more spectacular display. In Spring and Summer you have beautiful fine lacy green foliage, providing fabulous dappled shade.
The Silver Birch look great in an old fashioned house and Silver Birches look absolutely fabulous with modern buildings as well. Either a modern setting or an old fashioned setting, classic garden or a modern garden Silver Birches look amazing!

4ft tall Bare Rooted Celtic Cascades only $29.90 each!
"Best Grafted Weeping deal in Melbourne!!"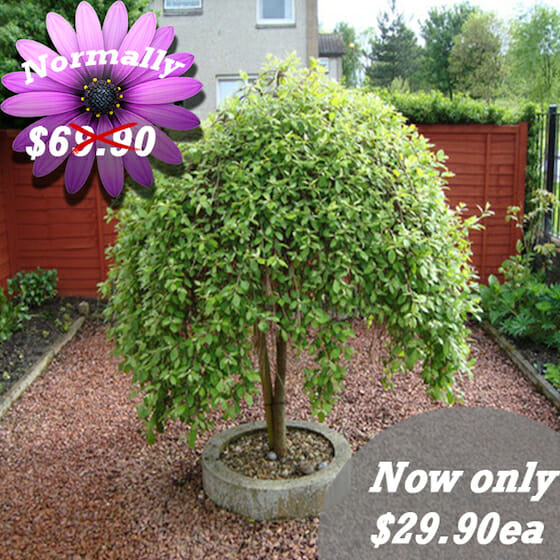 This is the lowest price ever for a feature tree!
Buy Bare Rooted Celtic Cascades for only $29.90 each
Weeping trees are renowned for being expensive and difficult to establish. The Celtic Cascade Salix Caprea 'Pendula' (Kilmarnock Willow) thrives in the windiest places, withstands extreme heat (with sufficient hydration), part shade, pollution, poor soil, wet feet, the harshest frost and moderate salt spray. What a tree!
Hello Hello Plants & Garden Supplies are confident that your weeping Celtic Cascade Salix caprea 'Pendula' will grow and thrive.
These Celtic Cascades can be used in a formal gardens to create a defined topiary shape. Simply cut its cascading branches on the horizontal to leave a dome shaped tree. Celtic Cascades are ideal for planting in a courtyard as they makes the perfect small shade tree.
They grow to a maximum height of three metres and with a tiny bit of trimming can be kept smaller. Weeping Elms, Weeping Birch, Weeping Mulberries and Weeping Cherries all grow much taller and wider than the Celtic Cascade Salix caprea 'Pendula'.
The Celtic Cascade® Salix caprea 'Pendula' is hardy and tolerates part shade, pots, wet feet, frost, extreme heat and windy conditions.

Beautiful Pleached Ficus only $24.90 each!
1.2m tall specimens in 8" pots for only $24.90 each (Hurry stocks are limited)
Pleached Ficus Hillii Hedging are perfect for the compact garden. They have small trunks which allow for something special and small to be grown underneath them whilst giving you a 2 story effect.
The secret with pleaching is that ficus are evergreen and pleach very easily. These particular ficus are the Emerald Green Ficus Hilii and are very lush and are fantastic for doing a pleached hedge.