Plants for a Commercial and Home Garden:
Now the first plant I want to talk about is what we call Miss Muffet. (Just like the nursery rhyme – Little Miss Muffet sat on her tuffet, eating her curds and whey!) The proper name is Japanese Pittosporum. It's a lovely looking compact, low spreading kind of shrub that in springtime has beautiful fragrant flowers.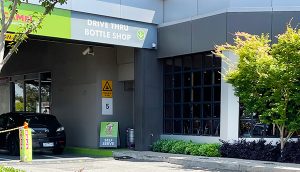 They have it near the drive-in bottle shop in a narrow little garden bed that's a bit shady and it's the perfect spot for it. It grows lovely and lush and won't get too big, only needs a little bit of trim now and then.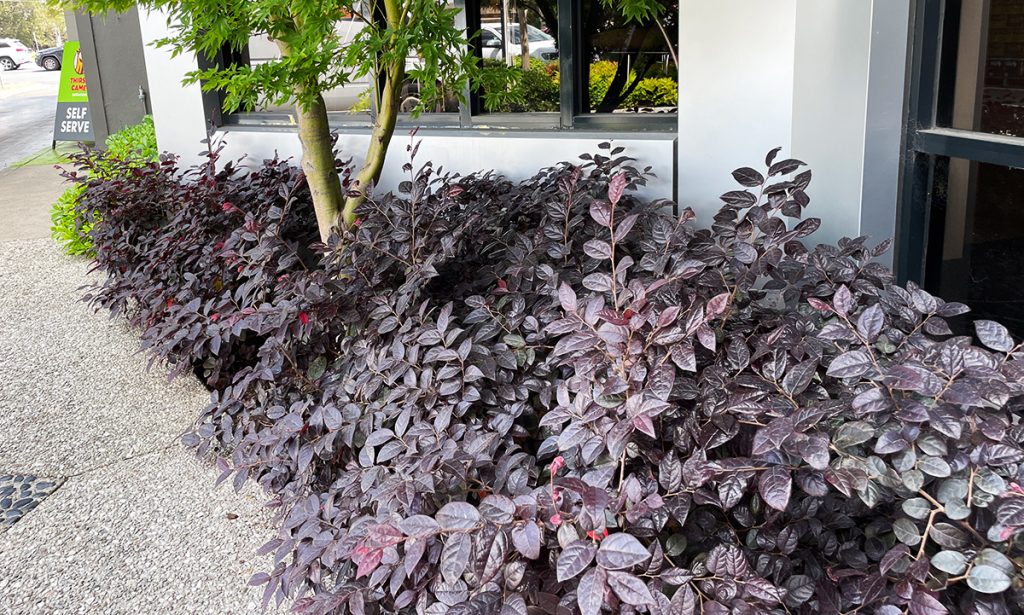 Moving along the same garden bed and right next to it and contrasting with it, is a plum coloured, gorgeous Loropetalum. It has beautiful dark purple foliage, 365 days a year. And that lovely purple foliage is adorned with delightful pink flowers in springtime. It makes such a contrast with the green of the Miss Muffet.
Obviously along this particular part of the garden bed which is outside windows, they wanted something low growing that wouldn't block the view and they got that with both these plants that can be kept nice and low.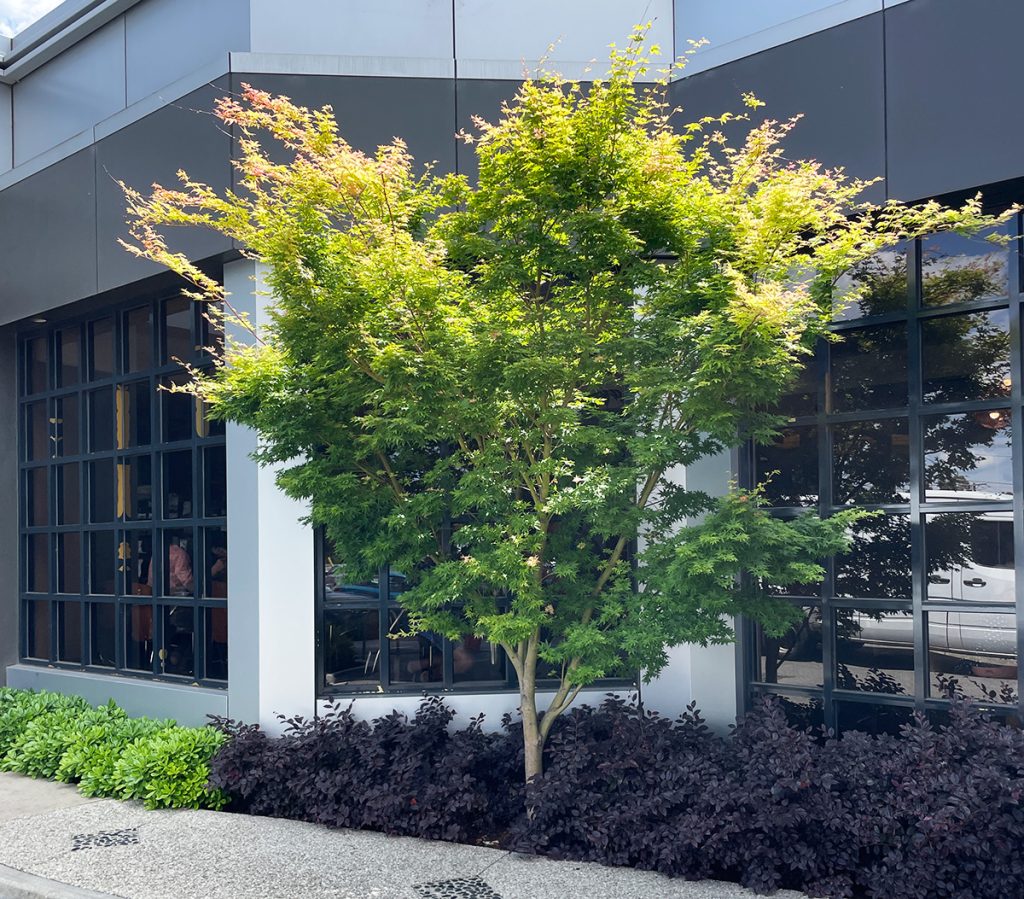 But then they added another beautiful contrast in amongst the Loropetalum with a Japanese Maple. Not a fancy, expensive grafted Japanese Maple mind you, just your plain, basic Japanese Maple.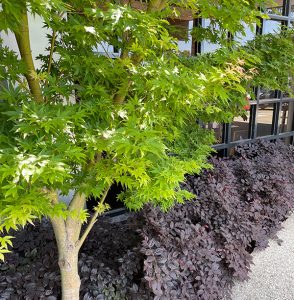 It's beautiful, it's green and lush, it's very happy in its little shady corner but again it contrasts beautifully with all the plum coloured Loropetalum growing beneath it. It's just gorgeous.
Speaking of shade, it's interesting how some plants don't like shade and with some plants their colours actually fade in the shade. But the plum colour of the Loropetalum seems to even intensify in the shade, taking on a really rich, dark purple. So if want something that really keeps the colour of its foliage in the shade, this is it.
Now just across from the Japanese Maple is a very unusual plant that's quite a bit of a hot seller at the moment. They can be hard to get but we try to keep a good stock of them so always check with us or check our website. It's called the Tractor Seat Plant and the reason for that name is obvious when you look at the big leaves on the plant.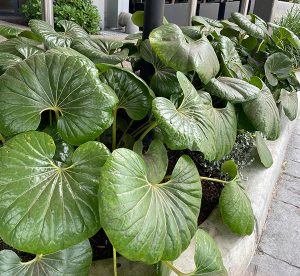 They look like the old-style metal tractor seats from say the 1940s and 50s. The ones that were set on a big steel spring. Now these plants love a shady spot too. They get this beautiful, big lush foliage on them all year round and then in late spring you get this lovely, yellow, daisy-like flower that blooms with a sort of spidery like nature.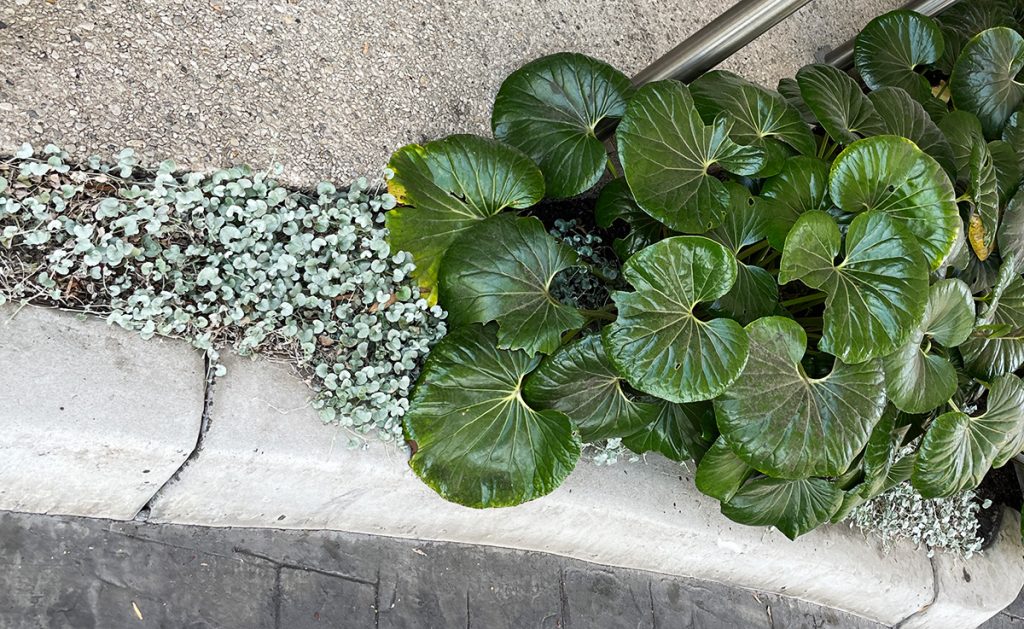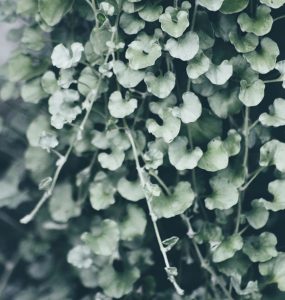 Underneath this particular Tractor Seat Plant, they've used a little Silver Dichondra to set it off, but it's an interesting and exciting entry plant the Tractor Seat, makes a big impression with those big leaves. Now they do need a bit of a drink. You don't want them to be in the hot afternoon sun. They can take morning sun, with afternoon shade, because they love a bit of relief from the hot afternoon sun. Tractor Seat Plants make a big textural statement which they've used right at entrance to the hotel.
Right near the entrance, along the path, they have put in some Liriope. 
It's an evergreen and it really thrives in a bit of a shady spot. It's really lush and bright green and makes a beautiful tough border. Being near the entrance people will tend to walk through it and kick it a bit and it'll fold over and bounce back, because it's a good hard-wearing plant for a spot like this. So they've made another really good choice for this plant in this location with lots of foot traffic.
Now on the other side of the path, to create some privacy for the people inside from those people walking up the path, they've put in some long narrow planters and used Ficus Flash to create a hedge. It's been trimmed quite tight so it's only about 50 cm thick, but it makes a beautiful thick privacy screen. You can tell it's a Ficus Flash because it has these slightly curly leaves.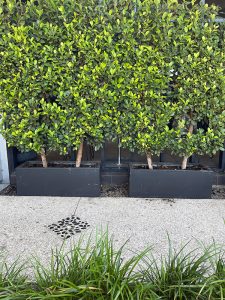 Now in these planter boxes they will have to keep it well watered, which they clearly do. So if you've got a little patio or a balcony or somewhere you want to create some privacy then using long narrow planter boxes just like they have here, with Ficus Flash in them, can create a narrow but thick privacy hedge or screen.
It's quite a hard-wearing plant, so if you forget to water it occasionally or trim it too hard or forget to fertilise it, you'll find that your Ficus Flash will still survive, even if it's in a windy or sunny spot. Now here at this hotel they've put in a drip irrigation system and that's keeping their Ficus Flash nice and lush and green.
Now I want to talk about the first thing I actually came to photograph at this hotel. It's a miniature Lily Pilly hedge. Now all around Melbourne you find a lot of Lily Pilly hedges without leaves on them because we've had this beetle move down from Queensland and it's eating the leaves off many of the hedges around Melbourne and making them look quite bare. 
But the Lily Pilly hedge at this hotel is the Acmena Smithii variety and that's one that the beetle doesn't like to eat. There's a half a dozen other varieties of Lily Pilly that the beetle doesn't eat but this one is called Ruby Tips. It has a beautiful fine leaf and you won't find any beetles or psyllids attacking this variety of Lily Pilly. So these stay healthy and lovely without any sprays.
Again this shows whoever designed this garden for the Gladstone Park Hotel made some good choices. This one has been trimmed recently so in another couple of weeks you'll see these bright red tips come in which is where it gets its name Ruby Tips. And the whole thing will just have this lovely bright red colour all over it.
Another excellent plant they have chosen in this commercial garden is something I love. It's called a Moon Bay Nandina. Fully grown as they are in this garden, they are about 50 cm tall and 50-60 cm wide. They are lovely and lush and hard wearing. Being in a pub near where patrons walk you could have someone who's drunk, fall over them and they would just stand back up again. The plant that is, not necessarily the person!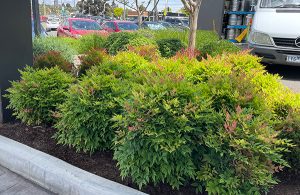 Moon Bay Nandina are a really good hardy plant. They don't need much water and don't need really much of anything. They are really low maintenance, a bit of weeding sometimes. They are really lush, beautiful, hardy plants. What I love is that when they are mass planted like they are at this hotel you could just walk through them and they're lovely and soft. I think they're fabulous. All year round they're bright green with red tips on them, but in winter they turn an absolutely brilliant red.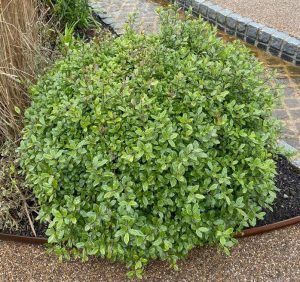 Right next to them, again to make a wonderful natural contrast is a group of Golf Ball plants, so-called because they 
just naturally grow into this ball shape. Plants with ball shapes are very much in fashion at the moment with things like English Box balls, but with them, you have to actually shape them with your shears and know what you are doing.
But the great thing about the Golf Balls I see here are that they would have been planted several years ago and they've all grown into these lovely ball shapes without any help at all. Really interesting to look at and easy to grow.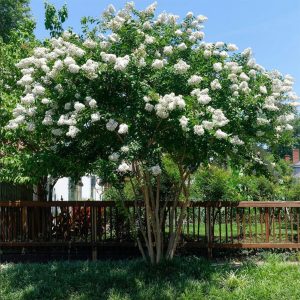 Now in between all these Golf Balls and the Moon Bay Nandina, they've planted some Crepe Myrtle trees. And towards mid-summer they'll be covered in blossoms, probably white ones. But it's not just the flowers on the Crepe Myrtles, they also have the most beautiful bark which looks fantastic against the green below it. So you get the blossoms, then beautiful autumn colours but always the lovely bark. Crepe Myrtles also fork well naturally, and will make a beautiful shape without anyone doing much to them.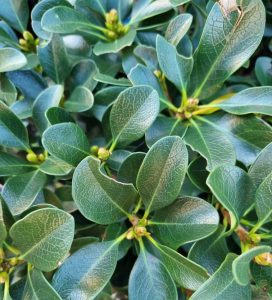 Next to the Crepe Myrtle they've got a nice low rounded hedge, that's really super-duper low maintenance. It's called an Indian Hawthorn 'Oriental Pearl' and it's probably never even been trimmed. In early spring it would have been covered in beautiful white blossoms all over it. 
It's self-shaping and just makes a lovely round, sort of mounded shape like this. Again, another plant where they have made a really, really good choice. 
So there you have it. The Gladstone Hotel has got a really great commercial garden. Just a good selection of well-chosen plants, well-spaced too, so you get a really good landscape in the garden.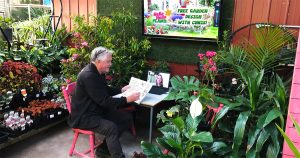 Now, whether you've got a commercial garden you need help with or a garden for your home, then please take advantage of our Free Garden Design service and let us use our decades of experience to help you create something you'll love or your customers and staff will love. Book your Free Garden Design here or below.