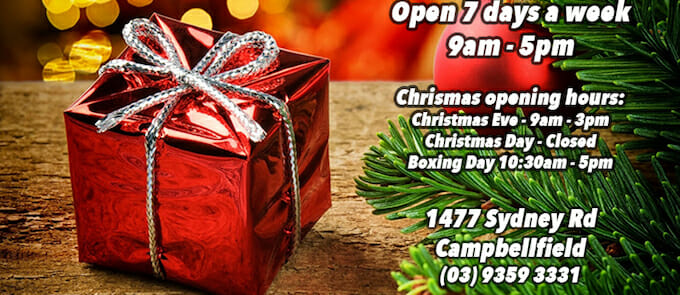 Don't miss out… Our Boxing Day Clearance – One Day Only!!!!
Our once a year Boxing Day sale starts at 10:30am and ends 5pm sharp this Boxing Day ONLY!! Monday 26th Dec.
Don't miss out on these incredible once in a life time specials. (In store only Mon 26th Dec)
Come Shopping @ 1477 Sydney Rd Campbellfied this Boxing Day!
Call (03) 9359 3331 for more information.
Scroll down below to see the bargains!
Spend over $500 and get a 6ft Weeping Cherry Blossom for only $49.90!!!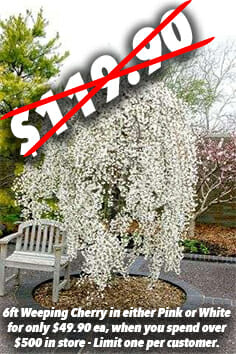 That's right Boxing Day only spend over $500 in-store and take your pick of either pink or white 6ft tall Weeping Cherries for only $49.90 each (Regular price $119.90). Limit of one per customer!!
Don't miss this years Boxing Day Sale, heaps of great deals!!!
Look below to see some of our incredible Boxing Day ONLY deals!
These prices will be available on Monday the 26th of December only!
6″ Pot Baby Bronze Flax only $0.99 (reduced from $7.99)

10″ Pot Red Sensation only $2.99 (reduced from $14.99)

6″ Pot Dwarf Nandina only $4.99 (reduced from $7.99)

6″ Pot Neighbours Be Gone only $4.99 (reduced from $7.99)

Lovely 6″ Pot Carpet Roses for only $6.99 (reduced from $17.99)

6″ Pot Chardonnay Cordyline only $9.99 (reduced from $29.99)

3 ft Tall 10" pot Yucca's only $14.90 (reduced from $39.90)

5 ft Tall 10" pot Silver Sheens only $15.99 (reduced from $24.99)

6 ft Tall Japanese Maples only $19.90 (reduced from $39.90)

3 ft Tall Capital Pears only $19.90 (reduced from $29.90)

Don't miss out on our 6″ Pot assorted Succulents for only $4.99

3 ft Tall Blue or Pink Wisteria Climber (reduced from $29.99)