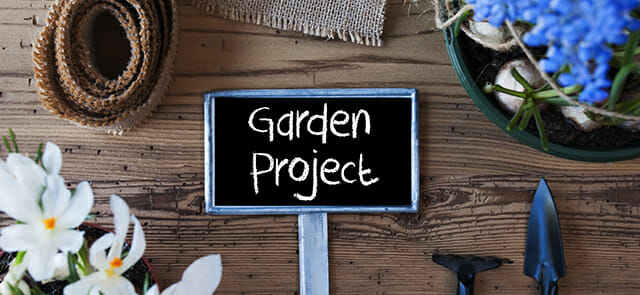 Garden Project!
Late summer is Melbourne's best planting window!
If you've got a garden project now is the best time of the year to purchase and plant your plants. First of all, nights are longer and cooler and the evaporation rate has nearly halved from its peak in early February however, the soil is still warm. We have warm days and cooler nights ahead so if you plant now and use soil wetter plants are easy to keep moist and establish quickly. The really hot weather is now 9 Months away and your plants will be well established before it gets hot again. Now is also the best time to buy, as our Nursery is absolutely full of big cheap plants at bargain prices. In spring plants tend to be smaller and more expensive because of the traditional spring sales boom but if you want big bushy cheap plants the optimum time to buy and plant is now. Just check the sizes and prices in our garden project planner list! It has all the essential plants you need to get started with your Garden Project or to top up an existing one!
We have been potting up and buying lots of new plants for months and with lots of watering and fertilizing, our nursery is bursting with lots of big bushy plants. We are so keen on your business that we have put on our most generous list of FREE OFFERS!
We're Real Keen for your Business!
⭐Get a Free Strawberry basket worth $15.99 when you spend over $100
⭐Get a Free Metro delivery and a Free Strawberry basket when you spend over $300!
⭐Get a Free Weeping Cherry Blossom worth $99.99 and free Metro delivery when you spend over $500!
⭐Get a free Red Weeping Maple worth $200 and Free Metro delivery when you spend over $1000!
⭐Get an Advanced Weeping Cherry worth $400 and Free Metro Delivery when you spend over $2000!
⭐Get a Free Garden Design and Free Metro delivery worth $100 you spend over $500!
Valid for Online, In-Store, and Over the phone orders! Please let us know in the comments during checkout your color preference for the weeping cherry, otherwise, we will pick one for you. Offers are NOT available with any other offers or discounts. Free plant Only One per purchase/person, until stock last.
Here are our top plants to kickstart your GARDEN PROJECT!
Feature Trees
Fruit Trees
Standard Plants
Hedge or Border
Screening
Shrubs
Grasses
Climbing
Modern
Grounds Cover
Cottage