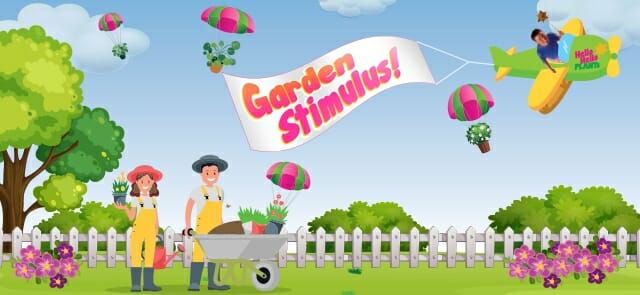 Garden Stimulus! *Updated List*
We are OPEN  FOR OPEN-AIR SHOPPING at our Campbellfield nursery every day from 8 AM- 6 PM!!
To celebrate FREEDOM, we are doing a MASSIVE SALE on all your favorite plants! We have brought in beautiful FRESH NEW STOCK, that is looking so lush and fantastic you will want to buy them all, to fill up every corner of your garden!
We also have some amazing deals such as:
⭐Spend over $300 and get Free Delivery to Metro Melbourne and major regional centers!
Do not miss out as these are only while stocks last! Only one free plant per person/purchase and does not accumulate. You can still get Free delivery for Metro and major regional areas together with your Free plant! These are valid only for In-Store and Over phone orders!
Aussies have been hit hard by the government's current job seeker package ending, and the dream of getting the garden finished before the house goes on sale becomes less of a reality.
But we hear you!!
We have released our own stimulus package for growers and gardeners alike! Growers need to move their stock and gardeners need a break from the never-ending costs of their garden.
We have loads of new specials from in-store and growers across Melbourne and we've kept prices really low so you can still stay within your now tighter budget.
The plants on the Garden Stimulus are here in the store, ready to be delivered to you within 1 week of ordering! 
⭐ FREE Metro Melbourne and Selected Regional City Centres Delivery 🚚 is still available for orders over $300!
If that doesn't stimulate your gardening, I don't know what can!
Our top Garden Stimulus offers!
Latest Additions
Trees & Conifers
Box and Topiary
Groundcovers, Flowers & Grasses
Shrubs
Screens
Camellia Specials!
Readily available stock for fast delivery!
Here are some plants that we have lots of in-store and can be delivered quickly to you.