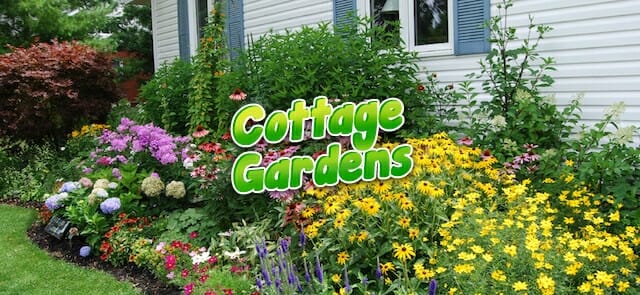 Cottage Gardens
Cottage Garden
Cottage gardens have become more popular than ever. People love the year-round colour and interest that a cottage garden can provide. A cottage garden is a mixture of different perennials, bulbs, small to medium bushes, and small trees, such as a weeping cherry or birch. A cottage garden is a relatively simple and cheap way to beautify an area. Also, managed properly, it is a low-maintenance garden that requires less water than a lawn.
The reason cottage gardens are becoming more popular is because new housing blocks and apartments are having smaller and smaller garden areas. If the garden is split between lawn and garden beds, both areas become compromised and unimpressive. Instead, if the entire area is planted out with small shrubs, annuals and a feature tree or two you'll have a colourful, low-maintenance garden.
Another great thing about cottage gardens is that they attract a lot of beneficial insects, such as bees, beetles, ladybirds and butterflies. They also attract various wildlife such as lizards and beautiful birds, which are also magnificent at pest management. There is no need to use pesticides as it is mostly a self-regulating system that is highly beneficial to your local ecosystem!
The History of The Cottage Garden 
Cottage gardens started off in Cornwall, with the mildest climate in England, where sailors would travel all over the world, and when they went ashore they would select eye-catching plants, wrap it up in a hanky and bring it back as a gift for their wives. The wives would then swap these treasures with each other and the cottage gardens of Cornwall became a treasure-trove of colourful and interesting plants where almost anything goes. 
Words from Chris…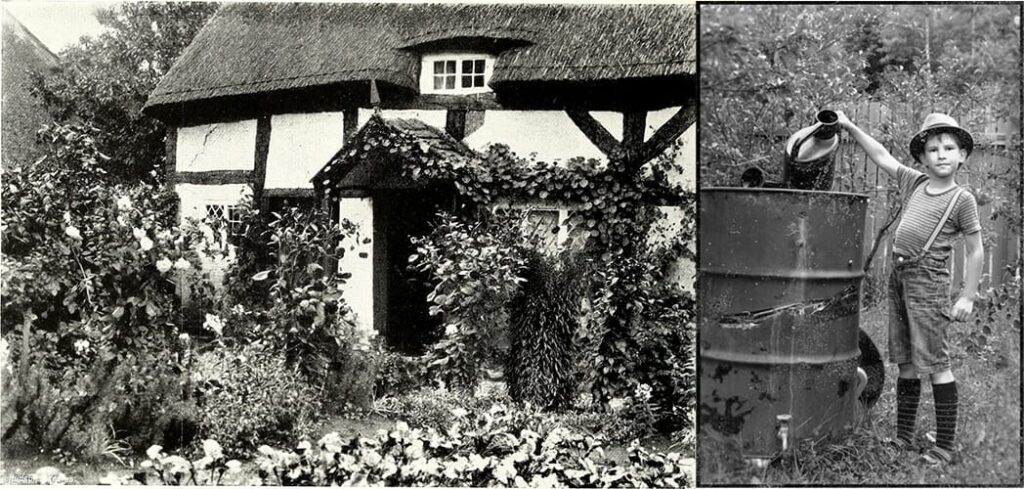 When I was 7 years old, I went door-knocking looking for a gardening job. After knocking on many doors and walking several kilometres, an elderly retired photographer gave me a job every Saturday morning. I kept that job till I was 17. She had a lovely little white weatherboard cottage set in an acre of cottage garden which she spent most of her waking hours tending. She often has visitors from the local horticultural society and they would say "that's a native you've planted there, you can't do that in a cottage garden!". Her retort was "You can plant whatever you want, wherever you want in a cottage garden!". She loved to have plants cascading over the edges of pots and I would have to tidy and trim while maintaining the relaxed informality of the garden. I would spend hours on my knees planting English lawn daisies in the lawn. 
The best part of the job is that from the age of 7 she treated me as her gardener. She showed me how to do each job thoroughly then asked for my advice or input on each project we tackled. I remember she complained about the cost of the man who cut her lawn and I said I would do it. She asked me what sort of mower I wanted and I said a Flymo which was a new hovercraft mower. The next Saturday she took me to the mower shop and had me choose one. From then on I maintained her lawns with the Flymo which worked well as her lawns were very undulating and irregular shapes. Little did I know that my 10 years of training would have a big influence on my career as a garden designer, nurseryman, and gardener.
Creating A Cottage Garden
1. Plan your layout
Planning is essential to a beautiful garden. Even though a cottage garden looks like it is just a mix and match of randomly placed plants, there are a few good practices, if you want to maximize its aesthetic potential. There is no need to overdo the planning because a cottage garden can also have a little wild side to it, which adds to the charm.
The first step is to assess what you are working with. Is it a blank canvas, a lawn, or an existing overgrown garden bed?
Whichever it is, drawing up a little plan to your liking makes it easier to manage. A nice curvy layout works well for cottage gardens. Think about your walking path, focal points, and little points of interest to add along the way.

2. Getting started
If your starting point is an old weedy garden bed you can start by removing all the weeds and taking a closer look at what is already growing there. Are the old plants worth keeping, if trimmed nicely, and will these plants look good in a cottage garden? Ideally, they would be flowering shrubs. It could be an old rose or camellia bush that can be rejuvenated by giving it a good prune and feed. You can always change the layout of the garden bed as you please by redefining its borders.
If you have a blank plot or a patch of lawn you can start by tracing the path of the curves with some cord. Remove all grass growing in the area of the garden bed, with the help of a trusty sharp spade, and if you want, you can add some garden edging to keep it nice and tidy. There are several great options such as plastic edging, metal, bamboo, or even brick edging. This will help keep the grass from creeping into your beds.
2. Work the soil
Know what type of soil you are working with. (Read our article about soil types by clicking here). Ideally, you would like to work your soil until it has a nice fluffy, aerated, and well-draining texture, as this is the soil type that most cottage plants thrive in. Our premium potting mix is great to add to poor soils to improve them.
Water your soil to soften it up then dig, turn and smash until the area is cultivated one spade deep. This might be a difficult step if you have compacted or clay soil. You can use a gypsum clay breaker to help loosen it up. Add 3 to 4 inches of good topsoil, compost, and manure, then dig and turn again to make an even mix. Rake to remove top debris and to make it flat.
Adding a wetting agent or water crystals is also a good idea, to keep the roots moist, even on hot days. Just sprinkle into the soil as per the recommended dose. 
4. Choosing your plants
Plant 1 small cottage tree to every 10sq meters of garden bed and 2 cottage plants to every sq. meter of garden bed. To achieve a nice layered look, plant low growing or carpet plants in the front and along pathways, medium-sized plants for the middle, and larger ones to the middle or back. Larger shrubs can also be planted in the middle row to break the layers and make the layout more interesting.
Keep in mind that you can add any type of plant you like to a cottage garden. Some that look really great are grasses, climbing plants, and weeping plants. Some people also add maples, conifers, natives, and standards, just because they like them! So do not restrict yourself and pick whatever you like!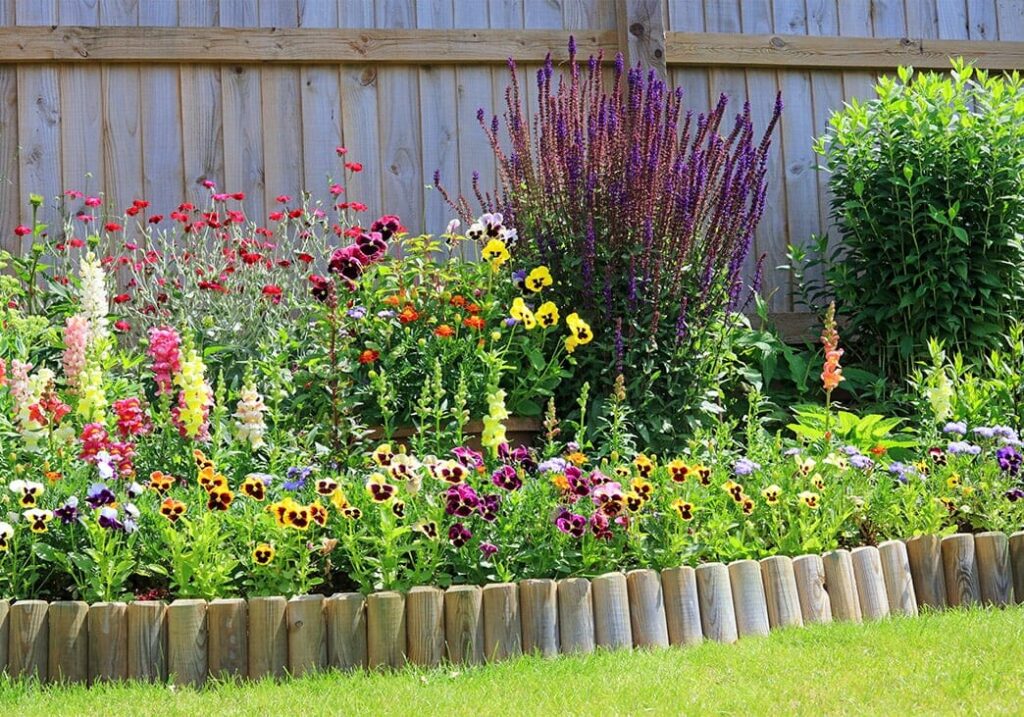 Examples of different cottage plants:
Small
Snapdragon
Seaside Daisy
Native Violet
Tulips, Daffodils & Iris
Phlox
Arenaria
Pig Face (Mesembryanthemum)
Dianthus
Medium
Salvia
Euphorbia
Echium
Lavender
Rosemary
Gaura
Foxglove & Delphinium
Geranium
Liriope
Apaganthus
Large
Murraya Orange Blossom
Hydrangea
Protea
Leucadendron
Oleander
Feature Trees
Weeping Cherry
Weeping Silver Birch
Weeping Maple
Lemon Scented Conifer
Celtic Cascade
Standard Ficus or Lilly Pilly
Climbing plants
Roses
Mandevillea
Chinese star jasmine
Clematis
Wisteria
Boston Ivy
We have put together cottage plant packages to make things easier for you, or you can come in for our Free garden design and have your cottage garden fully designed. We can incorporate your needs and wants and give you a custom cottage garden. Perhaps the most popular option is choosing plants that have silver or grey foliage and either purple, blue, mauve, or white flowers. This particular combination goes well with the Hampton theme. But there are many ways to add a special style or feel to your cottage garden.
Once you have put your plants in the ground, water regularly and make sure to stay on top of the weeds until your plants have grown big enough.
5. Watering, Mulching, and Maintenance
To make things easier for you, you may consider adding some irrigation systems to your garden beds. Drip irrigation is an excellent choice as you can easily weave them around your garden and connect them to an automatic timer. It is also recommended to cover your soil with a good layer of mulch to keep the soil humid for the plants to thrive.
In terms of maintenance, there are a couple of things to do such as:
• Water your plants with some liquid seaweed solution with a touch of blooming fertilizer will give you abundant blooms.
• Sprinkle slow-release fertilizer every 6 months.
• Deadhead spent flowers regularly to keep the plants blooming again and again.
• Prune back overgrown plants that are shadowing smaller plants, to keep an aesthetic balance.
• If you have bulbs planted and they aren't flowering as regularly – dig them up, split them and replant.
• Replace annual plants after the growing season as they start dying back.
• Prune back some perennial plants after winter to encourage new spring growth
• Renew mulch every couple of years as it breaks down
• Allow some self-seeding to happen, as you do not have to always buy new plants. Just make sure to thin them out and replant some in new spots to allow them to thrive.

5. Adding interesting features
The great thing about cottage gardens is that they can be your creative outlet, where you can add all sorts of interesting and quirky features as you please. Some interesting water features or fountains, clay pots, decorative rocks or old logs, bird feeders, birdbaths, an echidna sculpture, or perhaps a small fairy house! The possibilities are endless!
Some must-have additions are trellis with climbing plants and perhaps a bench for you to sit back and appreciate the beautiful space you created.

Plants for the cottage garden
Plant Packages
Handpicked by Chris, these cottage plant packages give you the best value for money!
Tall or back row plants
Medium row
Front Row or carpet
Climbing plants
Other interesting additions